Every restaurant has its own speciality apart from its signature dishes. Some have a nice ambience, in some the service might be good, something that makes us to go often to the same place. These extras help us to enjoy the food out-and-out. In, Taste of Rampur, it's their vinegar pickled onions that takes me there at least once a month. This is one particular restaurant that wins unanimously in my family. We love munching these tangy crunchy onions and the roasted papad they serve with different chutneys as soon as you get seated. It is more common to have sliced raw onions and chillies along with rotis / chappathis or any Indian flat bread. Some restaurants serve this bowl of onions in vinegar. Crunchy and a mouth puckering sour delight.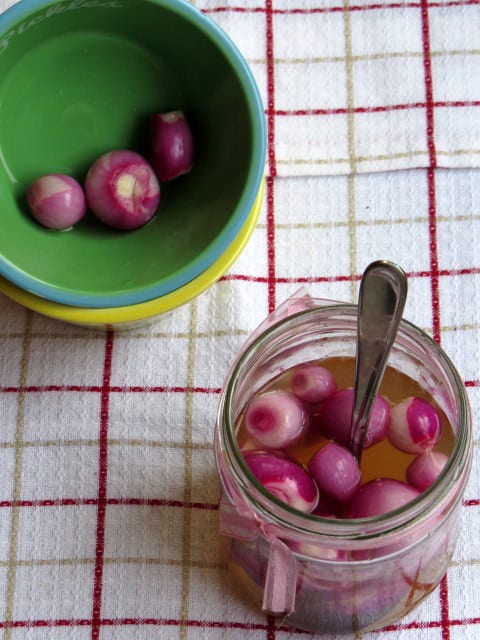 Before soaking
After an hour or 2, the colour changes and the onions absorb the vinegar flavour
Crunchy Pickled Onions
Prep time: 10 mins | Inactive Time: 3-4 Hrs | Total time: 3-4 Hrs | Serves: 3-4
Ingredients

12-15 no's Small onions
¼ Cup Vinegar
¼ Cup Water
Salt to taste
Pinch of Chaat Masala (optional)

Instructions

Peel the Onions and keep it aside.
Mix water and vinegar. Taste and add more water if needed. Add salt and chaat masala (if using). Mix it well.
Now add the onions in the vinegar mix and store it in an air tight container.
After 3-4 hours, drain the vinegar and store the onions in the refrigerator in an air tight container.
Notes
Try to use it within 3 days. Also soaking the onions in the vinegar for too long may make the onions to lose their crunchiness. Serve the onions with any kind of North Indian gravy and roti. You can also have them as such.