Rava Idli is one of the most popular South Indian breakfast item. This can be made instantly (no fermentation is required) and its unique porous texture makes it stand apart from the regular idlis. The recipe is native to Karnataka's Udipi cuisine.
It is claimed to have developed by the chefs of MTR during the world war II. Due to shortage of rice at that time, this was experimented and devised as an alternative recipe in place of the regular idli. For those not familiar with MTR - Mavalli Tiffin Center, is a very famous and ever crowded Veg Indian restaurant in Bangalore.
They are known for their Rava Idli and Bissibella Baath. Also their instant ready-mix of various food items are so popular among the common crowd.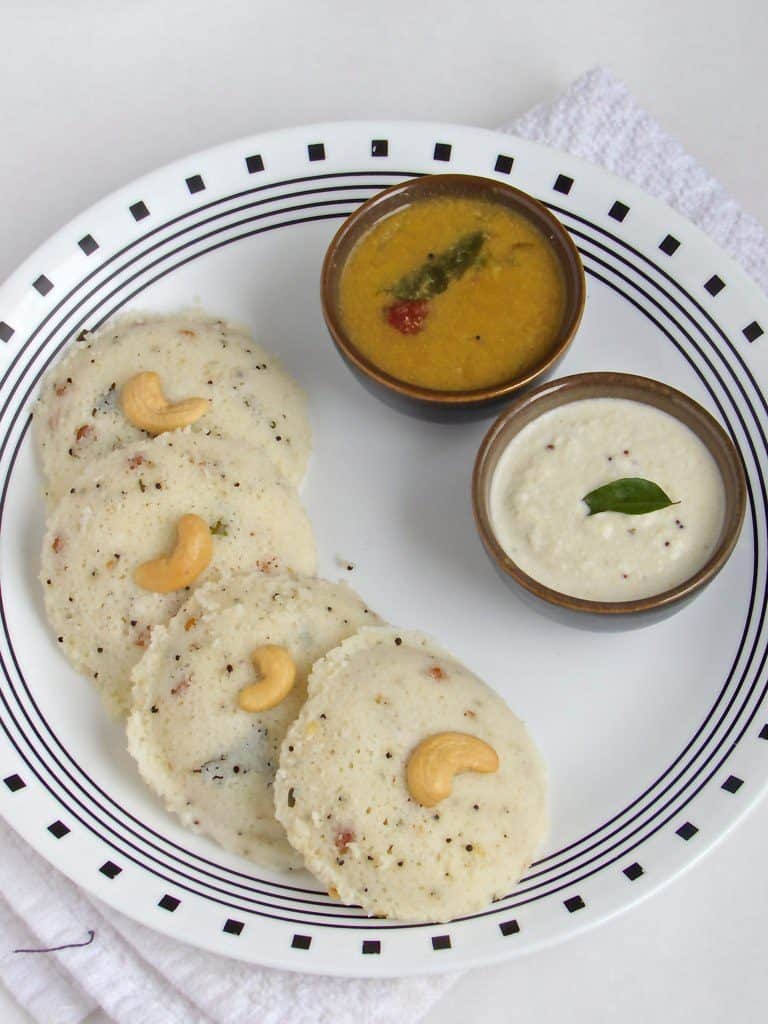 Rava Idli | Semolina Steamed Cakes
A variation to the most popular south Indian breakfast, Idly. This is made with rava | Semolina instead of rice and a slightly mild seasoning.
Prep Time: ~30 Mins (Rest Time: 30 Mins) | Cook Time: 15 Mins | Total Time: 45 Mins | Yields: ~12
Ingredients

1 Cup Rava | Semolina
¾ Cup Sour Curd
~¼ Cup Water
Salt to taste
~¼ teaspoon Eno fruit salt or Baking Soda (1)
1.5 tablespoon Oil, divided
½ teaspoon Mustard seeds
Few Curry leaves
2 teaspoon Channa Dal
2 green chillies, finely chopped
1 teaspoon finely chopped ginger
8-10 Cashews, roasted

Instructions

Heat 1 tablespoon of oil in a Kadai or a pan on medium flame. Roast the rava until it becomes warm and aromatic. Transfer this to a bowl.
In the same Kadai, add the remaining oil. Then add the mustard seeds and let it splutter. Then add the curry leaves, channa dal and green chillies. Fry until the channa dal becomes golden brown.
Transfer this to the same bowl, add salt and curd. Mix well. Rest it for about 15-30 mins and the mixture will become very thick.
Mean while grease the idli plates with gingely | cooking oil. (2)
After resting and just before cooking, add the eno salt or baking soda and mix it lightly. Add water and dilute it slightly. The batter should be slightly thick but in pouring consistency. (3)
Place one cashew in each mould and ladle the batter into each mould of the idly plates. Steam them for about 10-12 minutes in a medium high flame. Simmer it for about another five minutes.
Turn off the flame and rest it for about 10-15 minutes. Then take them off the mould and serve them with any chutney or sambhar of your choice. (4)
Notes
This helps in giving a porous and a fluffy texture to the idly. But this is optional (if you do not have it) as the idlys are good even without it.
Generally the idli plates are greased with gingely oil. If it is not available, use any cooking oil.
For those not familiar with idly, the consistency is more close to pancake batter consistency. Slightly thick but in a pouring consistency. If it is very thin, then the idly will not be fluffy and if it is too thick it might become hard.
Resting the batter before cooking and after is a must. Resting the batter in the curd mixture helps in softening the rava and absorbing the moisture. And, the cooked idly also needs time to set. If you try to serve as soon as the steam is released, it will be very soggy.
Grated carrots, peas, beans are optional veggies you can add to make this a wholesome food especially for kids.
This post is for Blogging Marathon 48 under the theme "Nashtha Time". Check out the Blogging Marathon page for the other Blogging Marathoners doing BM# 48 here.