Now that the dark cold days are gone, it is time for fresh vivid and lively food. Salads perfectly fall into that category. As some of you may have known, I was not a great fan of Salads until I taste the pine nut caesar salad at "The Melting pot" and after that salads feature regularly once a week in our dinner table. I have become a great fan of radish salad especially with a tangy dressing. This sweet and tangy mango ginger dressing is absolutely fantastic. A light refreshing meal for any time of the day.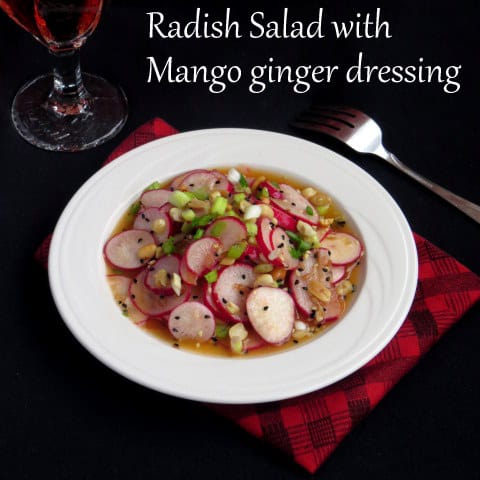 Radish Salad with Mango-Ginger dressing
Radish salad with a sweet and tangy mango ginger dressing.
Prep time: 10 mins | Cook time: NIL | Total time: 10 Mins | Serves: 2
Ingredients

2 Cups Sliced Radishes
1 Tbsp Peanuts
1/2 tsp Black Sesame seeds
1/2 tsp White Sesame seeds
1 tsp Sesame oil
Salt for seasoning

For the Dressing

1/4 cup Mango Nectar
1 Tbsp Apple Cider Vinegar
1 Tbsp Grated Ginger
1 tsp Soy sauce

Instructions

Mix all the ingredients mentioned under "For the dressing" in a bowl.
Heat oil in a pan roast the peanuts and sesame seeds until they turn golden brown and start releasing their flavours.
Now mix this with the sliced radishes and pour the dressing on top. Add salt; check for the seasoning and adjust the dressing accordingly.
Refrigerate it for an hour; so the flavours will be well infused and then serve.
Notes
You can substitute radish with cabbage and can also add ripe mangoes too.
This is off to the third day of the blogging marathon 28, week 3 under the theme "mango Recipes". Check out the recipes of other blog marathon runners over here.