As mentioned in my
previous post
, the
Vella poorana kozhukattai
and this Uppu kozhukattai are the major offerings during the vinayaga chathurthi festival. Today's recipe is the better half of the sweet variety. Filled with urad lentil and chilli mixture (known as the pooranam).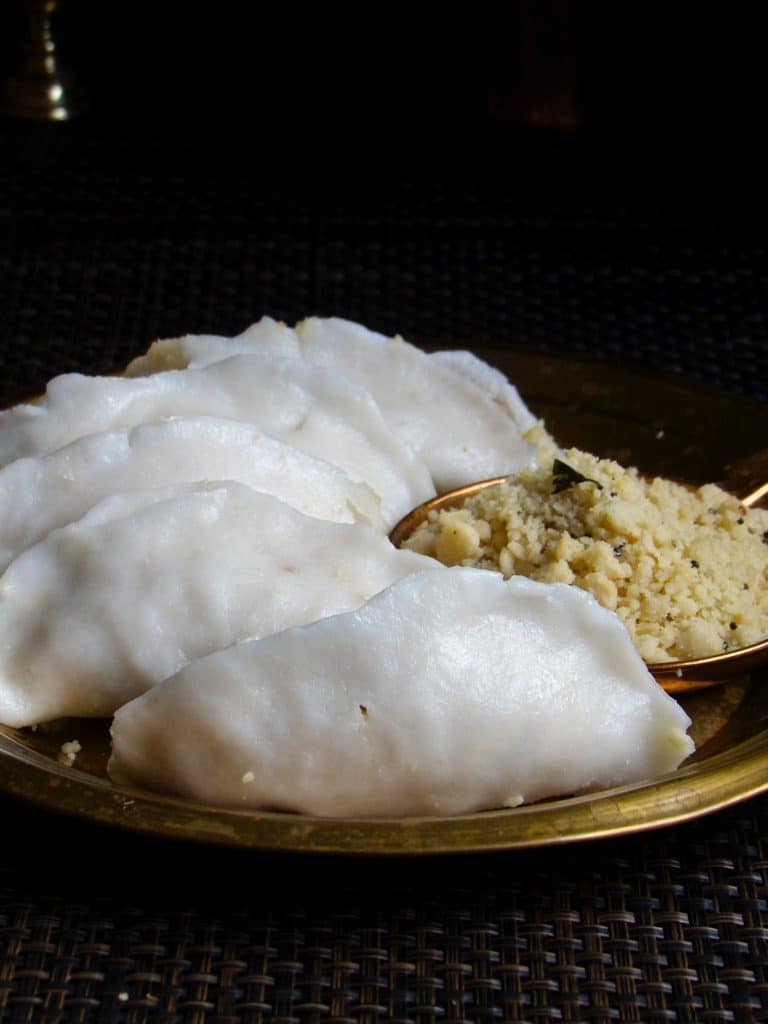 Making kozhukattai is an art, especially making the outer cover. It takes practcice and time to make this right. I have tried to explain it with pics as clear as possible. Hope it helps.
While making the outer cup (we call it soppu in tamil), try to apply oil in your palm before shaping it. Also if you feel the shape is breaking, it might be because the dough has become dry. Moisten your hand and knead it once more.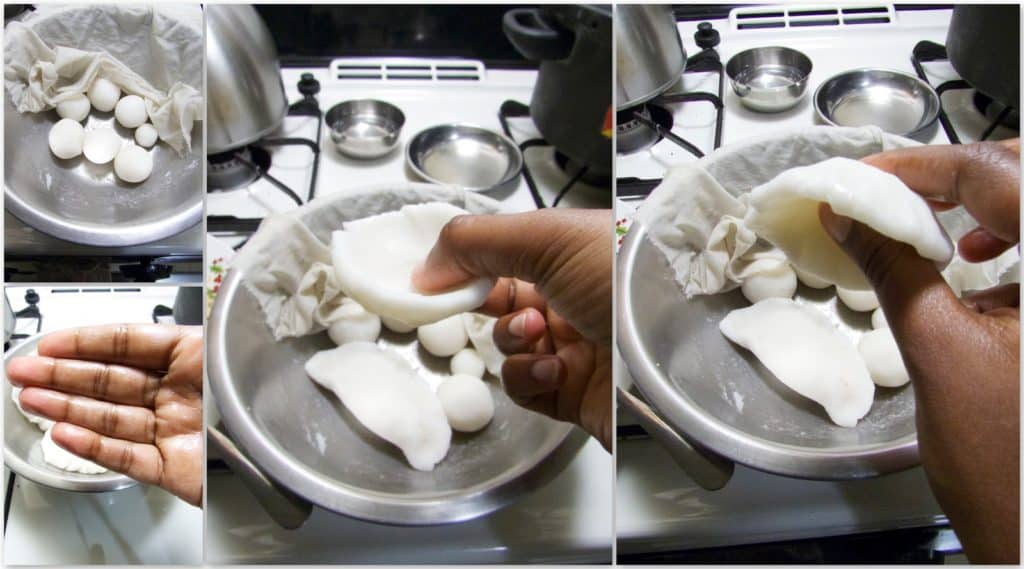 Do not overfill the filling. If the edges come in contact with the filling, the ends might not stick it together. If does not stick, again moisten your hand and try. Your palm has to be just moist and not very wet.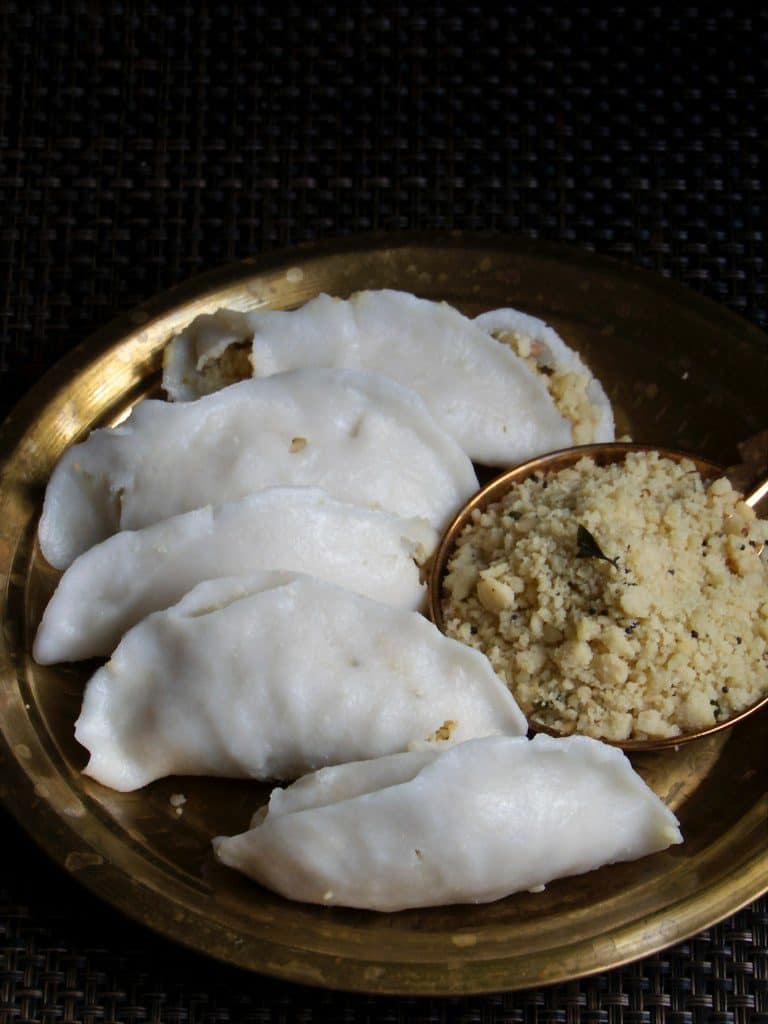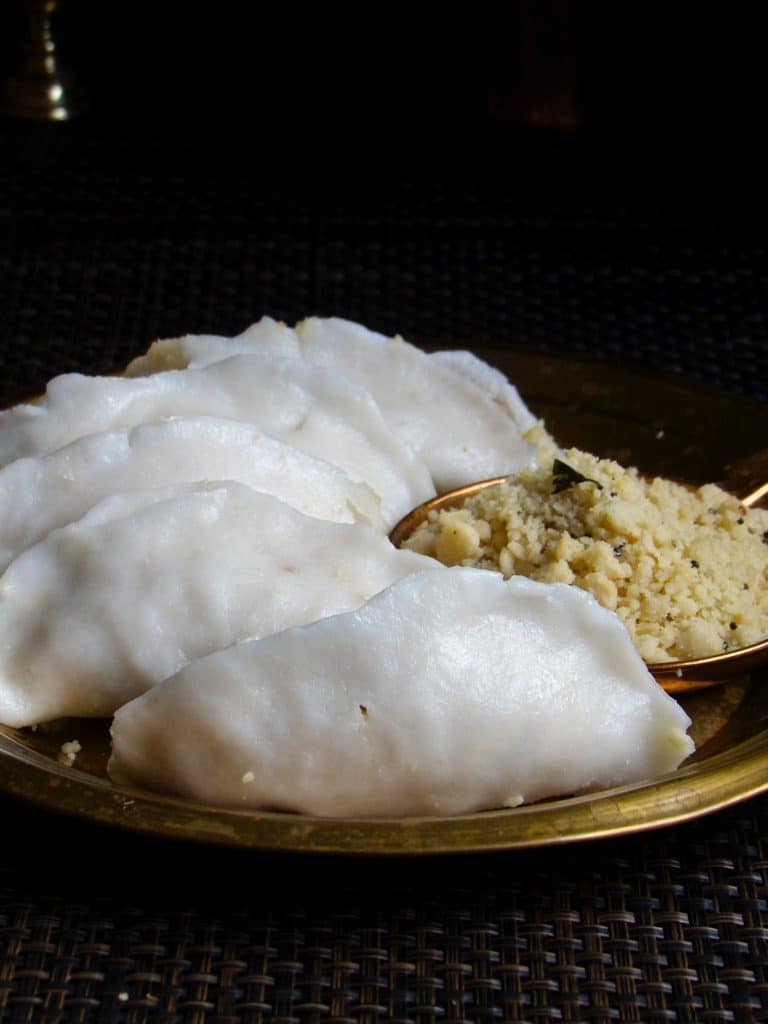 Uppu Poorana Kozhukattai | Ulundhu Pooranam - Ganesh Chathurthi Special
Rice flour dough filled with urad lentil and chilli filling, shaped like a crescent.
Prep Time: 15 Mins | Cook Time: 25 Mins | Total Time: ~40 Mins | Serves: 2
Ingredients For the outer dough

1 Cup Rice flour (Homemade or store bought)
1 Cup Water
½ teaspoon Red Chilli powder
½ teaspoon Asafoetida
Salt to taste

To make the Pooranam
To Grind

¾ Cup Ulundhu | Urad Dal
2-3 no's Pachai milagai | Green chillies
¼ teaspoon Perungayam | Asafoetida
Salt to taste

For Tempering

2 tablespoon Coconut oil
2-3 Curry leaves
½ teaspoon Mustard seeds

Instructions Prep work

Soak the urad dal in water for about one hour. Drain the water.
Grind the urad dal, green chillies, salt and asafetida (mentioned under to grind) into a coarse paste.
Do not add water while grinding. It should be dry and a coarse paste.
Steam the ground paste for about 12-15 minutes. Once it is cool, break into small crumbs. Try to smash them and separate as much as possible (as you would for making parupu usili)

For the outer dough

Bring water to a boil in a Kadai or pan and then add the flour little at a time and constantly stirring it to avoid forming lumps. This might take a couple of minutes and once the dough gathers into one mass turn off the stove. (1)
Once everything is combined and when it is warm to touch, transfer it to a bowl and knead it soft with your hands.
The dough should be smooth and soft. It will be slightly sticky, you can apply some oil in your hands and knead and divide the dough into equal small portions. Cover the dough with a wet cloth as you use it.

For the Kozhukattai

Apply some oil on your hands and take each dough balls and make it like a cup. Take a ball and place it on your left palm and press it in the centre with your right thumb. With the thumb holding still in the centre and with the help of your left thumb start pressing it thin and work around until it forms almost a cup shape.
Place the filling in the centre and fold it from all sides and form a shape as seen in the picture.
Repeat for the remaining filling and steam it for around 10-15 minutes. Grease the plate or place a plastic sheet while cooking so that it does not stick.
When it is cooked, the white colour of the dough changes pale in colour. Allow it to cool completely and then take it out.
Notes
Mixing the dough is a very important part of this recipe. Turn off the flame and then add the flour. It will be very difficult to stir the rice flour dough. But in practice you can get this easily done. So, add it in batches to avoid lumps and also it helps in mixing it properly. You can also use a whisk to stir it better. The dough should be without any lumps. If not, it will be difficult to make the outer cup.
Cover the dough with wet cloth. Do not forget this. If left to air dry, it will become very dry and break off while steaming. In spite of all measures, it might open up while steaming. Do not worry as long as it does not fall apart completely.
This post is for Blogging Marathon 42 under the theme "Ganesh Chathurthi Festival". Check out the Blogging Marathon page for the other Blogging Marathoners doing BM# 42 here.