Paal Kozhukattai - Rice balls soaked in a sugary coconut milk mixture. A traditional Tamil sweet made during Vinayaga Chaturthi festival.
Ganesh Chaturthi or Vinayaga Chathurthi is a very prominent festival in India. From North to South, Lord Ganesha is worshiped and celebrated by taking the idol in a procession and making his favourite sweet - Modak | Kozhukattai. Apart from the main
Vella Kozhukattai
and
Uppu Kozhukattai
, there are few other varieties of Kozhukattai. One such sweet variety is this Paal Kozhukattai. Small mini rice balls are soaked in sweetened thick milk syrup.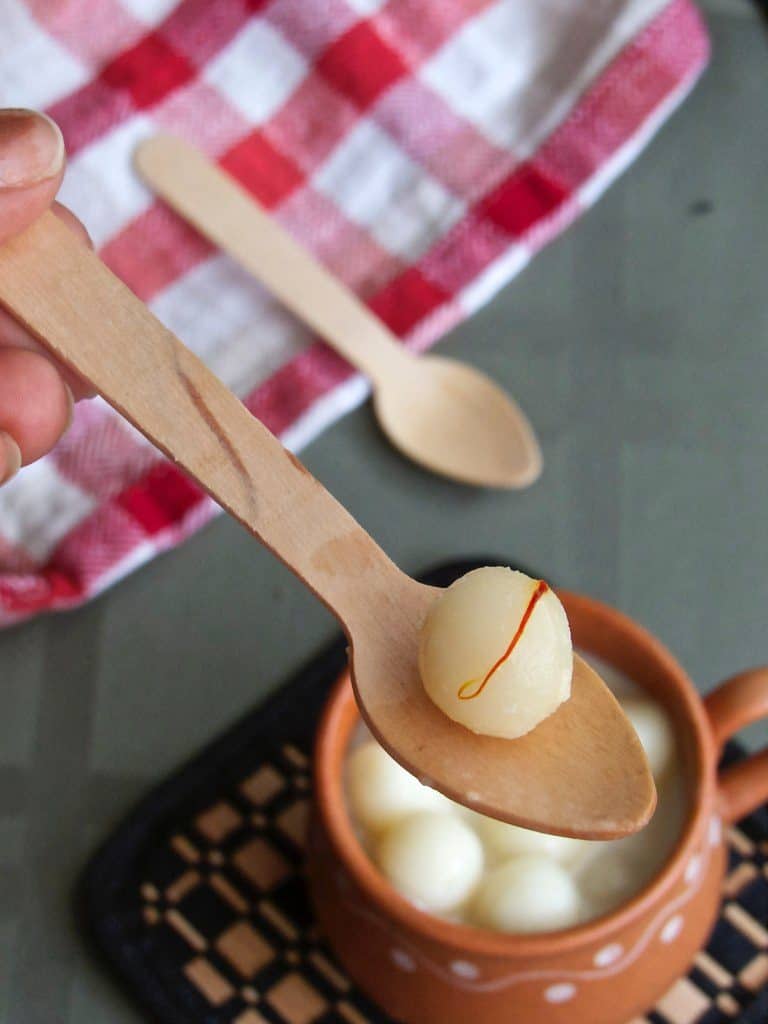 This paalkozhukattai can be made in two ways. One is with milk and sugar and the other recipe is with jaggery and coconut milk. Both taste equally good and sinful. This can also be had as an evening snack.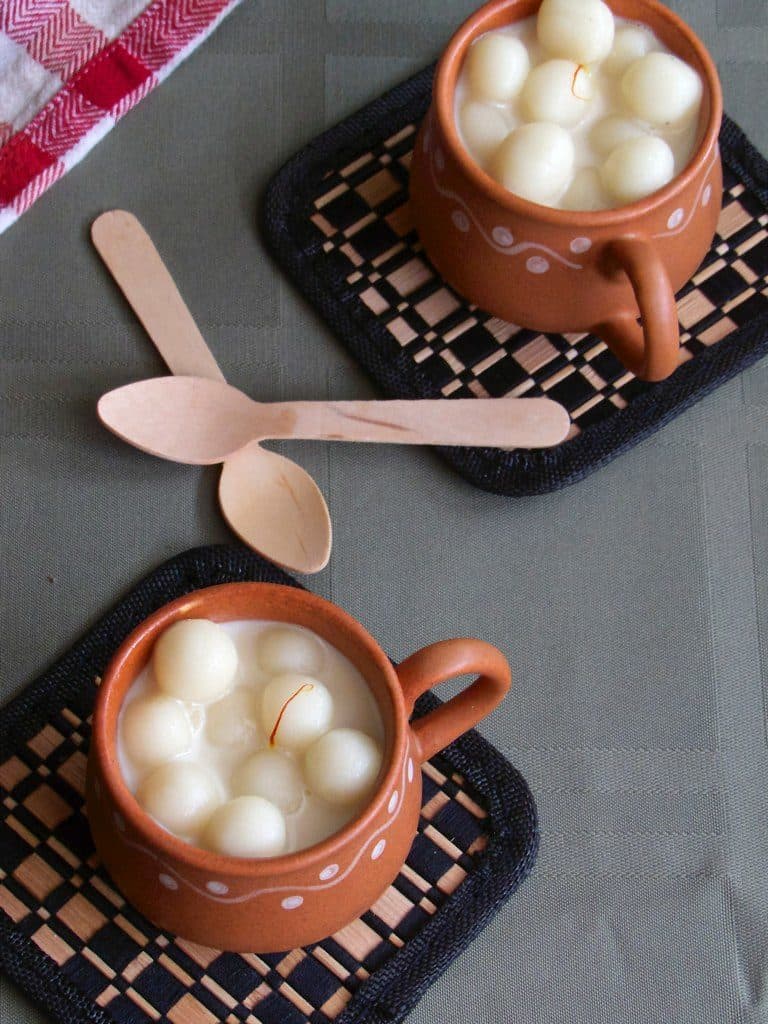 Paal Kozhukattai - Vinayaga Chaturthi Special
Rice balls soaked in a sugary coconut milk mixture. A traditional Tamil sweet made during Vinayaga Chaturthi festival.
Ingredients
1

cup

rice flour

Homemade or store bought

1

cup

water

Pinch

of salt

¾

cup

milk

¼

cup

coconut milk

refer notes 1

¼

cup

sugar

¼

teaspoon

cardamom powder

2

strands of Saffron

(optional)
Instructions
Bring water to a boil. Turn off the flame and add the rice flour in little quantities. Keep stirring it continuously and vigorously to avoid forming lumps. (refer notes 2)

Once everything is combined and when it is warm to touch, transfer it to a bowl and knead until the dough is soft.

The dough should be smooth and soft. It will be slightly sticky, you can apply some oil in your hands.

Divide the dough into small portions. Roll it with your hands to form a cylindrical shape. Then pinch small portions of it and form turkey berry size balls. Cover the dough with a wet cloth as you use it. (refer notes 3)

Steam these small balls for about 5-7 minutes.

meanwhile, bring milk to a boil. Slowly add the steamed balls in it.

After about 10-12 minutes, the balls will start rising to the surface. Keep stirring it gently and let the milk become thick and creamy.

Then add the sugar, cardamom powder and saffron (if using). Taste and add more sugar if needed. (refer notes 4)

Stir it well bring it to a boil. Finally, add the coconut milk and keep it for about 1 minute and turn off the flame. (refer notes 5)
Recipe Notes
You can also make this without coconut milk. Coconut milk is added to enhance the richness of this delicacy. If you don't have, add fresh grated coconut. The amount of coconut milk can be increased according to your taste preference.
Mixing the dough is a very important part of this recipe. Turn off the flame and then add the flour. It will be very difficult to stir the rice flour dough. But with practice, you can get this easily done. So, add it in batches to avoid lumps and also it helps in proper mixing. You can also use a whisk to stir it better.
Cover the dough with a wet cloth. Do not forget this. If left to air dry, it will become very dry and break off while steaming.
Add sugar after the balls are fully cooked in milk and the milk becomes thick. Since as soon as you add sugar, the milk will become slightly watery.
Similarly, add the coconut milk in the end. Sometimes adding coconut milk might curdle the milk. If it curdles slightly, it is fine. Just mix it well and serve. Do not boil it for long after adding the of coconut milk.