"Until oil separates/leaves, cook it…" is an attributed statement you will find in the instructions of many North Indian gravy preparation. Being a south Indian who was raised in coconut and tamarind base dishes where everything was simmered and if, fried not more than few minutes, comprehending this culinary jargon was difficult. I was under the impression that the whole amount of oil used would be released again and that's why restaurant dishes look so. I know silly of me!  But after so much of googling, I found out that I was not the only one with this confusion. Apparently, the whole lot, except those who had personal experience from their lineal ascendant, has the same confusion. Glad I figured this out, my dishes taste so heavenly now.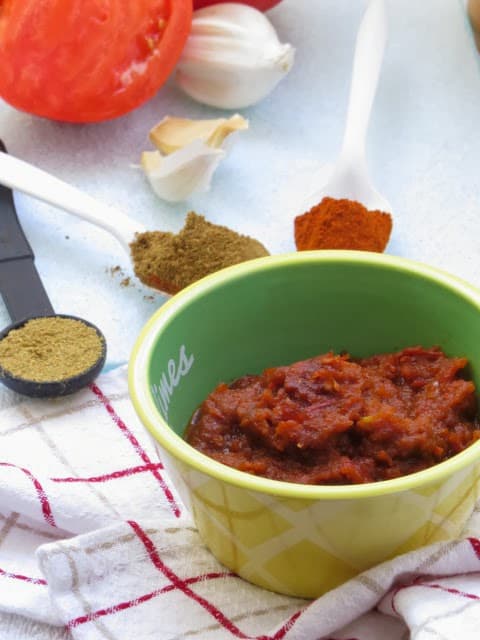 Before we go any further, one must understand the most intrinsic Indian cooking technique "Bhunao". Bhunao is a process in which the food is cooked uncovered to allow the excess moisture to evaporate on a medium constant heat. This process is very close to Sauteeing, actually, it is like sautéing and goes a bit further than that. According to many cookbooks and experts, there is no technique similar to this in the world cuisine. This is applied in preparing many of the rich and lavish dishes of the subcontinent. Those rich and creamy gravies combined with aromatic whole spices are a result of this technique.
Am talking about the gravies that have onion and tomato as a base. Generally, it is in the ratio of  1:2. This works for most of the time except when the tomatoes are either too tangy or unripe. Then, it can be adjusted by increasing the number of dry spices. If it is unripe, add more tomato. You can start with 1:1 and then increase gradually and then you can settle for a proper ratio. Try not to increase the amount of onions, as more of it would give a slightly bitter taste.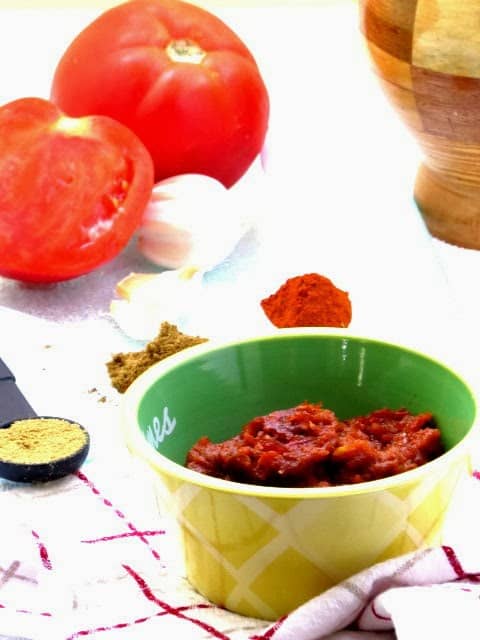 So now that the ratio is fixed, the next important step is that you have to fry (bhunao) the masala well. Keep sautéing them until the moisture gets evaporated and it thickens and you would see trace amounts of oil in separating and oozing on the sides of the masala. This is what "Cook until oil separates". But nowadays as we try to use very little oil and mostly use a non-stick pan, the separation of oil is not evident. There is no need to worry.  Just keep in mind that you keep cooking them until the moisture content evaporates and it gets thickened. On a personal note, I also prefer using the proper amount of oil for a dish is necessary. Reducing too much will not be good. So here is how it's done.
Onion Tomato Base for Indian gravies
Prep time: 5 mins | Cook time: 20 – 25 mins | Total time: 30 Mins | Serves: 2
Ingredients:
1 Cup Chopped Onions
1-1/2 to 2 Cups Chopped Tomatoes
3 Tbsp Oil
1/2 tsp Coriander Powder
1/2 tsp Red Chilli Powder
1/4 tsp Cumin Powder
Instructions:
Step 1:
To make the gravy, start with a cup of chopped onions.Both Red and Yellow ones can be used. Sauté them in 1/2 Tbsp of Oil until they turn translucent and slightly brown. This would take about 3-4 minutes. Cool and grind them to a fine paste. In some gravies along with this, you can grind ginger, green chillies and garlic. In Parallel, blanch the tomatoes in a pot of water. In your initial days of cooking, chop the tomatoes, sauté them for few mins and then grind them separately. So that you will know the ratio. Once you get used to it, without chopping them up you will be able to eyeball the proper amount. Then you can just roughly chop and sauté them.
Step 2:
Next, in the same pan, add 1-1/2 to 2 Tbsp oil. Once the oil is hot, you can add the whole spices that a specific gravy calls for and let them sizzle. Then add the onion paste and keep sautéing until they turn golden brown and the raw flavour is gone. This would take about 7-9 minutes on an electric range. For a gas range, it might be slightly less.  For a Moghul related dish, the onions have to be fried even more. Keep the flame in med to a med-high max. Do not keep it on high flame. It will get burnt. Keeping it at a constant heat helps them to get browned evenly.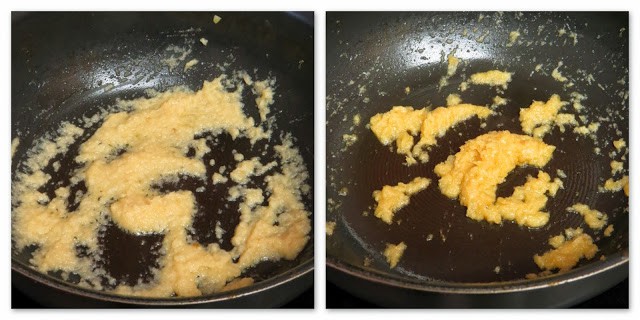 Step 3:
Once the Onions are browned, add the tomato purée. Be careful while pouring this in the pan. They will bubble and splutter. In the first 5 minutes, you see it will be bubbling and steaming vigorously trying to lose much of the moisture content and getting reduced. In the next 5-6 minutes, the moisture would have evaporated almost and it will come together as a mass.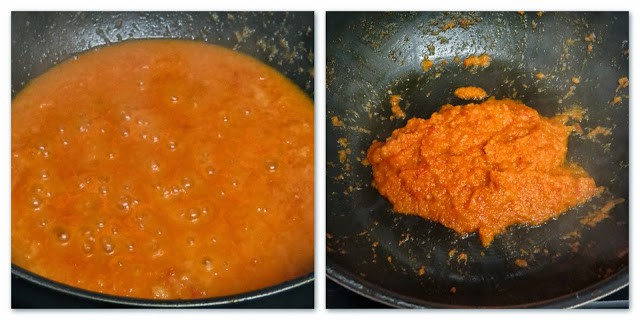 Now if you see carefully on the sides of the concoction, small bubbles will appear and oil will be released. The below picture shows the stages of the masala getting cooked. The first pic is after 12-15 minutes. The second pic another 3 minutes after. The moisture would have evaporated and it will start to shrivel up. This is when we know the masala is completely cooked. This is what means "cook until the oil leaves / separate".
Step 4:
Now add the dry masalas that the specific gravy requires (3rd pic). Add the masalas and fry for few minutes. This is also essential as the dry spices' raw flavour must go and it should fry for few minutes. Then add some water and add the lentils or veggies according to the recipe and proceed.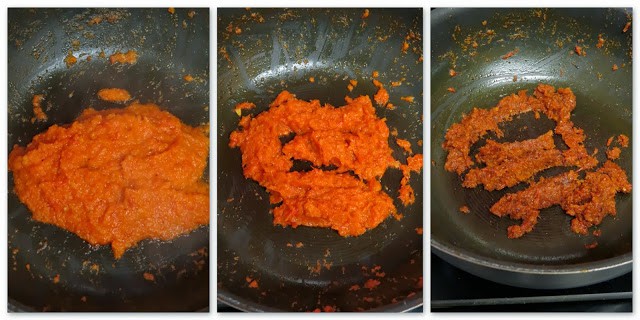 If you are making this ahead and storing it for future use, do not add water. Turn off the stove once the masala is cooked (the stage before adding the dry masala). Cool it completely and freeze it.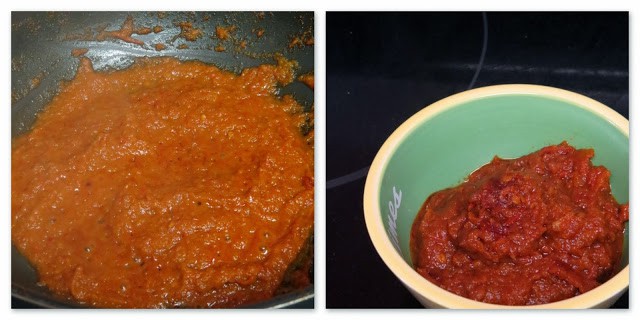 Hope this article helps all the newbies to try out the delicious Indian dishes without difficulty. Bon Appetit!
This recipe is for letter "
U"
 under
 "Misc"
 theme.  Check out other BM #32 Marathon runners' posts 
here
 on this page.