It all started a year back, when I had to quit my lovely job and become a stay-at-home. The initial days, in fact the initial months were a bliss. I could kiss honey good-bye, go back under my comforters once again and back into my utopian world. Those ecstatic days slowly turned into boredom. Thats when I started exploring this blogosphere. This became one of the means to pass time. Something that started as a hobby initially has now turned into a serious passion. Joining this Blogging Marathon group has taken this to the next level. I have met my flock of birds. There has been tremendous amount of sharing and learning from them and also I had the pleasure of meeting a few among them. We had a mini blogger's meet here in NYC last month. Many thanks to Pavani (Cook's Hideout) who was kind enough to accommodate all of us - Sandhya (My cooking Journey), Mir (Chef Mireille's Global creations), Usha (My Spicy Kitchen) and me. We had a wonderful time with amazing food, getting to know each other personally.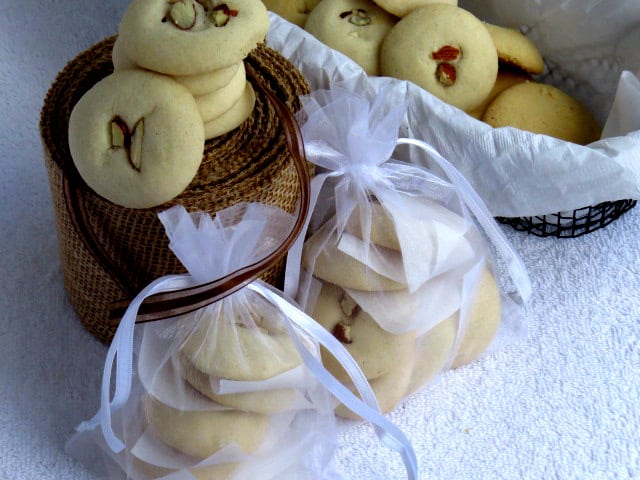 As this was my first bloggers meet and everyone being new to me, I had no idea what they would like/prefer. Thats when this edible gifting struck my mind. Edible gift is one of the perfect way to return your hostess's hospitality. More than any materialistic gifts I strongly feel that this show the other person you are geneuinely thankful and how much you care for them. I specifically saved this post for today as this week's Marathon theme - Crafts/Arts/Misc. This entire week you will find different ideas on edible gifts. Cookies always hold a high stand in everyone's heart. It is liked by people of all ages and brings a smile on everyone. There are very less people who turn away from this. This is a perfect choice in return to someone's friendliness on a special occasion.
There are so many ways to gift pack cookies. Wrap it in a tissue paper and box it or give it in a fancy container. I used these small pouches as my gift wrap. I had put each cookies with a tissue paper in between them. A colourful ribbon and a name tag made it look beautiful (I think it is 🙂 ). More on name tags for the wrapping in the next post. These items are easily available in any craft/stationery shops. Affordable and an elegant gift wrapping. It does not take much time and gives us a full satisfaction at the end. Here is the recipe for Nan Khatai.
NAN KHATAI | BUTTER BISCUITS
Creamy airy crispy biscuits made out of butter and flour.

Prep time: 5 mins | Cook time: 23 Mins Inactive Time 20 Mins| Total time: ~ 1 Hr | Serves: 16-17 no's
Ingredients

1 Cup + ¼ Tbsp Butter
½ Cup Confectioners sugar
1 Cup All Purpose Flour
¼ tsp Baking powder
¼ tsp Cardamom powder
⅛ tsp Salt
5-6 no's Almonds, broken roughly into pieces

Instructions

Bring butter to room temperature. It should be softened but should not start melting. Cream butter and sugar. Keep it aside.
Sieve all purpose flour, cardamom powder, baking powder and salt.
In batches, 3 to 4, fold in the flour mixture with the creamed butter and sugar. Once it gathers together knead it into a huge ball. Knead it very gently.
Set this for about 20 minutes by covering it in a plastic wrap or in an air tight bowl.
Then divide it into two big portions. Make small balls (¼" dia) , approximately 17-18 can be made with this amount.
Place them in a parchment lined baking sheet, with enough space in between them. In each ball, insert 1 or 2 pieces almonds based on how big it is.
Bake them at 300F for about 23 minutes. Remove them and keep it aside for 5 minutes. If you touch them as soon as it comes out of the oven, it will be very soft and it might break.
After 5 minutes, transfer them to a cooling rack and allow it to cool completely. Then transfer it to a air tight container.
This is for the first day of BM under Misc/Crafts theme. Check out the other Blog Marathoners here.