A big sigh of relief and a great sense of satisfaction. Mind is calm and composed and my heart leaps with joy as though I have achieved something. Wondering what this is all about ? Well I didn't accomplish anything. I just made my first home made spice mix. 🙂 Yeah. That brought a big smile to my face. For the past two years I have wanted to do this but just kept postponing due to sheer laziness. Finally Valli made me do this. 🙂
Even though we love variety in our dinner, sometimes certain dishes are repeated often. No matter how many times we have this, heart and stomach craves for it again and again. One such dish is this Channa Masala. It is ubiquitous and loved by all. It is not just confined to Indian homes, anyone in love with Indian cuisine will be surely fond of this. There is no Indian restaurant outside of India that does not serve this dish. This dish has attained such acclaims and rave because of its unique and delectable flavour which is due to this masala mix. This recipe is adapted from Indian Khana.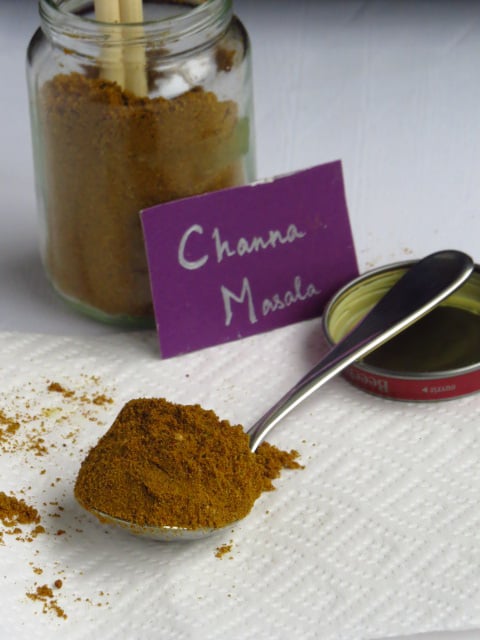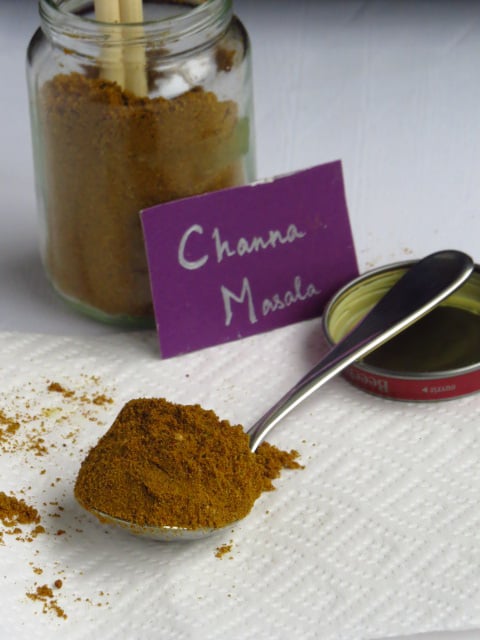 Home made Channa Masala Powder
Home made Channa Masala spice mix.
Prep time: 10 mins | Inactive time: 5 mins | Total time: 15 Mins |
Yields: ½ Cup
Ingredients

2 Tbsp Cumin seeds
5-6 no's Red Chillies
1 tsp Turmeric powder
1 Tbsp Coriander seeds
½ tablespoon Black Peppercorns
10 no's Cloves
1 Tbsp Sesame seeds
10 no's Green cardamom
4 no's Black cardamom
½ Tbsp Ginger powder
1 Tbsp Amchur powder
5, 1" Cinnamon sticks
2 Bay leaf
1Star Anise
½ tsp Nutmeg
½ Tbsp Rock salt

Instructions

Dry roast all the ingredients. Allow it to cool, then grind and store it in an air tight container.
This is off to the third day of the blogging marathon 29, week 3 under the theme "Spice Mixes". Check out the recipes of other blog marathon runners over here.