The Thanjavur cuisine is influenced more by the Marathi cuisine as well. The well known tamilian dishes like idly, uthappam, sambahr have come form the Marathas Kitchen. The genesis of this dish sambhar has an interesting tale linked to it. Sambhar was developed by the Maratha king Shahuji, who is also a great cook. He was fond of Amti (a maratha dish made with Kokum). One particular period he ran out of supply of kokum, which was usually imported. Someone in the court, suggested that he can use tamarind that is extensively used by the local inhabitants, as the substitute for kokum (which is also tart and tangy) . Being a great cook himslef, he experimented with pigeon peas, veggies and tamarind. Voilà! his experiments were praised by the court people and they decided to name the dish Sambhar after the guest Sambhaji. The Marathas might be the invaders of the region, yet they have equally given back to the people a rich heritage of literature and arts, along with some exotic food. Many dishes that represent the Tamil cuisine is from this region.Today's post is one such typical dish from the Thanjavur region. I am always amused by the name of this dish - "Daangar". Its very funny the way it it is pronounced. I am also not sure if this is a common dish in every household. Back home, mom used to make it quite often. But my friends have never tasted it before and now even in my in-laws place this is new. Daangar is very similar to a tamil pachidi / raita. U urad dahl powder is mixed with butter milk and seasoned with mustard seeds and chillies and cumin. This sides perfectly well with any spicy variety rice.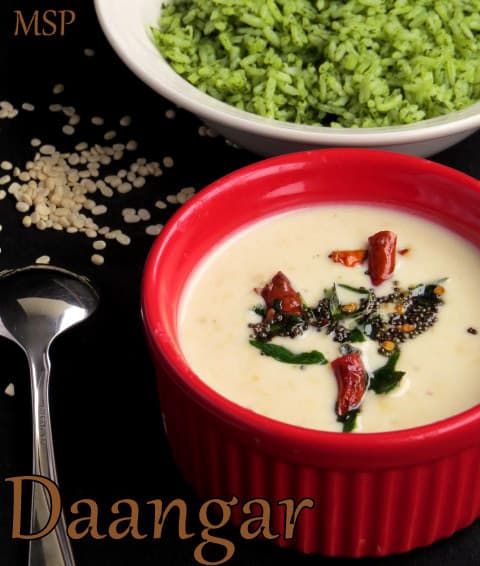 DAANGAR PACHIDI | URAD DAHL PACHIDI
Urad dahl powder mixed with butter milk and seasoned with mustard seeds and chillies and cumin. Sides perfectly well with any spicy variety rice.
Prep time: 5 mins | Cook time: 3 mins | Total time: ~15 min | Serves: 2
Ingredients

½ cup Urad dahl
1 Cup Buttermilk
Salt for seasoning
½ tsp mustard seeds
1 no red chillies
A pinch asafoetida

Instructions

Roast the urad dahl until it releases its aroma and starts turning golden brown. Cool and grind it in a mixer to a fine powder. Store the extra powder in an airtight container. You can also use store bought ready made urad dahl flour.
Mix this powder in buttermilk and stir it well without forming any lumps.
Heat oil in a pan, add the mustard seeds and as soon sa they crackle, add the curry leaves, red chillies and asafoetida.
Pour the tempering over the mixture and serve.
Notes
This is very similar to a pachidi. You can have this as a side to cool down the heat of the main dish. This can be had with Vathakuzhambu and rice or any other slightly spicy rice variety.
This for the sixth day of BM under Occasions theme. Check out the other Blog Marathoners here.