A simple and a easy lip smacking dish that comes very handy. This is multi dimensional and versatile in use. This can be used as a chutney for Idlis/Dosas/Chappathis, it can be used as a pickle for curd rice and also can be mixed with plain white rice. This dish certainly jogs good old memories. As my mom had to leave home very early in the morning for work, she always resorted to these kind of prepare-ahead-and-store dishes. Since this was just so heavenly good there were no complaints from my side to have this on a regular basis. My Mom used to prepare a large batch (almost for two weeks) of this and store it in the fridge. But that would hardly last a week!! Each and every time I open the fridge, I used to have a spoonful. 🙂 Sometime I just open it to have this! How many scoldings have I got! Poor mom. She thinks that it would help her for some busy days andI finish it off in no time. My bad! Now I am able to understand her feeling. When my hubby does the same thing, I get pissed off!
Prepare it ahead and store it in the refrigerator. It stays good for days. This is for the last week of BM 26 under the theme "Pick one ingredient". My ingredient is garlic. Check out the other blogging marathon runners here.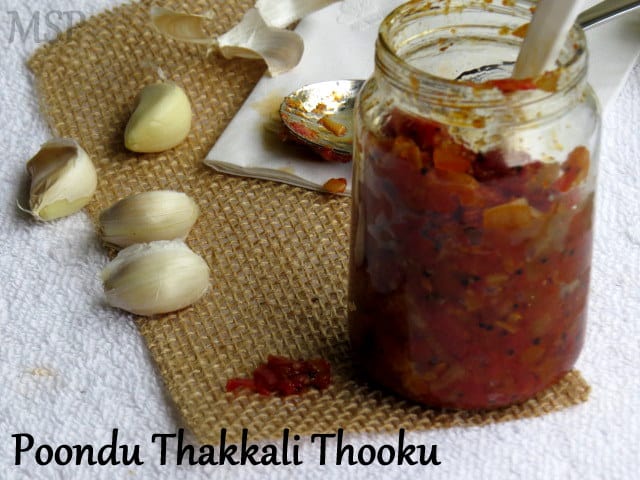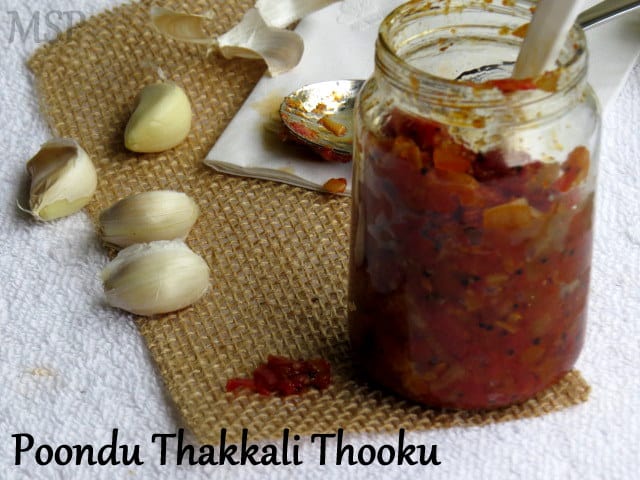 POONDU THAKKALI THOKKU
A simple and a easy lip smacking dish. Pickled garlic and tomato that comes very handy!
Prep time: 10 mins | Cook time: 25-30 Mins | Total time: Under 30 Mins | Serves: 2
Ingredients

4 no's (medium sized)Tomatoes, chopped
4-5 no's Shallots
10-12 no's Garlic pods, peeled and chopped
4-5 Tbsp Oil (preferably sesame oil)
½ tsp Mustard seeds
1 tsp Split urad dahl (optional)
1 tsp Split Channa dahl (optional)
½ tsp Asafoetida

Instructions

Heat Oil in a pan over medium heat. Once it is very hot, add the mustard seeds and as soon as it crackles, add channa dahl, urad dahl and asafoetida.
Once the dahl starts browning, add the shallots and garlic and sauté until it turns translucent. Keep it on medium heat in order to prevent garlic from burning.
Then add the tomatoes. Cover and cook until they cook well and become mushy. You can sprinkle water if needed. Keep stirring them.
Finally add the chilli powder and keep stirring them until the oil starts separating.
Cool them and store them in a container

Serving

You can either mix them with rice or have it as a side as chutney for idli and dosa. It is heavenly good with a simple curd rice.