Garlic is best known for imparting flavour in dishes and it is native to Central Asia. One clove is enough to impart so much flavour into a dish. The ancient Indians valued the medicinal properties of garlic and thought it to be an aphrodisiac. In the ancient times, garlic was used in Ayurvedic medicine. According to ayurvedic system, tt was thought to possess five of the six rasas or tastes. Sour taste was the missing one. Thus its name Lasuna in Hindi. (Derived from Rasuna). Although highly regarded as a medicine, garlic was avoided in cookery. But it was forbidden by monks who believed it to be a stimulant which aroused passions. Widows, adolescents and those who had taken up a vow or were fasting could not eat garlic because of its stimulant quality The Buddhists and Jains avoided eating it as did high-born Hindus and Brahmins.
This slowly changed with time and by the Mughal reign, garlic, ginger and onion were, and continue to be, an indispensable trio flavours in the cuisines of South Asia. Minced, sliced or as a paste, it is used extensively in most of the North Indian gravies. While a raw garlic can be pungent and strong in flavour once it is cooked it becomes mellow. I came across an interesting fact in the net. Garlic was worshipped by ancient Egyptians and were given to the workers building the Great Pyramids in Giza around 2600 BC.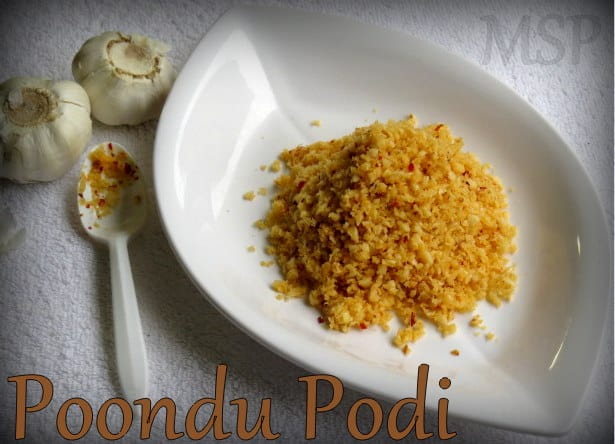 Garlic is our favourite ingredient. I love adding it to as many dishes as possible. It gives a nice flavour and also it is good for health. This is one simple mix that can be mixed with rice or have it for idlis / Dosas along with sambhar / chutney. A bit spicy and has a strong garlic scent.
Roast the garlic until the raw smell goes off along with other ingredients. It has a shelf life of maximum a week. Roasting all the ingredients increases their shelf life.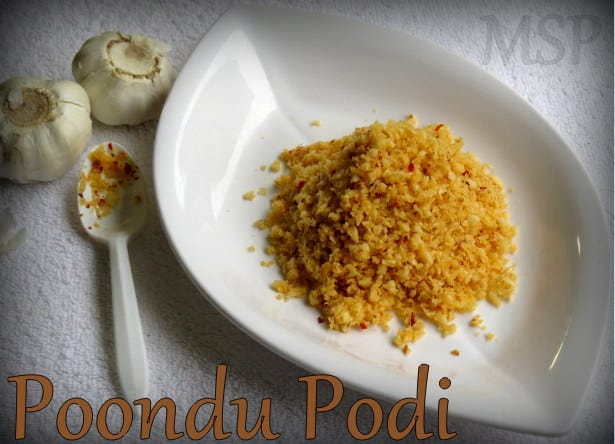 POONDU PODI | GARLIC SPICE MIX
Strong and spicy garlicky! Mix it with rice or have it as a side for Idlis/ Dosas in addition to chutney or Sambhar.
Prep time: 5 mins | Cook time: 5 Mins | Total time: 10 Mins | Serves: 2
Ingredients

12-15 no's Garlic pods, peeled
3-4 no's Red Chillies
2-3 Tbsp Grated coconut
1 tsp Oil

Instructions

Roast all the ingredients until they turn golden brown. and the raw smell of the garlic leaves. Allow it to cool and then grind it coarsely in a mixer.
Notes
You can either coarsely grind it or add little water and make it as a chutney. If it is ground coarsely you can mix it with rice and have it. If it is a chutney have it with dosa or idli.
This is for the last week of BM 26 under the theme "Pick one ingredient". My ingredient is
garlic
. Check out the other blogging marathon runners
here
.