Summer in India resonates with numerous food pursuits. The scorching tropical climate of the subcontinent is ideal for making so many condiments and sides. Fresh batches of Papads, Vadam are made, seeds indigenous to India like manathakali, Sunadakai are dried to make Vathal and various kinds of pickles are made. Indian women are pretty busy with these activities throughout summer. Even though pickles are little time consuming, this raw pickle is an instant one.
Mangoes are a summer feast. Before we could dive into this juicy and luscious fruit, we get to taste these acidic and heat intense raw mango pickles. These raw mangoes are like pre summer veggies. They have a wide culinary use in the Indian kitchen. Mamidikaya Pappu, a traditional andhra dish tastes heavenly when made with these small raw mangoes. There is another south indian dish, Mangai sadam which is also made either with these small or big raw mangoes. To follow suit, this is simple yet a must have during the summer! This is best paired with chilled curd rice.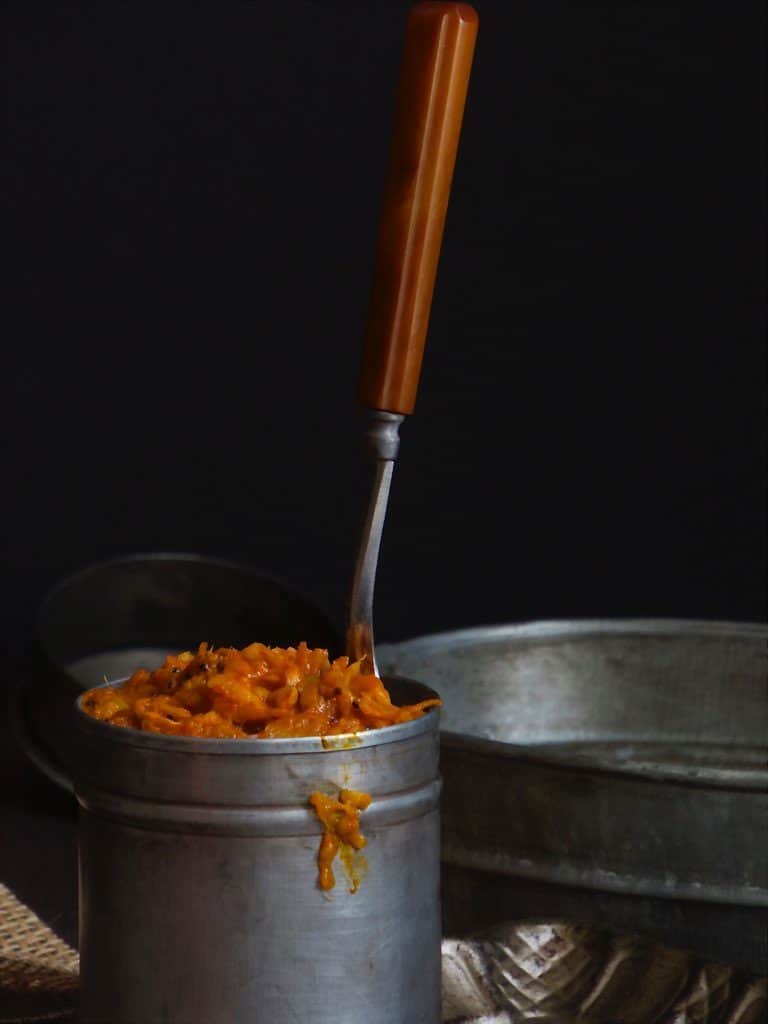 Maanga urgai | Raw Mango Pickle
Grated raw mango pickle, tempered with Indian spices.
Prep Time: 5 Mins | Cook Time: 1 Min | Total Time: ~6 Mins | Serves: 2
Ingredients

1 Cup, peeled and Grated Raw Mangoes
Salt to taste
2 tablespoon Sesame Oil
1 teaspoon Mustard seeds
3-4 Curry leaves, torn
A pinch of asafoetida
A pinch of turmeric powder
1 tablespoon Red chilli powder

Roast and Grind

½ teaspoon Cumin seeds
¼ teaspoon Methi seeds

Instructions

Heat a small Kadai | Pan. Add oil and once it becomes smoking hot, add the mustard seeds, curry leaves and turn off the flame.
Immediately add the asafoetida powder, red chilli powder and turmeric powder. Mix it well and pour this oil on the mango.
Mix it. Add salt and check for seasoning.
Meanwhile dry roast cumin seeds and methi seeds. Coarsely powder it and add a pinch of this to the mango mixture as per needed.
Notes
The spice level given is not an exact measurement. You will have to adjust it according to the sourness of the mango and how spicy you need it. Generally the spice level for pickles are slightly on the higher side. Also as it rests, the spice and powders will infuse more. So if you feel that it is slightly less spicy, wait for a day and then check.
Also if you want to add extra chilli powder, always heat oil and then add it. DO not add the chilly powder directly in the mango.
This post is for Blogging Marathon 52 under the theme "Seasonal Veggies". Check out the Blogging Marathon page for the other Blogging Marathoners doing BM# 52 here.