For this weeks marathon the theme is "one ingredient" and beetroot is the ingredient I chose. You will find three posts with beetroot and the first post is a raita. Raita | Pachadi, a very common condiment in Indian cuisine is a best coolant for summer heat. No biriyani or pilaf is served without this chilling side. Most spiciest of dishes can be balanced with this as a side. There are so many varieties of raita and you can add most of the veggies to prepare this. Incorporating this in your diet on a regular basis, especially in summer, has a chilling effect on your body. It helps to reduce the body heat and gives us an instant relief.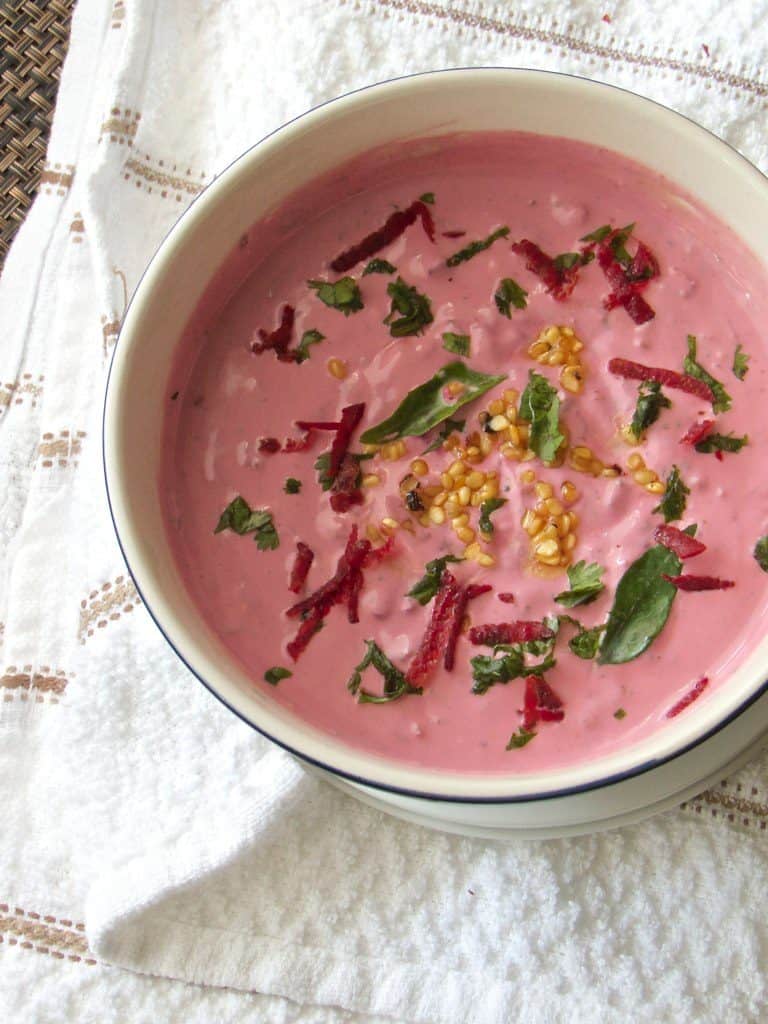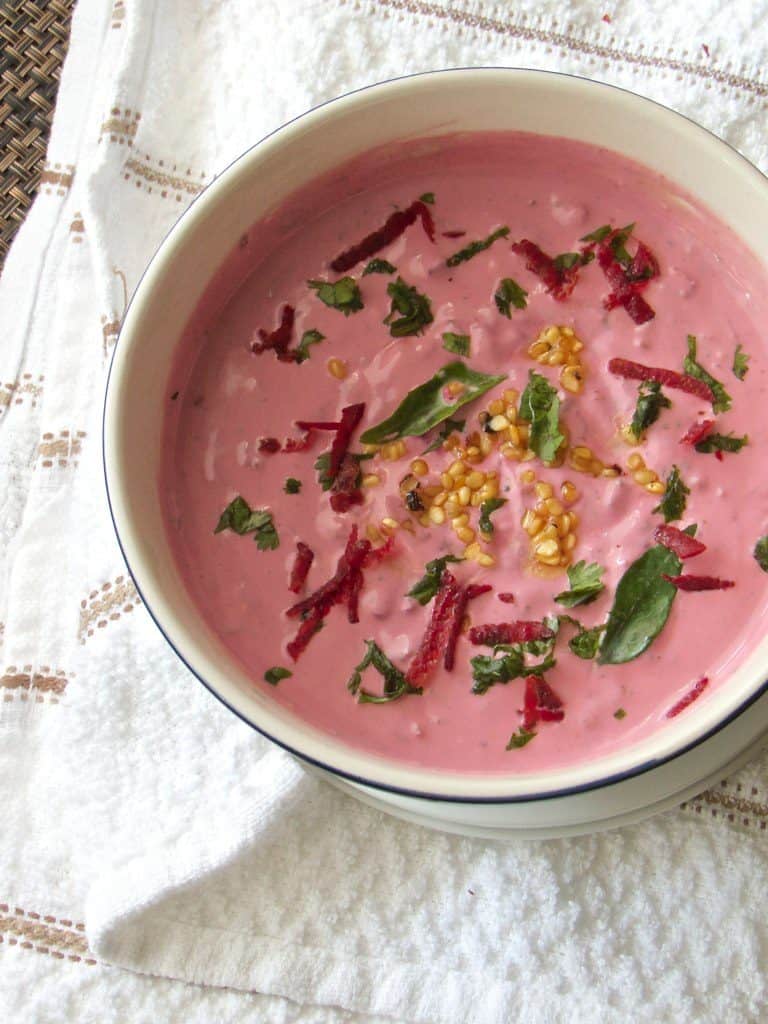 Beetroot Raita | Beetroot Pachidi
Cooked beetroot in chilly-ginger yoghurt dip.
Prep Time: 5 Mins | Cook Time: 5 Mins | Total Time: 10 Mins | Serves: 2
Ingredients

½ Cup Grated Beetroot
1 to 1 ¼ Cups thick Curd
Salt to taste

For Grinding

1 Green chilly
½" ginger piece
Few coriander leaves

For Tempering

½ tablespoon Coconut oil
¼ teaspoon Mustard seeds
¼ teaspoon Urad Dal
A pinch Asafoetida
Few curry leaves

Instructions

Heat a tablespoon oil in a Kadai | Pan. Add the grated beetroot and cook. Sprinkle some water and keep sauteing for about 2 or 3 minutes on medium flame.
Meanwhile grind green chilly, ginger and coriander leaves.
Heat half a tablespoon of coconut oil in a pan. Add the mustard seeds and let it splutter. Then add the urad dal, curry leaves and asafoetida.
Beat the curd in a bowl. Add the ground ingredients, cooked beetroot, salt and mix well. Pour the tempering over this and mix.
Serve it chilled or at room temperature with any kind of pilaf or variety rice.
This post is for Blogging Marathon 41 under the theme "Pick one ingredient". My ingredient for this week is Beetroot. Check out the Blogging Marathon page for the other Blogging Marathoners doing BM# 40 here.