For the past couple of months most of the homes would have been so much chaotic, noisy and fun. Boisterous kids around the house 24/7 enjoying their vacation with full time play and no work. Sure, its happy to have them around but sometimes we might wonder if we are better off on their school days. 😉 The question of which is better is between sixes and sevens. Now that the summer vacations are almost over and in some parts of the world schools have already begun, I thought it would be apt to have
"After school bites"
as the theme for this month's
Kids delight
- an event conceived by Srivalli. There is also a personal reason for choosing this theme.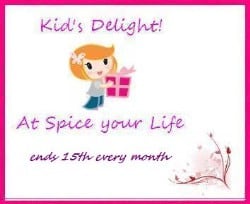 The evening munch is what I enjoyed the most as a kid. Nothing beats the tiredness and drag from our after-school-effect than a plate full of goodies with a twist. Since I had a working mom, I did not enjoy the luxury of having a variety everyday. Mostly it would be store bought snacks or sometimes home made goodies that she prepares and stocks during the weekend. Until the age of 10, my parents never allowed me to open the door and be inside the house by myself. So there will always be an half an hour to one hours wait until dad gets back from work. I am allowed to enter the verandah (like a porch that separates from the main house) more like a small room, to keep my bags, change and either do my home work or go out to play. Mom used to keep some snacks or a portion from the morning's breakfast in a box so that I don't starve till dad comes. Yeah my dad used to come earlier than mom after work. I have always felt bad seeing my neighbour's mom waiting at the gate to receive him everyday. The twist is that she used to leave some notes along with it. This note gave me immense pleasure and compensated for her absence when I returned from school. More than what is there to eat I was always excited to see what note she had written. Till date I used to think of those happy times every time I have a snack in the evenings.
Send in recipes that you treat your kids every evening. The dish can be a savoury, sweet or bakes. Basically any kind of snacks or evening tiffin your kids eat. Looking forward to all your entries.
Here are the rules:
Cook any kid approved dish that you would serve them after school. Post it in your blog between the dates Aug 16th - Sep 15th. This event runs for a month.
Only Vegetarian dishes please but eggs are allowed.
Linking to this post and Valli's Kids Delight announcement page is mandatory.
Multiple entries are allowed and old posts need to be reposted with links to this post and Valli's Kid's Delight event announcement page.
Link your blog posts in the linky tool provided below.
Do not have a blog, but want to contribute, then email me your recipes to [email protected] I will post them on my blog and include them in the round up.
Send in your entries with the following information:
Your name
Entry Name
Include a brief description of the dish and how he/she (kids) enjoyed it
Send in all your entries before end of day Sep 15, 2013. Non-bloggers please email me a picture along with your recipe details.
Reader Interactions