There are some dishes tagged as week end ones. May be they are time consuming involving complex processes or simply because they are supposed to be relished at pace without any hurry. The whole family gathered around the table chit chatting happily and enjoying mouthful of favourites at leisure. That's a real bliss. At weekends, we always have brunch. Actually my grandparents have brunch everyday around ten ish and a light evening tiffin (snacks) around three. This is a typical routine in most of the
Tambrahm
house. Eventually these customs changed and got adapted according to one's convenience.
But we stuck to the lineage routines in week ends. An elaborate meal including everyone's favourite was made. This recipe here is a week end special. Since we are all rice lovers, apart from the regular kuzhambu, we have these thogayal, kootu and masiyal. Masiyal is something that is smashed until smooth and velvety, enjoyed with steaming rice. The most important ingredient is the lemon or tamarind that imparts a tangy flavour that should pucker our mouth at each bite.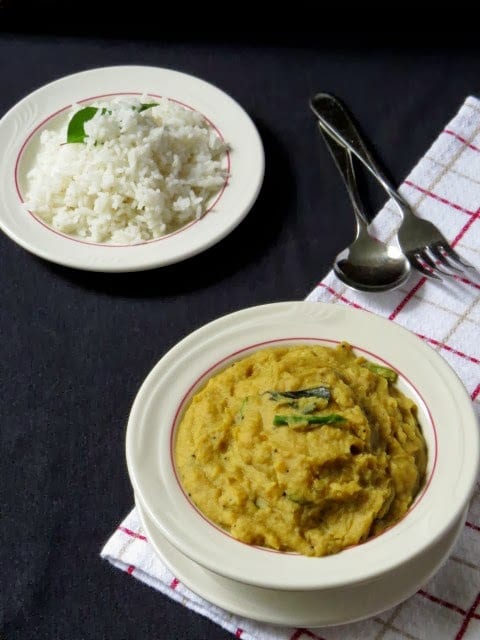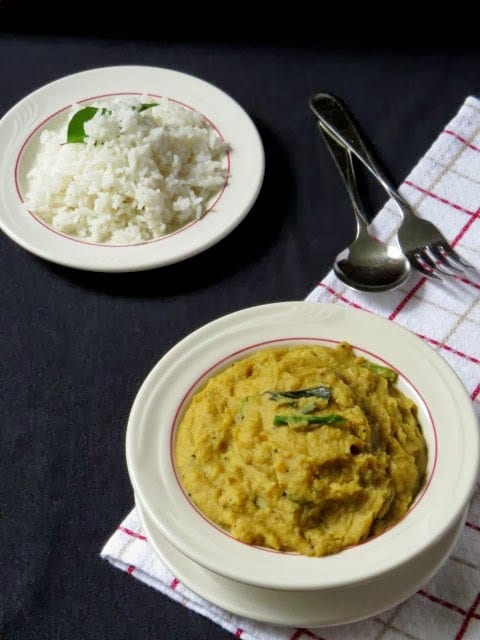 Karunai Kizhangu Masiyal
Lemony and spicy Mashed Yam.
Prep time: 10 mins | Cook time: 5 mins | Total time: 15 Mins | Serves: 2
Ingredients

1 Cup chopped Yam
1 tablespoon Coconut oil
½ teaspoon Mustard seeds
3-4 Curry leaves, chopped
1 teaspoon Urad dal
¼ teaspoon Asafoetida
¼ teaspoon Turmeric powder
4 Tbsp Lime juice
Salt to taste

Instructions

Peel the outer hard skin and chop the yam. Pressure cook for 1 whistle. Mash it well.
Heat oil in a pan. Once hot, add the mustard seeds and allow it to splutter. Then add the curry leaves, urad dal and let it become golden brown.
Then add the asafoetida, turmeric powder, salt and the mashed yam.
Add some water to make it semi solid and finally add the lime juice. Serve it with white rice.
Notes
One should be careful while handling yam. Do not wash your yam under water. Your hands start to itch when you touch it with your wet hands. The best thing is to peel off the hard skin, chop it, place it in a colander and then run them directly under tap water without touching it.
This recipe is for letter "Y" under "Regional" theme. Check out other BM #32 Marathon runners' posts here in this page.