There are some spice mixes that can be universal. It is so all-purpose, that you will be using it in most of the recipes. One such not so widely known spice mix of the Tambrahms is this kari podi (it has nothing to with curry powder, just a homophone) I can never imagine my pantry without this in stock. It gets generously used in most of the stir fries (kari) and in araichuvitta sambhar. Also you can use this as to amend the regular sambhar or any tamarind based gravy if the sourness is more. And, if any spice mix calls for channa dahl, dhaniya and red chilli, I immediately substitute this. This
spice
mix's main purpose is to use it in stir fries i.e., Kari and hence the name kari podi (powder in tamil).
This is the star ingredient of my today's recipe. I have used this as a stuffing in Vendaikkai. For this recipe, one has to have small and tender okra. If the size is uniform and small, it cooks evenly and faster. If it is not tender and is tough, it become rubbery and difficult to chew when fried.
This dish is one of the best ways to eat vendakkai / Okra. Its not gooey and slimy and its a perfect balance of crispiness and softness. And for the spice lovers, you can increase the chilli and it can be paired well with dishes similar to kadhi and morkuzhambu.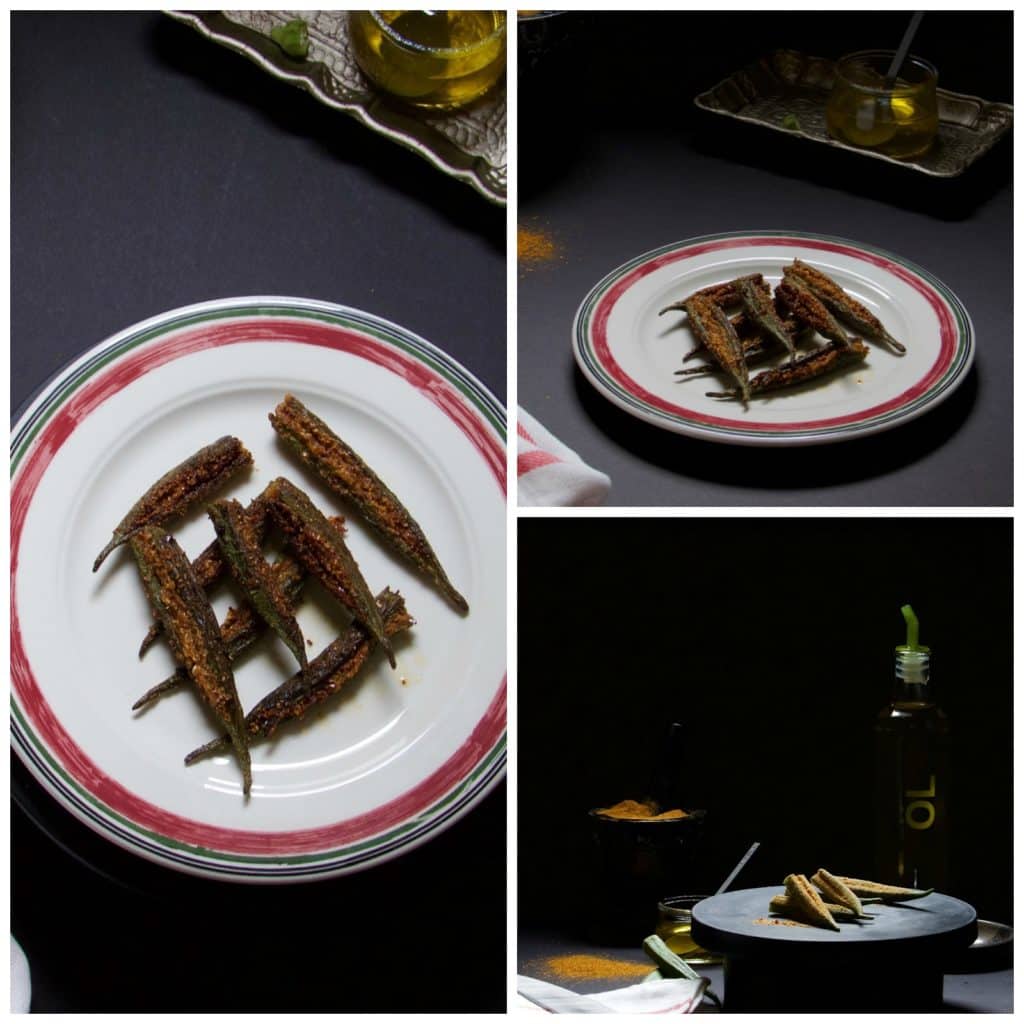 Lady's Finger Fry | Stuffed Vendakkai Okra
Lady's Finger / Vendakkai / Okra stuffed with a spicy kari podi.
Ingredients
About 20

Vendakkai | Okra

(small size)

4-5

Tbsp

Oil
For roasting and grinding
4

Tbsp

Dhaniya | Coriander seeds

3

Tbsp

Kadalai Parupu | Channa Dahl

4-5

Red Chillies

Salt to taste
Instructions
Roast the dhaniya, channa dahl and red chillies in a pan. Cool and grind it to a fine powder. Add salt to the mix.

Wash and pat dry the Okra with a towel. Then trim the head and slit in between making it into half.

Then stuff the spice mix in between and press it tight so that it holds.

Heat oil in a heavy bottomed Kadai | Pan over medium low heat. Preferably a cast iron pan.

Once the oil is hot put the okra and make sure it is not over crowded.

Cover with a lid and cook. Keep turning it in between and cook until it becomes tender. You can also add the spice mix on top if there is any remaining.

Serve them with mor kuzhambu rice.
Recipe Notes
Adjust the chillies as per your spice level. Also add salt a little bit more. It should be slightly salty and spicy so that you don't have to add it in the end. Even if you add it in the end it might not mix properly.
Check out the Blogging Marathon page for the other Blogging Marathoners doing BM# 63 here.