Goa may be a vacation spot for many. Beaches, resort, vacation and relaxation. But for me its more than that. It was my second home. It was pouring raining cats and dogs when I first stepped into Goa 9 years back and I was almost like a lost kid in the carnival. Four years of blissful college years in a beautiful campus over looking the Zuari river. As soon as I saw this recipe is one of the options in this month's BM, my spirits went high. Then and there I decided this would be my choice. Today's post is about a Goan style Pav Bhaji known as Tonak Pav in remembrance of my good old lively days.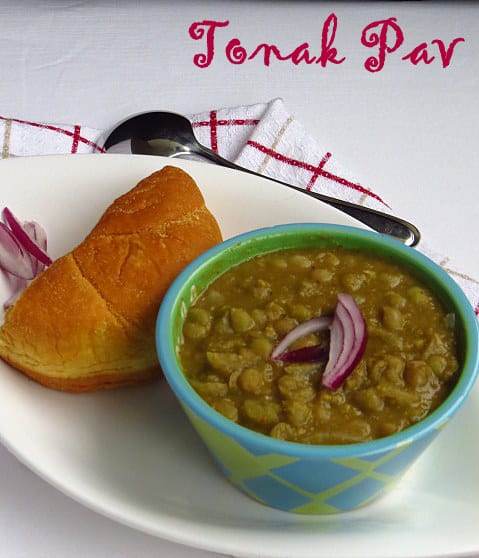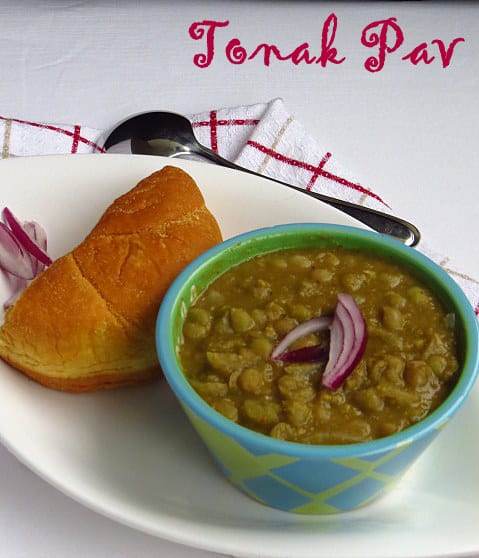 TONAK PAV
Goan style bhaji with peas, accompanied with Pav or flatbread
Prep time: 10 mins | Cook time: 20 mins | Total time: 30 Mins | Serves: 3-4
Ingredients

1 Cup peas, soaked overnight
2 Tbsp Oil
¼ Cup Chopped onions
½ tsp Red Chilli powder
1 tsp Garam Masala

To Grind

¾ Cup Chopped Onions
½ Cup Grated coconut
1 Tbsp Tamarind paste

Instructions

Pressure cook the peas and keep it aside.
In a pan add 1 tablespoon of oil and add ¾ cup chopped onions and once they start to brown add the grated coconut and give it a quick stir for a minute or so. Add tamarind paste to the sautéed onion and coconut and grind it to a smooth paste.
Heat a tablespoon of oil add the remaining onions and sauté them until they turn golden brown. Then add the ground paste, red chilli powder garam masala and the cooked peas.
Simmer it for another 5 minutes and add water if required.
This is off to the second day of the blogging marathon 30, week 4 under the theme "Combo Dishes". Check out the recipes of other blog marathon runners over here.