Sheermal Kashmiri bread - A slightly sweet bread flavoured with Kewra water and topped with sesame seeds.
We are finally on the top today. I mean its cooking from the Kashmiri Kitchen, Northern most part of India. Jammu & Kashmir, the much-disputed land in India is known for its extravagant beauty. The snow clad mountains, the soothing lakes and valleys, it is a picturesque landmark. If nature has bestowed tremendous wealth and richness, Kashmiri people are in par with that. They are known for their literature, music, culture and cuisine. Kashmiri cuisine is known for its unique flavour imparted by whole spices especially saffron and gracious use of nuts and dry fruits. Generally, it is reputed for its meat dishes like Rogan Josh, Sheekh Kabab and Dum Aloo and Kashmiri Pulav.
Amidst the love for the famous ultimate banquet wazwan, these lake valley folks also have a special place in their heart for bakery items. From bread to cakes to pastries, there is a long line of stalls throughout the valley region, warming the air with their Tandoor. Kashmiri cuisine also is known as "Kashur Kyon" in the native language has a heavy influence from the Central Asian and Persian cuisine. The custom of having these bread for breakfast and dinner was adapted from them. There are so many breads that are similar to Persian ones. In the local language, Tsot is called a bread. A native's day starts and ends with these warm aromatic flavourful baked goodies and needless to say with a cup of "Kawah"- a Kashmiri chai. Out of the many, most sought out are the Katlamas, Sheermal, Baqerkani, Lavas, Tsot and Tsotchovru. These are either had for breakfast tea or had as snack.
Credit: Wikimedia. This is how the breads are made in Tandoor.
While most of the India enjoy it's famous subtly flavoured Darjeeling black tea, Kashmiri's have their special tea. Kashmiri's are fond of their tea. There are two types of tea that are enjoyed in every household. Noon chai or Sheer Chai is a pink colour salted tea. Its speciality is that it is made with green tea, milk, salt and cooking soda. Well, personally that would not be my cuppa but that's what helps them to survive the cold weather. Noon means salt in the native language. Another one is Kawah, a green tea made with milk, saffron and nuts. It is a speciality during weddings and festivals.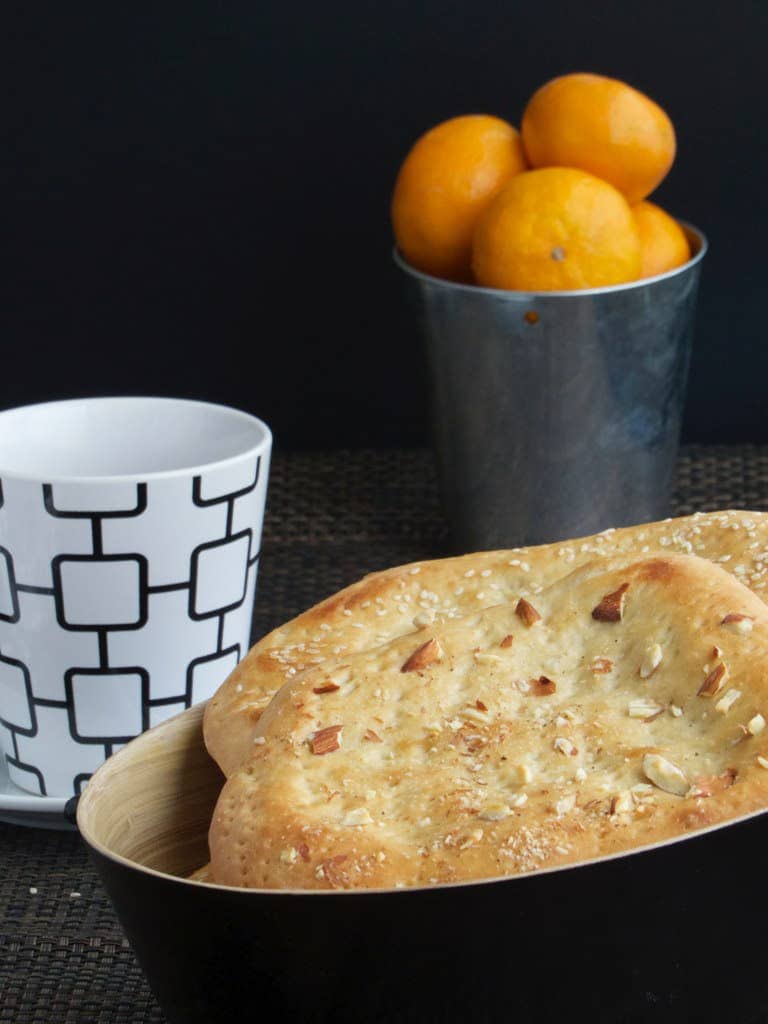 There is an interesting custom in the Kashmiri marriages to substantiate that bread are an intrinsic part of their lives. On the first Tuesday or Saturday after the wedding, the bride's parents should send the groom's family along freshly baked bread adorned with nuts and, salt. This tradition locally is called "Roth Kabhar". The belief behind this practice is that the parents can be assured that their daughter will be able to eat something on her way to the groom's house. In olden days, the commute usually took weeks and it is natural for the bride, because of the unfamiliarity and new people, to be shy in front of the in-laws to have a full course meal comfortably.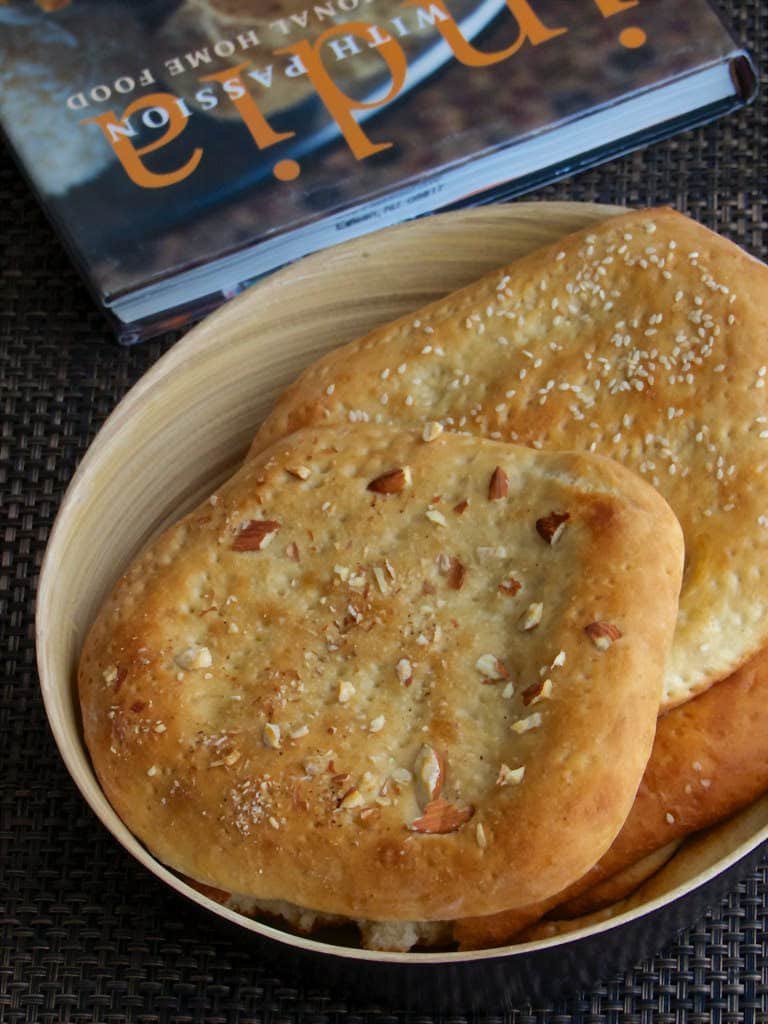 Today's recipe is a slightly sweet bread Sheermal. Source of this recipe : Cook with Faiza.
Sheermal – Kashmiri Bread
A slightly sweet bread flavoured with Kewra water and topped with sesame seeds.
Cuisine:
Indian, Kashmiri
Ingredients
Dry Ingredients
2.5

Cups

Maida

¼

Cup

Milk Powder | Mawa

¾

teaspoon

Salt

Yeast Solution

2.5

teaspoon

Active dry Yeast

2

tablespoon

Sugar
Wet Ingredients
1

Egg

½

Cup

Milk

2

tablespoon

Kewra or Rose water

3

tablespoon

Melted Butter

3

tablespoon

Double Cream or Heavy Cream

Some Luke warm Water
Instructions
Mix yeast and sugar in 2 tablespoon warm water and keep aside for 5 minutes or until it froths on top.

Sieve the flour in a mixing bowl. Add the other dry ingredients to it and mix well.

Make a well in the centre. Then add the yeast solution, and the other wet ingredients one by one except water.

Mix it well with your hand and then add water only if needed to knead. Knead it well for about 3-4 minutes. The dough will be soft and slightly sticky.

Cover it and let it sit for about 2 hours in a warm place. By then it would have doubled in volume and risen.

Preheat the oven to 390F.

Dust flour in the hand and on the board or counter where you will work. Take out the dough and again knead it for a minute to release any air pockets and divide into 4-5 equal parts.

Take one and roll out using a rolling pin or shape it with your hand. The bread should be rolled little thick. Then pinch it with a fork so that it does not rise. Brush some milk on top and then sprinkle sesame seeds on top. Repeat the same for each.

Keep it in the oven in the middle rack for 10-12 minutes at 390F. In between about 9-10 minutes later, check the bottom and turn it upside down if it is browned well. Keep it for another 1-2 minutes and take it out.

Once it is baked, cool it for about 5 minutes, brush it with milk again and serve immediately. Keep it in an aluminium foil or in a dish cloth to retain the softness.