For the third day of Blogging marathon, it is Corn spinach rice. A simple, mildly spiced green leafy rice.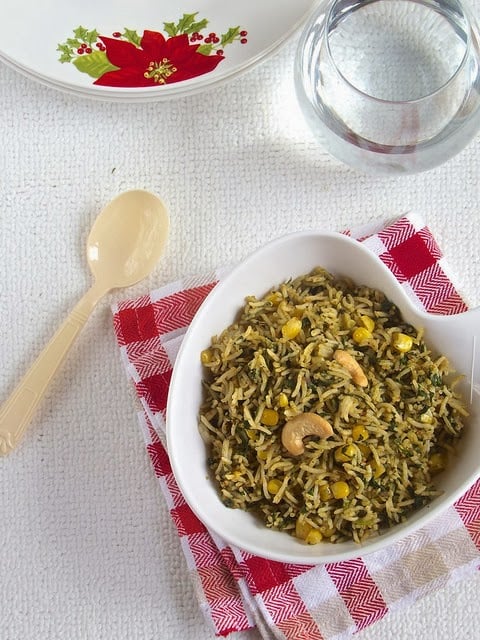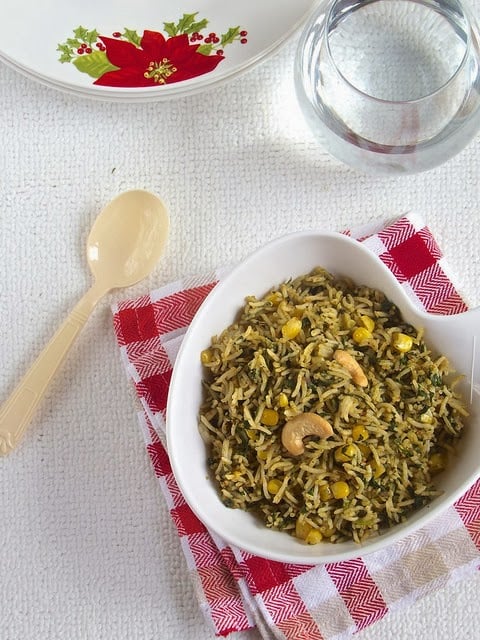 Spinach Corn Rice
Simple, mildly spiced green leafy rice. Another one pot meal for lunch box.
Prep time: 10 mins | Cook time: 20 mins | Total time: 30 Mins | Serves: 2
Ingredients

1 Cup Basmati Rice
2 ½ Cups Tightly packed washed chopped Spinach leaves
2 tablespoon Oil
1 teaspoon Cumin seeds
2 Cloves garlic
½ " Ginger pieces, peeled
2-3 no's Green chillies
1 Medium sized Onion
¼ Cup Corn kernels, frozen
½ tsp Cumin powder
1 tsp Coriander powder
1 tsp Chilli powder (optional, if more spice is needed)

Instructions

Cook the Basmati rice in a cup of water. Cool it and fluff it with a fork to separate grains.
Grind the garlic, ginger and green chilli with very little water, if needed.
Heat oil in a pan / Kadai over medium high heat. Add the cumins seeds. Once they sizzle add the sliced onions and saute until it turns translucent.
Add the ground ginger- garlic- chilli paste. Stir them until they lose the raw taste.
Then add the spinach leaves and let them wilt. Keep stirring in between until it reduces and wilts completely.
Add the spice powders(cumin powder, coriander powder and chilli powder) and stir them. Add the frozen corn, salt and give a quick stir.
Reduce the heat to low and add the cooked rice.
Mix it well and check salt seasoning.
This is off to the third day of the blogging marathon 38, week 2under the theme "Rice Recipes". Check out the recipes of other blog marathon runners over here.