Kuzhambu is a quintessential dish for us South Indians. Some kind of sambhar (with veggies) will definitely be there in a South Indian household. Especially if there are older generations in your house, it is a everyday meal even both for lunch and dinner! We mix this with rice and have some stir fried veggies on the side and on weekends also a papad. During my childhood days, mom used to make the general sambhar or onion vathakuzhambu (this is more tangy and spicy gravy than sambhar). Though I have heard about other regions dishes, we have not tasted much back then. So after marriage, I made it a point to try out all the Kuzhambu varieties available. One such variety is this spicy, tangy garlic flavoured gravy from the Chettinadu region. This region is known for it fiery food and people intolerant of hot spices beware! One of the spiciest and most flavourful cuisine of the South. They are known to generously use fresh ground masalas in their cooking.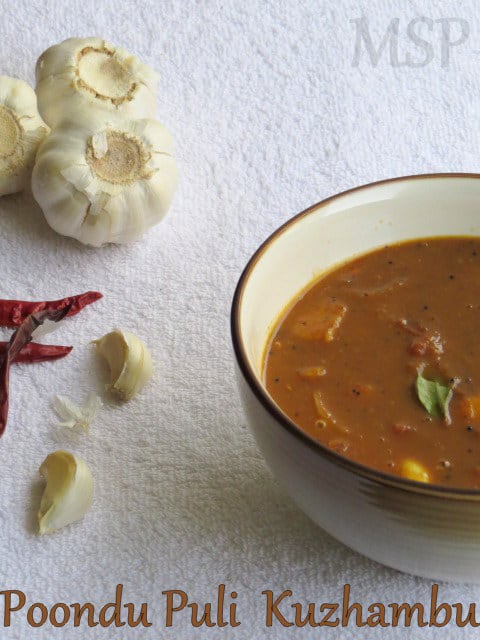 Serve this with steaming white rice and a dollop of ghee on top. Generally we don't want to have any left overs. But a left over puli kuzhambu is much tastier than a freshly prepared one. Yes! Am not kidding. This sure tastes much better the next day. The tamarind flavour enhances with time. So make sure to prepare extra servings.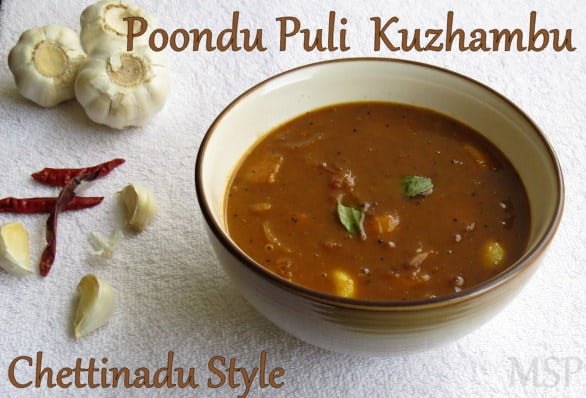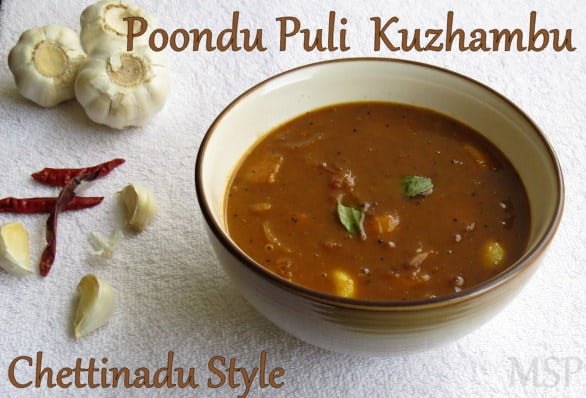 Poondu Kuzhambu ~ Chettinadu Style
Spicy Tangy Garlic flavoured curry.
Prep time: 10 mins | Cook time: 20 Mins | Total time: 30 Mins | Serves: 2
Ingredients

2 Tbsp Sesame Oil (cooking oil can also be used)
½ tsp Mustard Seeds
5-6 Curry leaves (~ 1 stem)
¼ tsp Fenugreek seeds
¼ tsp Asafoetida
¼ tsp Turmeric Powder
10-12 no's Garlic cloves, peeled and slightly crushed
5-6 no's Shallots, peeled and slightly crushed
½ of Medium sized Tomato, chopped
Lime sized Tamarind, soaked and extracted
½ tsp Sambhar Powder (optional)
2 tsp Powdered Jaggery (optional)
Salt for seasoning

For Grinding

½ tsp Peppercorns
½ tsp Cumin seeds
½ tsp Coriander seeds
½ Tbsp Channa Dal
2 no's Red Chillies
Few Curry leaves
4-5 no's Garlic pods, peeled
3-4 no's Shallots, peeled
½ of Medium sized Tomatoes, chopped

Instructions

Heat a pan and add 1 teaspoon oil. Roast the ingredients mentioned under "For grinding" until the aroma comes and they are slightly browned. Allow it to cool and grind it to a smooth paste by adding little water. Keep it aside.
Extract the tamarind juice in approximately 1 cup of water. Let the extract be concentrated. (1)
Heat Oil in a pan and add mustard seeds. Once they crackle, start adding the fenugreek seeds, curry leaves, garlic cloves, shallots, turmeric powder and asafoetida.
Once the Onions and garlic become golden brown; add the tomatoes and let it get cooked, for 2 or 3 minutes.
Then add the Tamarind extract and allow it to boil. Once they start boiling, add the ground paste, sambhar powder (if using), jaggery (if using) and salt. Check for seasoning and adjust.
Allow it to boil on low-med heat. The gravy will start thickening. Once the raw smell of the tamarind extract goes off and the gravy thickens, turn off the stove. (2)
Notes
Initially extract the tamarind with minimum amount of water. The more concentrated the extract is, it get cooked quickly. The raw flavour of the tamarind goes off soon. Later in the gravy you can increase the amount of water.
If your gravy is very thick, add little more water. The consistency should be a little thicker than sambhar. If it is watery, mix ½ tablespoon of rice flour in cold water and add it. Allow it to boil for a few more minutes and it will start thickening.
This is for the last week of BM 26 under the theme "Pick one ingredient". My ingredient is garlic. Check out the other blogging marathon runners here.