Mushroom is one of the veggies that people either love or hate! There is absolutely no in between. Many consider it to be vile and the main reason appears to be its texture, smell and the fact that it comes from dirty ground. Beyond this, Religion and Principles are also the other primary reasons for belittling this poor ingredient especially in countries like India, where it comes in the way of prohibiting a person to make his/her choice personally. So, many of us have no idea how it would be and innately, my family is one amongst them. Till date, mushrooms have never been cooked in my home. Even today, my mom, after knowing that I have been out of the house for so many years and have been exposed to a diversified culinary array still derides me when I say that I have cooked mushrooms. Such is its value in many families.
But somehow, I have fell apart from my family when it comes to this veggie. I am not a die hard fan but I can very well endure this. If it is cooked in a proper way it can attract many. Today's post, mushroom masala is very similar to the usual onion tomato gravy we prepare with paneer and other veggies. This is a basic masala, rich and bountiful in flavours which has the capacity to elevate and enjoy even the most simple and muted veggies. The mushrooms when allowed to sit in this sauce tends to absorbs the flavour in full capacity.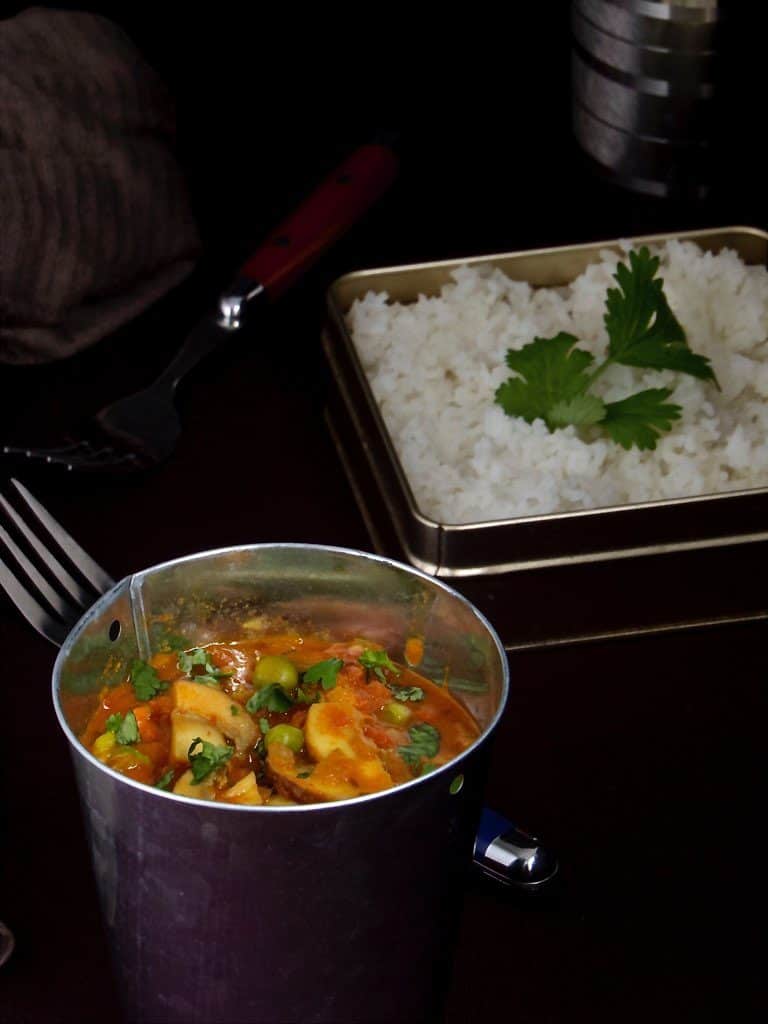 This goes best with steamed rice and a few chips. But you can very well serve this for any Indian flat breads including pav.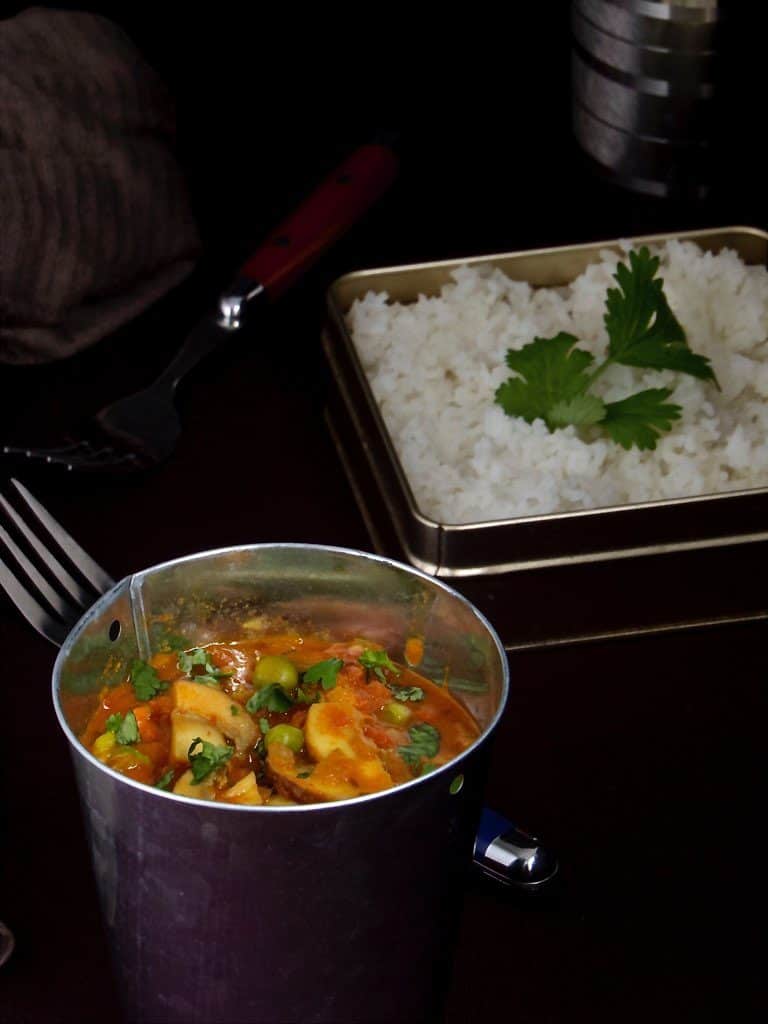 Mushroom Mattar Masala | Mushroom Peas Masala
Mushroom and peas cooked in a flavourful onion tomato sauce.
Prep Time: 10 Mins | Cook Time: 15 Mins | Total Time: 25 Mins | Serves: 2
Ingredients

2 tablespoon Oil
¼ teaspoon Cumin seeds
5-6 Cloves Garlic, crushed
1-2 Green chillies, slit lengthwise
Few sprigs of Curry leaves
½ Cup Onions
2 Cups Tomatoes
2 Cups Sliced Mushrooms (any kind)
½ Cup Frozen Peas
½ teaspoon Cumin powder
1 teaspoon Coriander Powder
½ teaspoon Red Chilli powder
1- 1.5 Cups Water
Salt as per taste

Instructions

In a Kadai, heat some oil. Once it is hot, add cumins and let it splutter.
Then add the curry leaves, green chillies and the crushed garlic. Give them a quick stir for about 30 secs without garlic getting burnt.
Then add the Onions and sauté until it is translucent. Then add the tomatoes, little salt and let it cook.
Once the tomatoes are fully cooked and becomes mushy and coalesce, add the spice mix - cumin, coriander and chilli powder.
Stir them for a minute so that the raw smell goes off and then add the mushroom and peas.
Add a cup of water and let the mushrooms cook. Once they become soft and tender, add salt and check for seasoning.
Add the remaining water as per the consistency you need. Garnish with coriander leaves and serve them with rice or rotis.
Notes
Many recipes especially the western dish that has mushroom always asks us not to wash them in water and instead to clean it with either a paper towel or a clean kitchen towel. But for this you can very well wash, pat them dry and then slice.
Do not overcook the mushrooms. Just make it soft and tender with a bite.
This post is for Blogging Marathon 49 under the theme "Cooking with one Ingredient". Check out the Blogging Marathon page for the other Blogging Marathoners doing BM# 49 here.