Another classic kuzhambu that is made often at home. Toor dahl urundai that is dunked and cooked in a spicy tamarind gravy, which is nothing but vatha kuzhambu. It seems to be a lengthy process but it is not. If you have some time at hand and you are in a mood to enjoy a traditional dish, then making this will be a breeze. When you make this, try to accompany this with a lighter subzi like carrot or beans because as such this is a heavy dish. It will make you feel full.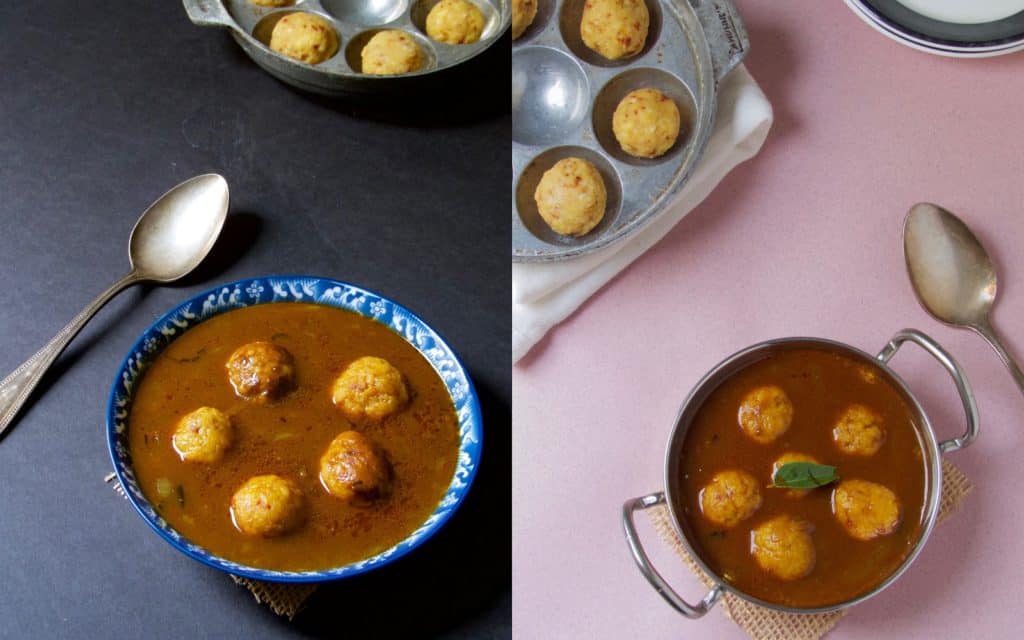 Parupu Urundai Kuzhambu
Lentil balls dunked in a spicy vatha kuzhambu
Ingredients
For The Urundai
½

Cup

Tuvaram Parupu | Toor Dal

Handful Kadalai Parupu | Channa dahl

Few Ulutham Parupu | Urad dahl

6-7

Vatha Milagai | Red chillies

Pinch of asafoetida

Salt to taste
For the Kuzhambu
2

tablespoon

Oil

1

teaspoon

Mustard seeds

3-4

Curry leaves

torn

2

Red chillies

½

Cup

chopped Onions

Gooseberry sized Tamarind

soaked in a cup of water

3-4

Cups

of Water

2

tablespoon

Heaped Sambhar Powder
Instructions
For The Urundai
Soak the dahl (all 3) in water for about one to two hours.

Drain the water and grind the dahl with the rest of the ingredients mentioned under For the urundai into an almost fine paste.

Heat a pan add a teaspoon of oil and cook this dahl. Keep stirring until it becomes non sticky. Add a tablespoon of Rice flour to the dahl mixture make it into balls. Keep aside. This will yield about 12-15 balls

Or alternately you can add a tablespoon of Rice flour to the ground dahl mixture and make it into balls and steam it for about 10-12 minutes. Keep aside.
For The Kuzhambu
Soak the tamarind in warm water for about 10 minutes. Extract the juice from the pulp by adding about 3 cups of water.

Heat oil in a pan and add mustard seeds. Once they splutter add red chillies, and curry leaves.

Add the onion and sambhar powder. Sauté them for a couple of minute. Make sure not to burn the sambhar powder.

Then add the extracted tamarind concentrate, and allow it to boil for about 15-20 minutes, until the raw smell of the tamarind is gone.

The tamarind concentrate would have reduced almost to half the quantity. Add ½ tablespoon of Rice flour and another cup of water and boil it for another 2-3 minutes At this stage add the urundai one by one in the kuzhambu.

Boil it for a couple of more minutes and turn off the flame.
Recipe Notes
Do not overcook the lentils. even while steaming it will max take 10 minutes or cook until it changes colour slightly. It might become pale and shiny. If overcooked, it will become hard.
Sometimes there is a risk of these lentils balls dissolving in the kuzhambu when you follow the method described in step 4. But thats how it is traditionally done. If you are not sure of that method, steam and then drop them in the kuzhambu.
Measuring the exact amount of tamarind is intricate. It depends on the quality of the tamarind. This has a significant effect on the taste of the final dish. Aged tamarind just like wine, tastes better. It is less acidic (sour) and its slightly sweet making it a good choice for the dishes. Sometimes you can differentiate old one and a new one by colour, older one being more dark. Yet most of the time you could find the exact amount by a couple of trial and error method. So when you buy tamarind pulp, buy it in bulk so that you would get used to it soon and would avoid the confusion of getting the measurement right every time you get a new pack of tamarind pulp.
Soaking the tamarind pulp in warm water loosens the pulp and helps in extracting the juice easily. Extract a thick concentrate. This helps to cook and loose the raw flavour of tamarind faster.
You can add water in the end and dilute the gravy if it is too thick.
Rice flour is added to thicken the gravy.
Check out the Blogging Marathon page for the other Blogging Marathoners doing BM# 63 here.