I cannot do things in a hurry rather do things perfectly when in haste. But unfortunately the present world we are in, demands so much from us that it's almost impossible to work without glancing at the clock every minute. This holds true especially in the kitchen. Every morning is a mad rush hour. From the moment we enter the kitchen, its tea for one, coffee for another; then comes breakfast and lunch should go on side by side. So the only thing that helps me to not go crazy a is little preparation ahead.
This weeks theme, it is cooking under 30 minutes. To make any meal under 30 minutes, you have to have some prep done. You cannot start grating a coconut just before you start cooking and expect your meal to be over in a jiffy. To make things easy have few of the items always at hand. Frozen coconut is one such saviour. The main reason I use this is because thats the cheaper one available where I live and its the most convenient form. Also, whenever I get time I try to chop veggies ahead and keep them. The meal that is showcased today is the ever classic South Indian kootu and thogayal. Since kootu is vegetables in gravy form, it serves as a 2 in 1. It gives the required quota of goodness from veggies and it is easier to mix with rice (eliminates the need of Sambhar or rasam). To balance the slightly mild taste of the kootu, we can pair it with
thogayal
that adds the missing zing to the meal. The best thogayal pair to this type of kootu is
Thengai thogayal
.The best gadget in any Indian household is the pressure cooker. Everyone has at least two and more as per the families need. It saves tons and tons of time. You get this with separator, then you have hit jackpot. The inevitable dal and the rice can be cooked together in no time. Sometimes the snake gourd I get does not cook easily in a saucepan. So what do I do ? Throw it in the cooker. To finish this meal in 30 minutes, keep rice in one separator and the dal and veggie in another. Keep it for 3-4 whistles, might slightly vary depending on the quality. So when this is getting done, heat a pan and roast the ingredients for thogayal and kootu. Let it cool and grind it one by one. You can first grind the thogayal, keep it aside. Then in the same jar grind for kootu. Meanwhile the pressure cooker must have released. Then you can finish off your kootu and start packing the lunch boxes.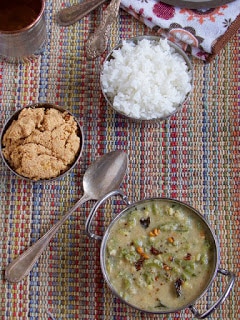 Pudalangai Poricha Kootu & Thengai Thogayal
Snake gourd cooked with moong dal and ground coconut paste
Prep Time: 10 Mins | Cook Time: 20 Mins | Total Time: 30 Mins | Serves: 2
Ingredients

4 Cups Chopped Pudalangai | Snake gourd
Salt to taste
3 tablespoon cooked pasi parupu | payatham parupu
½ teaspoon Rice flour (only when necessary)

For Thalipu | Tempering

2 tablespoon Coconut Oil
¼ teaspoon Mustard seeds
1 teaspoon channa Dal
1 teaspoon Urad Dal
Few Curry leaves
2 Red Chillies, broken (1)

For Grinding

3.5 tablespoon grated coconut
⅛ teaspoon cumin seeds
¼ teaspoon Pepper corns
1 Red chillies
1 teaspoon Channa dal
1 teaspoon Urad dal

Instructions

Pressure cook Moong Dal and Pudalangai in a pressure cooker with little water and salt.
Once the pressure releases, either in the cooker (if you have kept the veggies directly) or in another pan, add the ground paste to the cooked mixture. Mix well. Check for salt and adjust.
If it is too thick, add some more water (you can use the reserved water from cooking cabbage). If it is too runny, add rice flour mixed in water. (2)
Bring it to a boil and turn off the flame. Garnish with coriander leaves.
Notes
The red chillies can be adjusted. If you add less while grinding, add some more while tempering or other way round. Check the seasoning before you add the tempering. So that you can gauge if more or less chillies are needed.
In this recipe, the ground coconut paste and dal is more than enough to give a thick base for the kootu. But sometimes the amount of water may be more and If you feel the cabbage is too runny, i.e. the cabbage and the liquid should hold together and if not, add rice flour mixed with water and bring it to a boil. Also, the kootu will thicken as it cools. Keep that also in mind.
Also the spice must come from pepper and not chillies.
If you are using frozen coconut from store, always keep a portion of it in the fridge. It thaws well and since we cook almost south Indian most of the time it gets used up soon.
This post is for Blogging Marathon 62 under the theme "Quick meals". Check out the Blogging Marathon page for the other Blogging Marathoners doing BM# 62 here.