Pasalai Keerai Poricha KootuSpinach cooked in dahl and ground pepper-coconut paste. The best way to include spinach in diet.
Tamil cuisine is an ancient and most coveted cuisine in the world. This cuisine is a classic example of simplicity. Limited aromatic spices and abundant use of fresh tropical ingredients are the highlights. Though the fame of Dosa, Idly and Sambhar and chutney have reached all corners of the world, ours is not limited to these. It is much beyond that and has so much to offer. From this Friday, every week on this day, MSP will feature indigenous and traditional recipes to you all readers, in a new series, Thank God it's Indigenous Fridays - TGIIFs. The main intention of running this series is to showcase our own exotic dishes. I will try to include as much information as possible about the recipe and keep updating it as and when I can. The series will start with the tamil regional cuisine and then later extend to the greater Indian cuisine. Also some days it might be a wordless post as there are so many variations (mainly substitution of veggies) to some dishes and I just don't want to repeat the same post. I hope you all enjoy this along with me.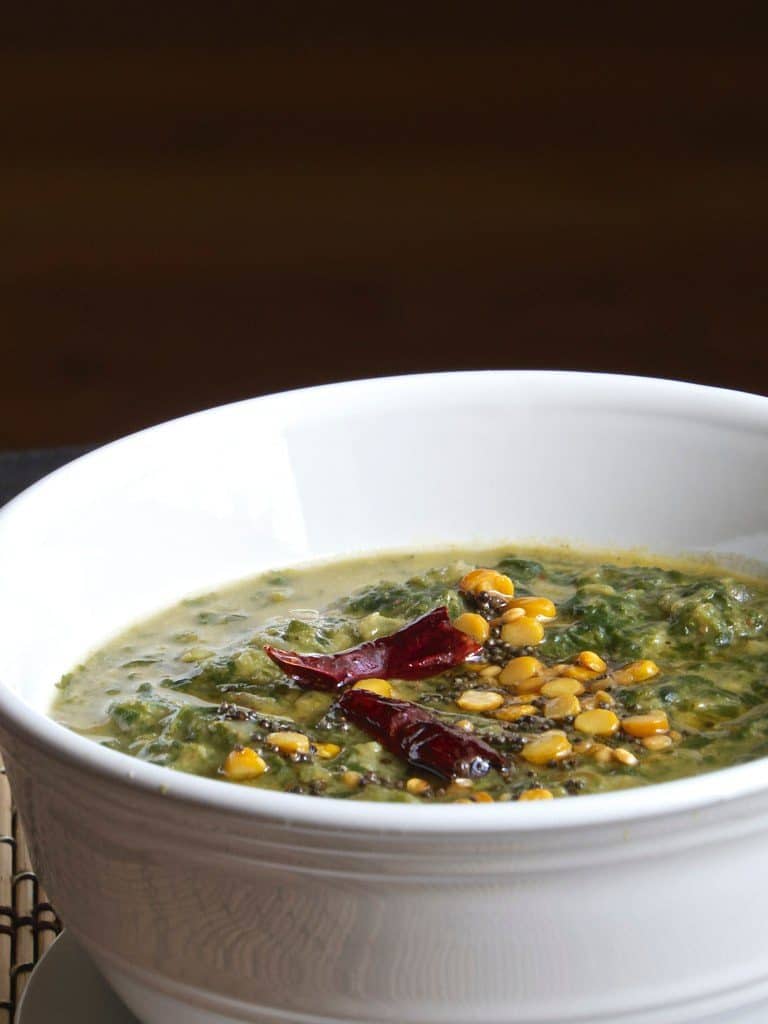 Even if there is a beautiful spread of delicious meal in front of me, I always reach out first to my most comforting dish, kootu. Well, you all might wonder what is so great about this simple dish. The thing is I don't know and there is something so homey about it, that I just can't articulate. As I said in my previous post, Kootu is one of the main items served in a full South Indian meal. There are so many variations to this simple dish. As far as I know, there is this more common coconut based kootu which is simply called as
Kootu,
Poricha Kootu
- 2 types based on regional variation,
morkootu
and
Ezhu Kari Kootu
(the one we make especially on Thiruvadhirai) etc...
Today's post is the porichakootu that is usually served in the Tanjore region of Tamil Nadu. Typically in any type of kootu, the ground mixture differs and also almost all types of veggies can be substituted in each variation. In this Poricha Kootu, Peppercorn and Moong Dahl are the main ingredients. The heat for this dish comes from the peppercorns and not red chillies.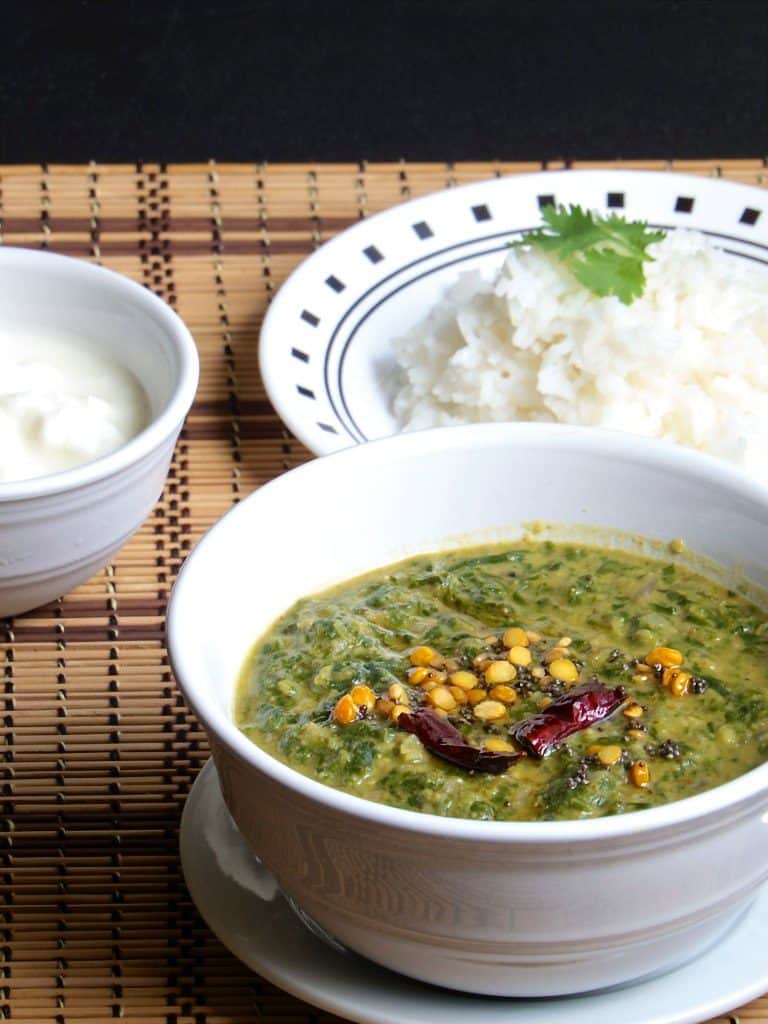 Pasalai Keerai Poricha Kootu | Spinach Poricha Kootu
Spinach cooked in dahl and ground pepper-coconut paste.
Course:
Main Course, Main Dish
Cuisine:
Indian, Tamil Nadu
Ingredients
¼

cup

split green gram (pasi parupu)

A pinch of turmeric powder

2

tablespoons

coconut oil, divided

1

medium sized

onion,finely chopped

4

cups

tightly packed chopped spinach leaves

rinsed and washed well
To grind
¼

cup

freshly grated coconut (thengai thuruval)

½

teaspoon

cumin seeds (jeera)

¼

teaspoon

peppercorns (milagu)

2-3

red chillies (vatha milagai)
To temper
1

teaspoon

mustard seeds (kadugu)

¼

teaspoon

cumin seeds (jeera)

½

tablespoon

bengal grams (channa dhal)

1

teaspoon

black grams (urad dhal)

5-6

curry leaves, torn

1-2

red chillies (vatha milagai)

¼

teaspoon

perungayam (asafoetida powder)
Instructions
Pressure cook the dal with turmeric powder and keep aside.

Heat a tablespoon of coconut oil in a Kadai | Pan over medium-high heat. Then add the chopped onions and saute until the onions turn translucent.

Then add the chopped spinach and let it cook for about 10-12 minutes on medium-high flame.

Grind the ingredients mentioned under to grind, using little water into a thick smooth paste.

Once the spinach is well cooked, add the ground coconut paste and dahl. Bring it to a boil and turn off the flame.
Tempering
Heat the remaining tablespoon oil in a separate Kadai, once the oil shimmers, add the mustard seeds and let it splutter. Then add the cumin seeds, channa dahl, urad dahl, curry leaves, red chillies and fry for a second.

Turn off the flame and add asafoetida powder. Pour this over the kootu, stir well and serve with rice.
Recipe Notes
You can substitute freshly grated coconut with unsweetened desiccated ones.
Usually, the tempering is done at the end. You can also do the tempering at the beginning and follow from step 1 with sauteeing the onions, all in the same which is convenient.
This post is for Blogging Marathon 42 under the theme "South Indian Dishes". Check out the Blogging Marathon page for the other Blogging Marathoners doing BM# 42 here.