Mangai Sadam or Raw Mango rice - Grated raw mango cooked and tempered with simple south Indian spices and mixed with white rice. A south Indian rice variety when raw mangoes are abundant in Summer season.
Mangoes when in season are used extensively in the Indian kitchen. Raw mango rice is one such speciality. Less than five ingredients and this mangai sadam is a simple dish to make. A tangy South Indian rice variety that pairs well with hot and spicy Indian veggies. This looks very similar to lemon rice, with a slight taste different.
Nothing quite reminds me of summer as much as the smell of mangoes. Every night after dinner, sliced ripe mangoes were our dessert. We always used to fight over for getting the mango part with the seeds on. It has more mango flesh and is the juiciest! Though licking and sucking are not the elite table manners, I tell you that's how we should eat mangoes. Relishing every bit to its last.
Raw Mangoes:
This rice is made with unripe, green mangoes. These are rich in vitamins and highly beneficial. These taste great with a sprinkle of salt.
We have an array of different raw mango pickles viz, Mavadu - small mangoes that are marinated in a spicy and salty sauce, Aavakai - cut mangoes that are pickled and so on.
While picking the mangoes, pick those that are only green. If it has a yellow tint, it has ripened and the rice will have a fruity taste. The Indian stores, during the summer season, has these in abundance. The Indian variety is very small and very sour.
Step wise method for preparing mangai sadam:
Heat oil in a pan and add the tempering. Then add the grated mango and sauté them until they are cooked.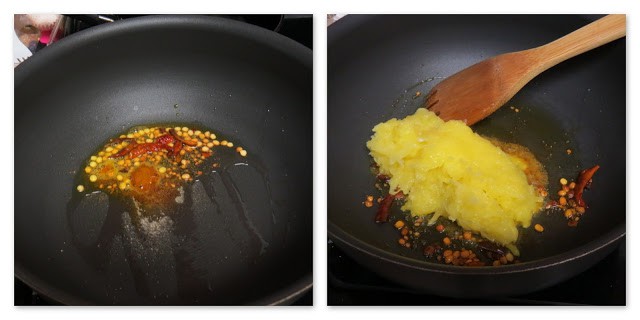 Cook and cool the rice simultaneously. Once the mangoes are well cooked, check for the seasoning and allow it to cool. Once it is cooled mix in the rice and peanuts and serve them .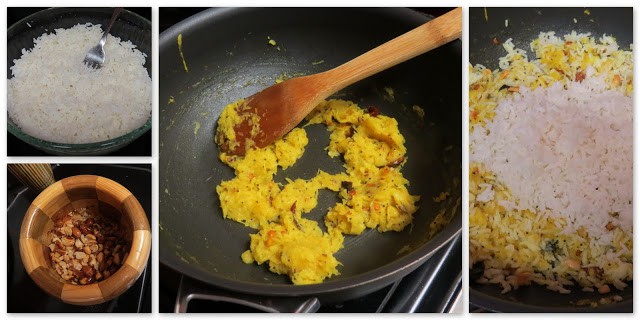 Mangai sadam - Variety rice with raw mango
Mangai Sadam - Raw Mango rice. Grated raw mango cooked and tempered with simple south Indian spices and mixed with white rice. A south Indian rice variety when raw mangoes are abundant in Summer season.
Cuisine:
Indian, Tamil Nadu
Ingredients
1

cup

rice

4

tablespoon

peanuts, roasted

1

tablespoon

sesame oil

1

teaspoon

mustard seeds

1

tablespoon

channa dal

2 to 3

fresh green chillies (the Indian or Thai variety)

Few curry leaves

½

teaspoon

asafoetida powder

Salt to taste

1.5

cups

tightly packed grated raw mango

1 Medium sized raw mango

Few tablespoons lime juice (optional)
Instructions
Cook the rice and allow it to cool. Drizzle some oil over it and keep it aside.

Roast the peanuts in a teaspoon of oil until it turns golden brown. Remove and keep aside.

In the same pan, heat a tablespoon of sesame oil and add the mustard seeds. As they start to crackle, add the green chillies, curry leaves, asafoetida powder, salt and then the grated mango.

Keep sautéing on a medium heat until the grated mango gets cooked; about 5 minutes. Turn off the flame and let it cool down.

Once the mixture cools, mix well with rice; check for salt and adjust. If you feel there is less sourness, add a tablespoon of lime juice.

Finally garnish it with coriander leaves and serve.
Recipe Notes
The amount of grated mango may vary according to its variety. If its too sour use less and vice versa. This rice dish is slightly sour just like the lime rice. So, adjust as needed.
Based on this, the spice level may also vary. If the mangoes you have purchased are very tangy, increase the chillies accordingly.
If you feel the rice is not sour enough, you can also add lime juice at the end.