For the alphabet K, it is the most loved paneer dish - Kadai Paneer. The name is derived from the pan that is used to make the dish. Kadai or Karahi is a traditional cast iron pan similar to the wok that is used extensively in Indian, and Pakistani cooking. Giving an absolute treat to your senses, this paneer dish has a lovely taste and texture from the fresh aromatic whole spices. One of the simple and easy paneer dishes to be made complements a pulao or rotis.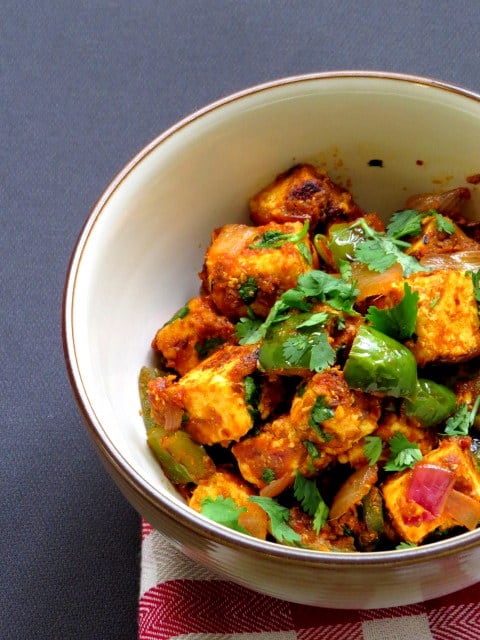 Kadai Paneer
Kadai sauteed Veggies coated with fresh aromatic spices.
Prep time: 10 mins | Cook time: 20 mins | Total time: 30 Mins |Serves: 2
Ingredients

150 Gms Paneer (Indian Cottage Cheese)
1/2 Cup Cubed Capsicums
1/2 Cup Cubed Onions
2 Tbsp Oil
1/2 tsp Cumin seeds
2 Medium sized Tomatoes, Blanched, peeled and puréed

To Roast and grind

1 1/2 Tbsp Coriander seeds
1/4 tsp Cumin seeds
6-7 no's Red Chillies
Finely Chopped Coriander leaves, for garnish

Instructions

Dry roast coriander seeds, cumin seeds and red chillies separately until they start turning brown and release aroma. Grind it coarsely. Mortar and pestle works best. Keep aside.
Heat 1/2 Tbsp Oil in a pan until it shimmers over medium heat. Then saute capsicum and onions separately until they are crunchy and cooked almost. Sauteing paneer is optional. (1)
Heat remaining oil in a pan over medium heat. Once it is smoking hot add the cumin seeds.
As they start spluttering, add the green chillies, minced garlic and saute them until the garlic turns golden brown.
Add the tomato puree and cook until water evaporates, oil separates on the sides and comes together as a lump.
Add the powdered masala and saute for a minute. Sprinkle some water and add the capsicum and onions and toss them until the masala gets coated well. Finally add the paneer and toss well.
Add some more water if its too dry. Garnish it with coriander leaves.
Notes
In this dish the veggies should not be over cooked. They should slightly be crunchy and sauteeing them separately helps keeps them that way.
This is a semi dry dish. If you want to have it as a gravy, add some water once the tomatoes are cooked.
This recipe is for letter "
K"
under
"Regional"
theme. Check out other BM #32 Marathon runners' posts
here
in this page. Also sending this to
Valli's Side Dish mela

Logo courtesy : Preeti