Recipes are more adaptable and versatile. It gets changed due to one's own taste, preference and their lifestyle choices. So is the case with this delectable and savoury Chole Masala. Myriad recipes are out there on the web. Even though the base ingredients remain the same, every family has its own way of cooking this. The recipe may be passed down the generations, by word of mouth or many pick it up from the all in all Guru – the Google. Nowadays, the internet has become an extensive reference for all recipes. After trying out so many recipes and experiments, I settled down with this variation one that is very similar to my mom-in-law's preparation. This is my tried and tested recipe that has got me so many adulations and has never failed me once. This has become my signature dish. Cock-a-doodle-doo!
The trade secret in making a mouth watering channa masala or any Indian curry for that matter, is how perfectly you cook the onion tomato paste.  So let me share mine, the changes that significantly improved the recipe.

1. Tomatoes: While making tomato purée, use fresh ones and not canned. This may sound cliché but I still emphasise on this because, (I). Regular use of canned foods are not good for health.  (II). Fresh produce is always clean and good and they taste much better.  While making purée, I like to blanch my tomatoes, peel off the skin and then purée it.  Normally people will purée the fresh tomatoes and then cook it. But I prefer to blanch them before I add it to the gravy. Blanching helps in keeping the fresh flavour, colour and texture of the tomatoes. This way I find  it gets puréed properly and also the flavour of the gravy is enhanced.
2. Spice Mix: Next is the dry spice mix that is used. Some people use the common Punjabi dishes' spice mix – cumin, coriander and garam masala powder. There is nothing harm in using this but then all your north Indian dishes would taste the same. There is a difference in  the flavour and aroma of every dish. I prefer to use home made Channa masala spice mix. Try to get at least a store bought one. This brings out the exact flavour of the dish.
3. Coriander Leaves: Next is the optional step. You can say its our family version. We use a generous amount of fresh cilantro / coriander leaves and green chillies (of course this, according to one's spice level) while grinding the wet masala.  The fresh cilantro leaves gives a nice aromatic touch to this dish.
Enjoy this with Rice or Jeera Rice or any Indian flat bread. Here is the pictorial steps.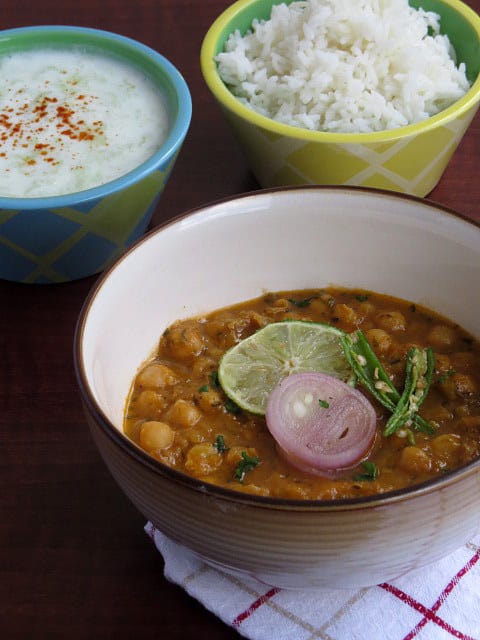 CHANNA MASALA
Cooked chickpeas seasoned with home-made spice mix in a spicy tangy onion-tomato gravy.
Prep time: 15 mins | Cook time: 20 mins | Total time: 30 – 40 Mins |
Serves: 2 – 3
Ingredients

1 Cup Chickpeas, soaked overnight
2 Tbsp Butter
1 no Bay leaf
1/2″  Cinnamon
1/2 tsp Cumin seeds
2 Tbsp Ketchup (optional)

Dry Masala

For the Wet Masala

2 Cups diced Tomatoes
1 Cup thinly sliced Onions
2 cloves Garlic pods
2 Green chillies
1/4 Cup loosely packed cilantro leaves (2)
1″ piece Ginger

Instructions Prep Work

Pressure cook the chickpea with salt until it is tender, for 5-6 whistles. Do not drain the excess water, reserve it.  (3)
In the meantime, blanch the tomatoes. In a saucepan add the tomatoes and fill it with water until they are immersed. Boil it until the skin starts peeling off. Carefully drain the hot water and peel off the skin. Keep it aside. (4)
Heat a tsp of oil in a pan. Add the sliced onions and sauté until the onions become translucent, then add the garlic and green chillies, ginger and give a quick mix. Allow it to cool.
Blend the onion mixture, tomatoes and coriander leaves until smooth.

Preparation 

Melt butter in a pan and once it melts, add the bay leaf, cinnamon, cumin seeds and ground onion-tomato paste and sauté them.
Keep sautéing until the oil separates and oozes on the sides of the mixture or the mixture comes clean off the pan. (5)
Now add the channa masala, red chilli powder, cooked chickpeas, ketchup (optional) and salt. Mix it well. Add water / cooked chickpea water and mix it well. Allow it to come to a boil. Check for seasoning and turn off. Garnish it with coriander leaves.
If you feel the consistency is thick add some more water and dilute it a little before turning off the stove.
Notes
Instead of channa masala mix, you can use 1/2 tsp cumin powder, 1 tsp coriander powder and 1/2 tsp garam masala powder.
The addition of coriander leaves while grinding the paste is optional. Fresh coriander leaves give a very nice flavour.
It is okay if  the chickpeas gets a tad overcooked but should not be smashed and mushy. You can also add a tea bag while cooking the chickpeas. This gives it a dark brownish colour as you find it in restaurants.
You can skip the blanching process and directly purée the fresh tomatoes. As I said above, this is my way of doing it and I feel blanching has a better taste. This is optional. If you are puréeing it directly, never add water to tomatoes before it gets cooked. If you add water it might take longer time to cook. Sprinkle water if your mixture becomes very dry and if you think it might get burnt.
This does not mean you will find a pool of oil, just the amount of oil you used in the beginning will start to go to the sides. Also if you use a non stick pan and reduce the amount of butter / oil in cooking, you will not be able to see the oil separate. So just cook until the mixture comes clean off the pan while mixing it. Refer to this post for further detail.