Eggplants are a strict no-no at home. H is so averse to it, that he does not even allow me to cook. So eggplants feature in my kitchen only when I prepare lunch just for myself. Even though am not a big fan of this veggie, I would like to have this now and then. So when Valli announced he eggplant theme, I made sure, for three days he missed his lunch. 😉
So for the coming three days, it is going to rain eggplants at MSP. Hope you all enjoy the series.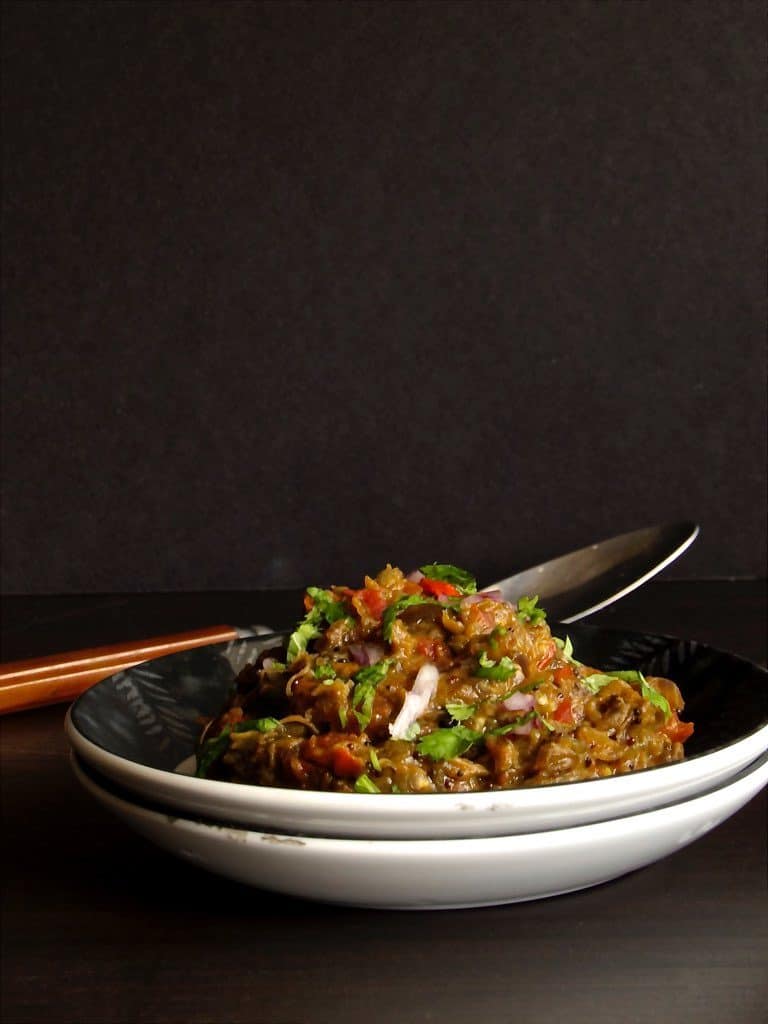 Baingan Bartha
Smoky flavoured eggplants mixed with mild spices.
Prep Time: 15 Mins | Cook Time: 15 Mins | Total Time: 30 Mins | Serves: 2
Ingredients

1 Medium sized big variety Eggplant
2 tablespoon Oil
1 green chili, slit lengthwise
½ teaspoon Cumin seeds
3-4 Curry leaves, torn
1 Medium sized Onion, chopped
2 Medium sized tomatoes, chopped

Instructions

Slightly oil the eggplant on the skin. On low fame, roast the eggplant directly on stovetop. Keep rotating in between and cook until the inside become tender and the skin wilts.
Cover the eggplant with aluminium foil and allow it to cool. Once cooled, remove the skin and smash the eggplant with a spoon or fork.
Heat oil in a skillet. Once hot, add the cumin seeds, curry leaves and green chilies.
Then add the onions and saute until it turns translucent. Then add the chopped tomatoes and cook until it becomes soft.
Add the cumin powder and coriander powder; mix well.
Add the smashed eggplant and mix well. Check for salt and add.
Once it combines well, garnish with coriander leaves and remove from flame.
This post is for Blogging Marathon 57 under the theme "eggplant Dishes". Check out the Blogging Marathon page for the other Blogging Marathoners doing BM# 57 here.