For this weeks Blogging Marathon it is a visit to the East India. This is the 25th edition of BM and Valli has done an excellent job. Check out all other Marathoners over
here
. Today's recipe is a classic Oriyan dish. Badi or Wadi are small sun dried lentil dumplings made from Black gram / Urad Dahl. Typically, a thick batter is made from grinding urad dal and it is allowed to dry in the sun for two or three days. Any curry made with mustard paste is Beasara. Badi and Poatoes cooked in a simple tomato onion gravy and flavored with mustard paste and "
panch phoron"
( a classic spice of the East India). A simple dish full of bursting flavors and pairs well with steaming rice and a spicy potato curry on the side.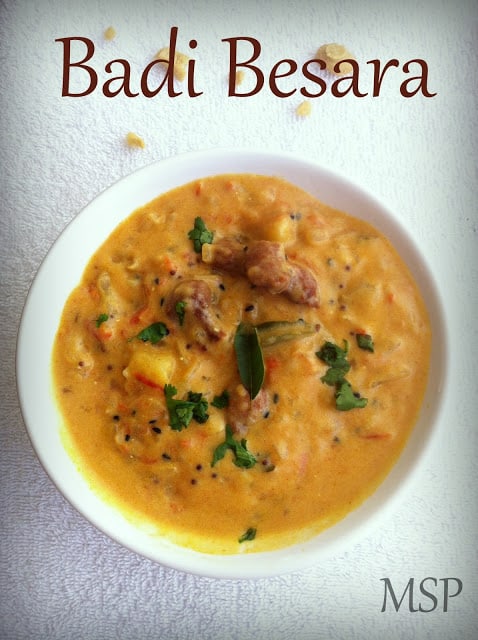 Badi and potato cooked in a tomato gravy flavored with mustard paste and panch phoron.
Sun dried Lentil chunks, store bought
BADI AALOO BESARA
Cook Time : 20 min
Ingredients

Oil For deep frying + Sauteing
15-20 no's Badi / Wadi (1)
½ tablespoon Panch phoron , recipe follows
1 Sprig Curry Leaves
2 no's Green chillies, slit lengthwise
1 tablespoon Ginger garlic paste (2)
1 Medium sized Onions, finely chopped
2 Medium sized Tomatoes, finely chopped
1 Medium sized Potato, cubed
½ cup Thick curd/ yoghurt
1 Tbsp Gram flour
1 tsp Mustard paste
Water as needed

Panch Phoron

Equal quantity of Black cumin seeds, cumin seeds, Radhuni/Mustard seeds, fenugreek seeds and fennel seeds.

Instructions

Heat Oil in a pan and deep fry the Badi. Drain them and keep it aside.
Heat oil in a pan and sear the potatoes until they turn golden brown on the sides and cooked 75%. Keep it aside.
In the same pan, add the panch phoron, curry leaves and once they start spluttering, add the chopped onions, ginger garlic paste, green chillies and sauté until the onions turn translucent in colour.
Then add the chopped tomatoes and cook them covered until they become soft. Meanwhile mix mustard paste and gram flour in yoghurt.
Then add the yoghurt paste and little water. Stir it well and then add the fried Badi and potatoes and bring it to a boil.
Note:
Badi/Wadi can be substituted with veggies like Okra, Lauki and even arbi.
You can also use minced garlic and ginger insted of ginger garlic paste.
After cooling the gravy will thicken. Add water and bring it to a desired consistency and then serve. For Rotis, a thick consistency will be preferred whereas if you have this with rice, dilute it and do not make it watery.