There are numerous enunciation online about the importance of taking greens. If you google its nutrition facts, you will be surprised to see all the columns filled. That is, it has some percent value of almost all of the major vitamins and minerals present. Such is its greatness yet somehow this veggie is always on the verge, either you like or don't. This is where Indian recipes mostly come handy. You will have enough spices and seasonings to complement the ingredient by not eliminating its original nature and keeping it as whole. The Dal palak is an earthy and warm food that soothes our palate.
Spinach is a cool crop and you can enjoy these fresh ones during the spring. Loaded with fibers and proteins, this is a complete nutritional meal in itself. Enjoy this with hot rice or rotis.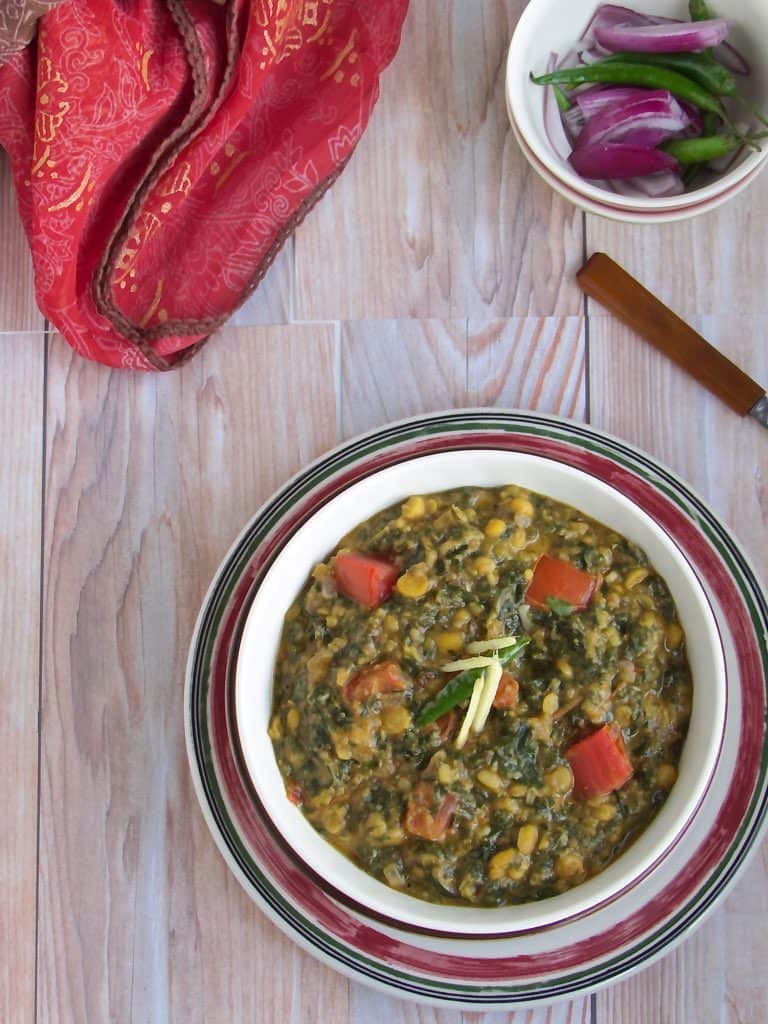 Dal Palak
Spinach cooked in dal and tempered with Indian spices.
Prep Time: 10 Mins | Cook Time: 15 Mins | Total Time: 25 Mins | Serves: 2
Ingredients

1 Bunch Spinach, cleaned and chopped
½ Cup Tuvaram Parupu | Toor Dal
¼ Cup Channa Dal and Moong Dal
Salt to taste
2 tablespoon Ghee
1 teaspoon Mustard seeds
1 teaspoon Cumin seeds
3-4 Curry leaves, torn
3 Red chillies
2 Green chillies
½ Cup chopped Onions
Coriander for garnish
Garam masala to sprinkle on top
Ginger juliennes to garnish

Instructions

Pressure cook the toor dal with turmeric powder and keep aside. It should be soft and slightly mushy.
Cook the other dal until it is soft and tender.
Heat ghee in a Kadai | Pan over medium high heat.
Once it is hot, add the mustard seeds and let it splutter. Then add the cumin seeds, curry leaves, red chillies, green chillies and fry for a second.
Then add the chopped onions and sauté until it turns translucent. Add the spinach, salt and sauté until it wilts.
Then add the cooked dal. Mix it well. Check for salt and spice level.
Let it boil for about 5 minutes. Add water if the dal is very dry and thick.
Finally garnish it with coriander leaves, sprinkle some garam masala and turn off the flame. Add another tablespoon of ghee at the end.
This post is for Blogging Marathon 52 under the theme "Seasonal Veggies". Check out the Blogging Marathon page for the other Blogging Marathoners doing BM# 52 here.