Dal is one of the staples of Indians and every region has its own preparation method. This mamidikaya Pappu from Andhra, is the region's treasured recipe. A very traditional dish that offers a unique and piquant flavoured dal in which Tart mangoes are cooked in tur dal and tempered with Indian spices. Serve this dal with a steaming rice & a dollop of ghee on top, a spicy curry (like potatoes or brinjal fry) and some papad and you will have a complete satisfying meal. The only thing that you should keep in mind is that the mangoes should be raw | unripe. If the mangoes are slightly ripe and sweetened, it will change the taste of the dish completely.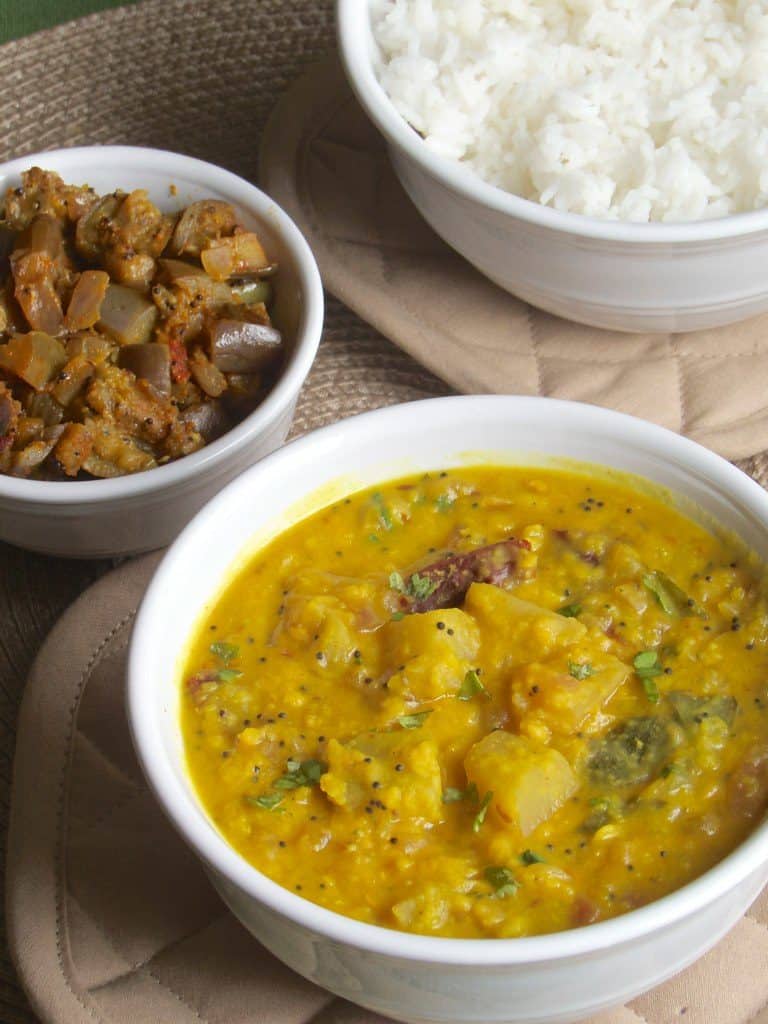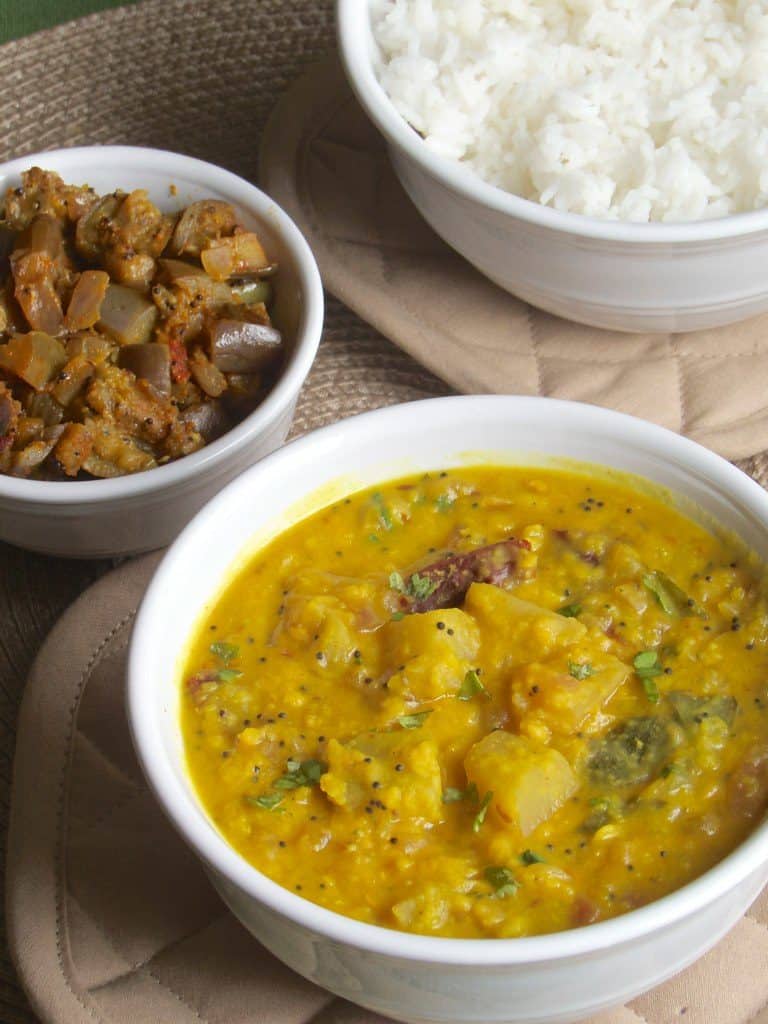 Mamidikaya Pappu | Mango Dal
Raw mango cooked in dal and tempered with Indian spices.
Prep Time: 10 Mins | Cook Time: 15 Mins | Total Time: 25 Mins | Serves: 2
Ingredients

1 Cup,peeled and chopped Raw Mangoes (1" cubes)
½ Cup Tuvaram Parupu | Toor Dal
Salt to taste
1 tablespoon Oil
1 teaspoon Mustard seeds
1 teaspoon Cumin seeds
3-4 Curry leaves, torn
3 Red chillies
½ Cup chopped Onions
Coriander for garnish
Red chilli powder (if needed)
1 tablespoon Ghee (optional)

Instructions

Pressure cook the dal with turmeric powder and keep aside. It should be soft and slightly mushy.
Heat oil in a Kadai | Pan over medium high heat.
Once the oil shimmers, add the mustard seeds and let it splutter. Then add the cumin seeds, curry leaves, red chillies and fry for a second.
Then add the chopped onions and saute until it turns translucent. Add the mangoes, salt and water.
Let it cook for about 7-8 minutes until the mangoes become soft. Do not overcook the mangoes. It should be soft and hold its shape.
Once the mangoes are cooked, add the cooked dal. Mix it well. Check for salt and spice level. If you need more spice, add red chilli powder.
Let it boil for about 5 minutes. Add water if the dal is very dry and thick.
Finally garnish it with coriander leaves and turn off the flame. Add a tablespoon of ghee at the end.
Notes
Make sure that the mango is unripe. The green ones with white flesh is ideal for this dish.
If you feel that the sourness is less, add some lime juice at the end.
This post is for Blogging Marathon 40 under the theme "Mango Mania". Check out the Blogging Marathon page for the other Blogging Marathoners doing BM# 40 here.