For day 3, it is Dahi Baingan from Orissa. There are so many variations to this dish and even the method of preparation. This recipe is from my neighbour and this is how they make at their home. Its a raita made with baingan and goes well with Pulao or rotis.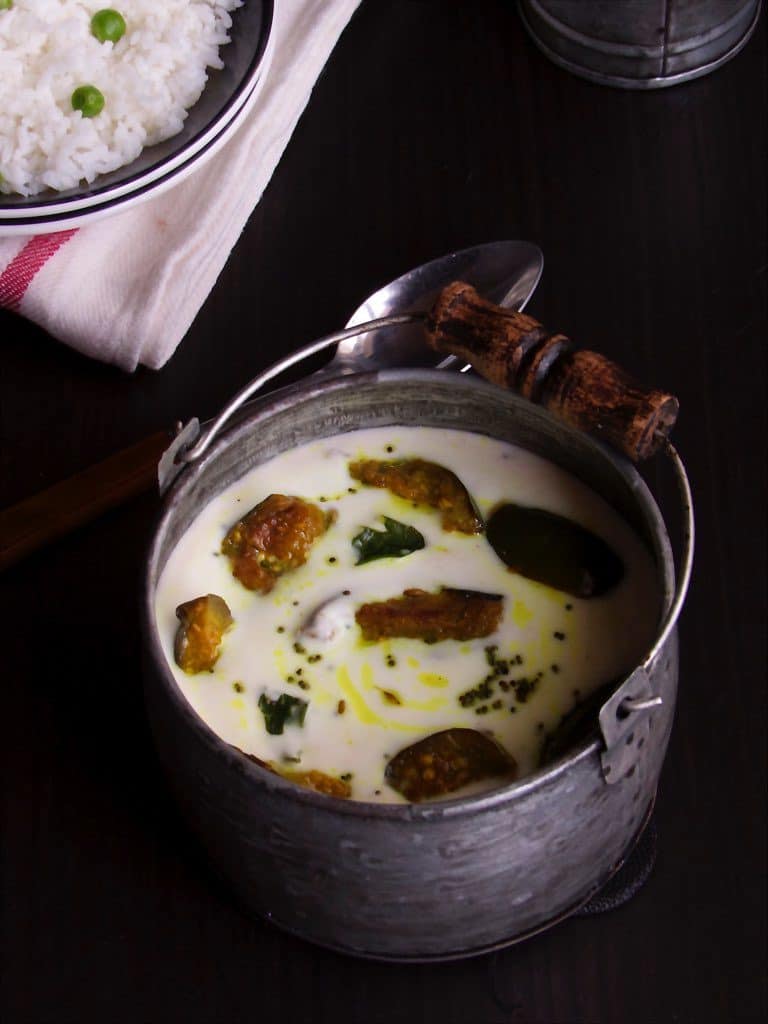 Dahi Baingan
Dahi Baingan, a baingan Raita from Orissa.
Prep Time: 15 Mins | Cook Time: 10 Mins | Total Time: 25 Mins | Serves: 2
Ingredients

4-5 Small brinjals
1 Cup yogurt | thick curd
1 Tbsp Besan | Gram Flour
5 Tbsp Oil, divided
1/4 tsp Mustard seeds
3-4 Curry leaves, Torn
1 tsp Red Chili powder
1/2 tsp Turmeric powder
1/2 tsp Cumin powder
2-3 Green chilies
1 tsp Grated ginger (optional)

Instructions

Slit each brinjal into four pieces. Apply some salt and little turmeric powder and marinate them for 15 minutes.
Heat 3-4 Tbsp oil in a pan. Once hot add the brinjals. Keep turning and let them brown on the sides. Remove them and keep aside. (1)
Beat curd and besan and keep aside.
In a pan add little oil. Add the mustard seeds , chilies and curry leaves. Let them splutter.
Add this tadka to the curd mixture. Add the cumin powder, chilli powder (if needed). Mix well.
Finally before serving, add the brinjal. Check for seasoning and adjust.
Notes
Traditionally these are deep fried in oil. You can either shallow fry or deep fry. Just make sure that the brinjals are seared.