For the second day, it is pasta. I am generally never fond of creamy pasta, especially the alfredo. even after trying for numerous times, I can never have more than a couple of spoons. For me pastas are plain and simple, tossed with some veggies with a simple flavour addition. As there is always an exception, this is one pasta in spite of being rich and creamy, always finds its way to our dinner table.
This recipe is adapted from
here
. A very simple pasta recipe that can be made even during weekdays with a store bought roasted red peppers.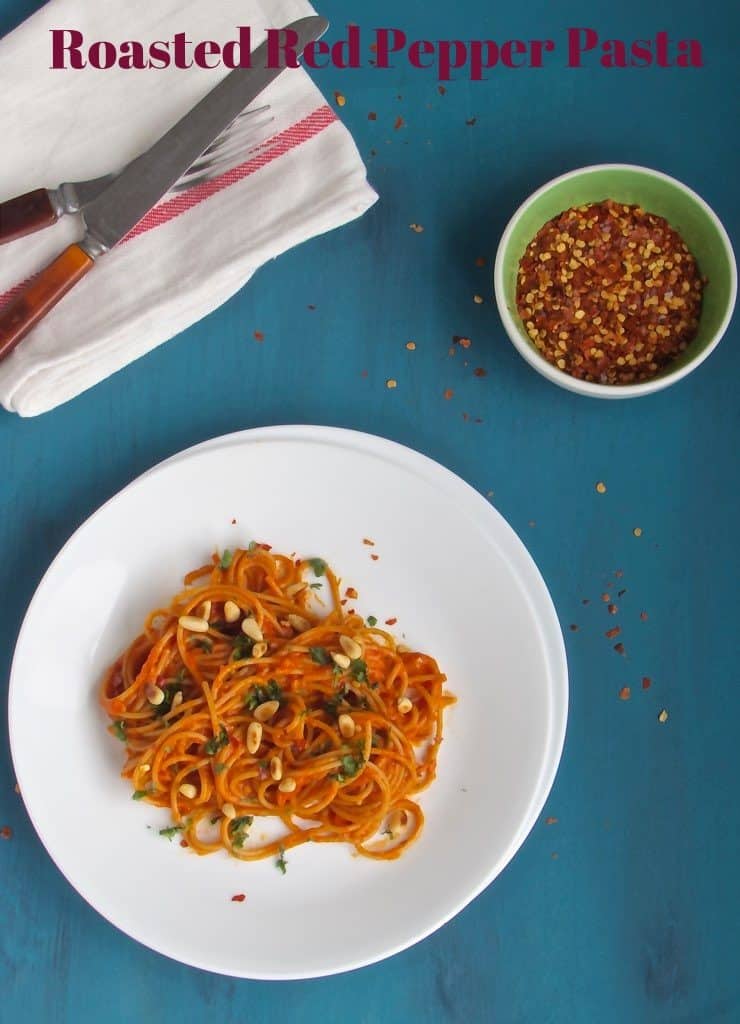 Roasted Red Pepper Pasta
Roasted Red Pepper sauce pasta with fresh herbs and pine nuts
Prep Time: 10 Mins | Cook Time: 15 Mins | Total Time: 25 Mins | Serves: 3-4
Ingredients

8 Oz Pasta of your choice (spaghetti, penne etc...)
3 tablespoon Butter
3 cloves garlic
1 tablespoon Chilli flakes
1 Medium sized Onion finely chopped
2 Medium sized bell peppers
½ Cup Cream
Parsley and Basil for garnish
Black pepper and salt to taste
2 tablespoon Roasted pine nuts.

Instructions

Preheat the oven to 400F. Wash and slice the pepper in half. With the cut side down, place it in the baking sheet and roast it for about 25 - 30 minutes until the skin is charred. Then remove the skin and puree it.
Meanwhile cook the pasta as per package instructions. Drain and reserve the water. Keep aside.
Heat butter in a skillet. Add the garlic and chilli flakes and fry until the garlic turn golden brown.
Then add the onions and fry till it becomes translucent.
Add the puree and mix it. Saute it in the pan for about a minute. Then add the cream and turn off.
Add the cooked pasta and mix it well. Add the reserved pasta water if needed.
Finally garnish with basil and parsley. Add the pine nuts and black pepper on top and serve.
This post is for Blogging Marathon 52 under the theme "Weekend Dinner Specials". Check out the Blogging Marathon page for the other Blogging Marathoners doing BM# 52 here.