The boy said : I might have to travel frequently on assignments.
Girl: Oh! Okay. Can I come along with you on some trips ?
Boy: Of course. Silly!
Girl: Gee!!
Little did the love struck girl know then, that her would-be-hubby will be flying out every 2 months and she had to be left behind more often. Her thoughts earlier were, if the assignments are for a short trip like a week or two she can combine his business trip with her vacation sometimes or if its a long term they can start a new living in a new place. But to her (in fact to both of them) utter disappointment, neither happened. He was sent on fortnight trips that kept extending by one month after the other and sometimes a long (may be 6-7 months) stint was cut short by a week's notice. This went on for sometime and after months of cursing and rambling, finally the girl decided to tag along with him and happily ever after they are. 🙂
We both love travelling and eating outside. Every week resolution of not to go eat outside was never followed. To add to their excitement, their first stint was at the Ciudad de México (Hola! Senorita!). With hopes and anxiety and excitement, they stepped into a new place. Being my first stay abroad, Mexico is always close to my heart. That is where I learnt to be really independent, learn a new language, to be cautious & proactive while interactive with others and at the same time enjoy what the other end of the world has to offer. In spite of the difficulty with the language and a quest for vegetarian food that is a land of rich heritage and culture with so much to explore and admire. The post for the Letter M is about our love for the Mexican food that was relished and enjoyed. Mexican Cuisine has intense bursts of flavour, usually spicy, unique in taste and colourful in terms of presentation and mostly prepared from the local vegetation.
As mentioned earlier in this post, Mexico and India are much alike. Both the cuisines are rooted to their own culture and heritage form the ancient times. The mexican Esquite just like our chatpata corn, Tortiallas very similar to our Indian rotis, Tamale like Arisi Upma and Arroz con leche is our very own kheer. Walking down a Mexican street is very much like walking down the Indian roads. Small vendors on the street, bazaars and fairs similar to our markets (sandhai in tamil) and busy crowd and stray dogs reminded me much of home everyday during my entire 8 month stay.
Thursday Market nearby H's office that has stalls selling everything from groceries to veggies to dresses and street food. Its was a real enjoyment to scan through every stall and bargain for things with my broken Spanish. 🙂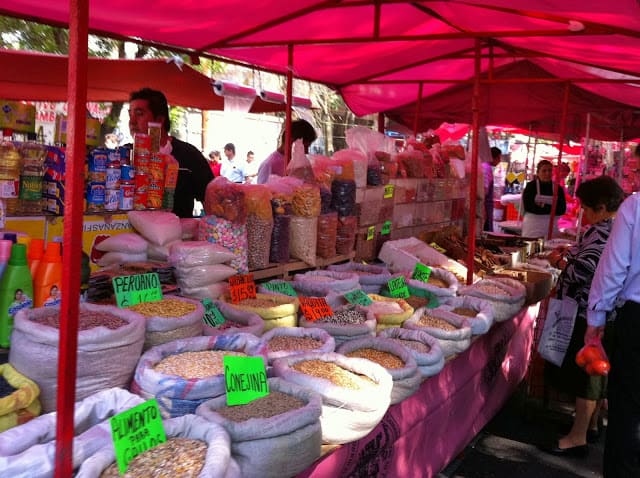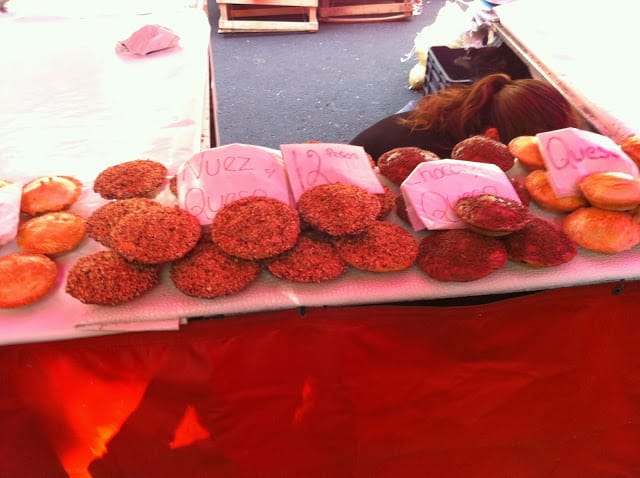 Yep! Those are our guys picking fruits to take back home
Courtesy Google
Though the Spanish colonists have influenced their cuisine, the staple foods of Mexico are more from the Aztecs and Mayans, the ancient tribes of Mexico.The staple food of Mexico includes the
Tamales
, the fiesta food which belongs to the Aztec cuisines. It is served steaming hot in a corn husk with meat fillings though they have veg versions too. It tastes more like the "arisi upma" made in south India. This is had along with the
atole
, a cornmeal drink with chocolate flavor.
Another street food that captured my heart is the Churros dusted with sugar. There is a history museum nearby our place and the vendor outside the main gates serve the best churros. Every Sunday we used to take long walks and go there just to have these sweet bites. It became a weekend routine and the vendor became our friend. 🙂 He used to beam at us and hand over two packets of churros that we munch happily on our way back home.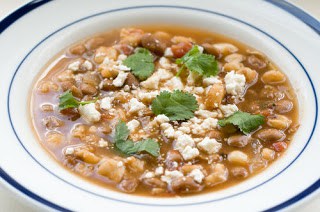 Pozole
is yet another ritually significant and traditional soup of Aztecs. A simple soup made with maize, meat and pork. Maize is the staple of the ancient Aztecs and this soup was served on very special occasions. You can read more about its ritual significance on
wiki.
Vegetarian version also exists and this became our favourite starter.
Courtesy Google
Then comes the regular and most popular cheezzyyy Enchiladas, Quesadillas a corn tortilla (chapatti made of corn and maize, yet another Aztec food) rolled over a filling mostly meat. For veggies it is potato and cheese. These are served with Mexican sauces, green or red, topped with cheese and lettuces. One thing you should notice about the Mexican cuisine is that they have cheese, refried beans and meat in almost all fillings.
Finally the dessert. There are two desserts in particular that I would die for.
Crepe de Cajeta
and Nepolitana Flan (Caramel Custard). Am a great fan of milk based sweets and you will fall in love with these at your first sight. Cajeta is a sweetened condensed milk that is made from goat's milk. This delectable and rich sauce is poured on top of the crepes made of wheat flour and is generously topped with various nuts. This is adopted from the French cuisine.
"Crepe de Cajeta" topped with chocolate sauce in the above pic and below with lots and lots of pecans.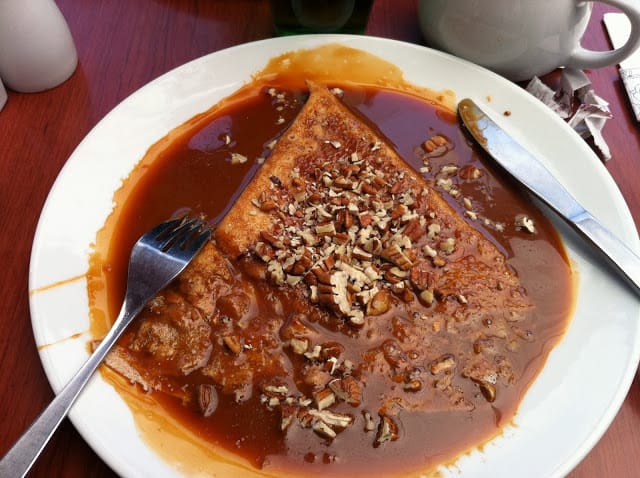 These are just few of our favourite food from the region. I would just like to mention one thing that is not so related to this post. The Chipotle Mexican grill does not serve authentic mexican food. It is adapted and customized according to the local inhabitant's taste. Most of you might know it but still there are so many I know who claim to say that the only Mexican food they like is the Chipotle Burrito. I hate when people say this and they don't bother and still claim what they say is right. Even I was of the same impression until I found out that in Mexico you don't have a Burrito like this.
P.S. Wish could have posted more but have to dig deep in my archives. This weirdly makes me nostalgic and am ready to do another post sometime.