Potatoes are a staple in every cuisine, there are copious recipes with them. Some heavily spiced up and roasted, some smashed and blended with cream or just boiled and seasoned. Whatever form it is, it is sinfully good. As mentioned in this
post
, it will blend and adapt to all types of flavours and enhancers. This recipe is a twist to the regular potato salads that mostly contain Mayo and cream. This salad is spiked with fresh herbs and warmed with toasted cumins and for an extra appeal made with fingerling potatoes.
Fingerling are their own variety of potato, quite small ones. They are long elongated potatoes generally the size of a finger knurled down its length. Their skin is very delicate and doesn't need to be peeled before cooking. The flavour is closer to the regular, mature potatoes and they have a firm texture that holds up well, best suited when roasted whole or boiled. The biggest draw is their unique shape. It is good to use them in recipes that show case their tiny stature, like potato salad or a simple roasted side dish.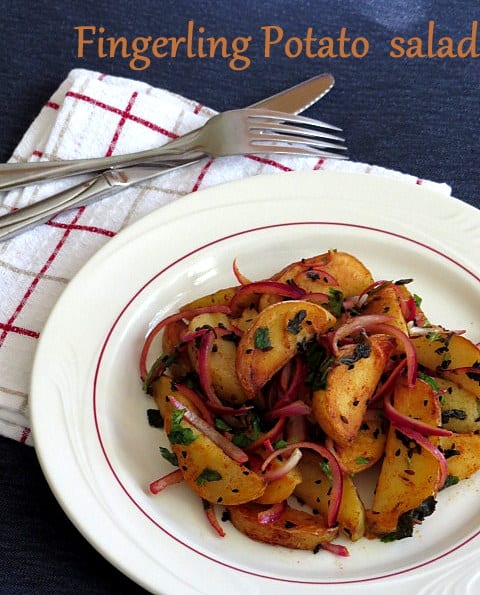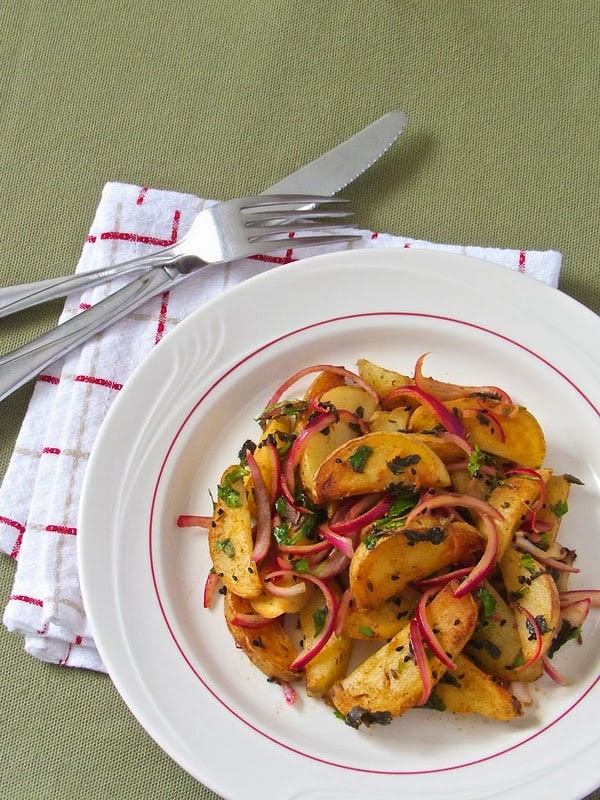 PS: Unfortunately I was not able to make this with the fingerling potatoes. I used the regular ones since they both taste the same and the former is used for an extra appealing texture.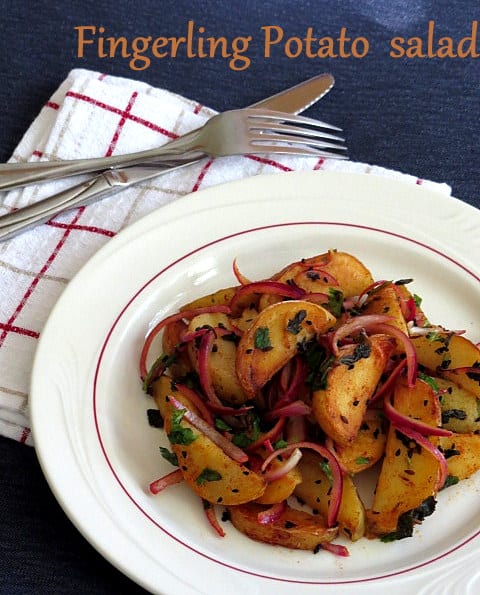 Fingerling Potato Salad - No Mayo
Roasted potato salad with with roasted cumin seeds and fresh herbs
Prep time: 10 mins | Cook time: 10 mins | Total time: 20 Mins | Serves: 2
Ingredients

15-20 Fingerling Potatoes
1 Small sized Red Onions
1 tablespoon Fresh Lime Juice
1 tablespoon Chopped fresh coriander leaves
1 teaspoon Red Chilli powder or more to taste
½ teaspoon Cumin seeds
½ teaspoon Black cumin seeds
½ tablespoon Butter

Instructions

Heat butter in a pan and add the potatoes in one layer. Keep tossing it until its browned on all sides and cooked until fork tender. Season it with some salt and ½ teaspoon chilli powder once it is cooked. Toss it well and keep it aside.
In the same pan, add ½ tablespoon oil. Once it is shimmering hot, add both the cumin seeds and let it splutter.
Meanwhile, add the chopped onions, scallions, coriander leaves and the potatoes in a mixing bowl. Pour the cumin seasoning on top and add lime juice. Check for salt and add the remaining chilli powder. Garnish it with some more coriander leaves and serve at room temperature.
This recipe is for letter "F" under "International" theme. Check out other BM Marathon runners' posts here in this page.

Logo courtesy : Preeti