Grilled corn on the cob, buttered and spiced up heavily is my favourite street food. This brings most fondest memories of childhood. I had this in ooty for the first time when we were on a vacation. In spite of the pouring rain, the vendors were swarmed with people. I was intrigued and fascinated by the way those vendors were preparing their charcoal stove. They use to vigorously fan the charcoal embers until it catches flame and starts charring the corn cobs. Once it is charred on both the sides, it is rubbed with lime and chilli powder very generously. This is the best street food that is so tasty and at the same time healthy. It is more commonly found everywhere in India.
Next to home (India) mexico city embraces this street food in a different form. Instead of having it as a whole cob, this is prepared as a salad flavoured with some different enhancers. Mexico and India are more similar than you think. More commonalities in food, culture and lifestyle. I will share my few cents of Mexican experience in this A-Z series. This can be served as a evening snack and it takes under 15 minutes to get this done. The combination of the sweet corn with the bite of chilli and the puckered lips when the sour lime hits our taste bud makes this an addictive treat. This recipe is adapted from closet cooking.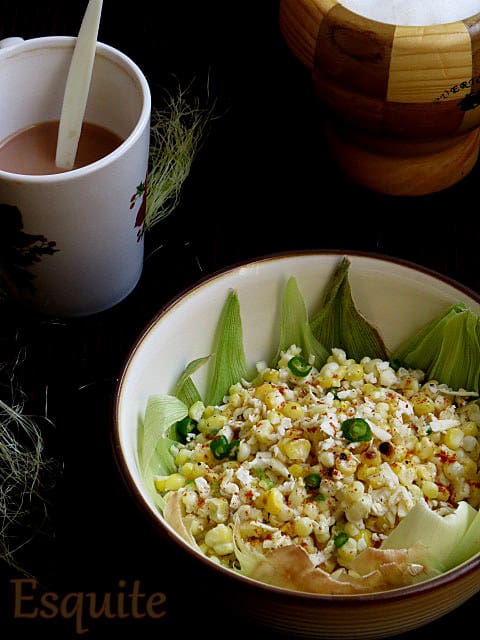 Esquite | Mexican Corn Salad
Corn Salad - A Mexican street food.
Prep time: 5 mins | Cook time: 10 mins | Total time: 15 Mins | Serves: 3
Ingredients

2 tablespoon Vegetable or Olive Oil
3 Cups Fresh corn kennels
1 tablespoon Mayo
2 tablespoon Cottage Cheese / Paneer (1)
½ cup Finely sliced Scallions
½ cup Cilantro leaves, finely chopped
1 to 2 medium cloves garlic, minced
1 tablespoon fresh juice from 1 lime
Chilli powder or hot chilli flakes to taste

Instructions

Heat oil in a pan over high heat. Add the corn kernels, salt, and cook until charred on both sides, about 6-7 minutes. Transfer to a large bowl.
If you use a corn cob char it either in the oven or stove top and then separate the kernels. You will need about 4-5 medium sized corn cobs.
Add mayo, paneer, scallions, cilantro, garlic, lime juice, and chilli powder and toss well. Adjust the seasoning. Serve immediately.
Notes
The actual recipe includes feta cheese (any crumbled cheese). I substituted this with paneer.
This recipe is for letter "E" under "International" theme. Check out other BM Marathon runners' posts here in this page.

Logo courtesy : Preeti