I have never known that soups can be served hot and hearty as well as cold and refreshing! I had a bunch of cucumbers that had to be finished within a day. There were too many to make our usual salad or a raita for just the two of us. So as usual I was goggling for some cucumber recipes and stumbled upon
this
which said chilled cucumber soup. I was surprised. This was the best way to use the cucumbers and also I had a different dish that we thoroughly enjoyed. The original recipe had called for avocado. Since I did not have it, I never used it. I was able to get the creaminess without the avocado. I just used thick fresh home-made curd.
Even though the days are long and hot nowadays, you can still have soups. This chilled delicious soup is perfect for lunch on a hot day or for a light supper. We Indians are used to having cucumber and curd as raita. This is a slight twist with few additions, cold and refreshing for your taste buds.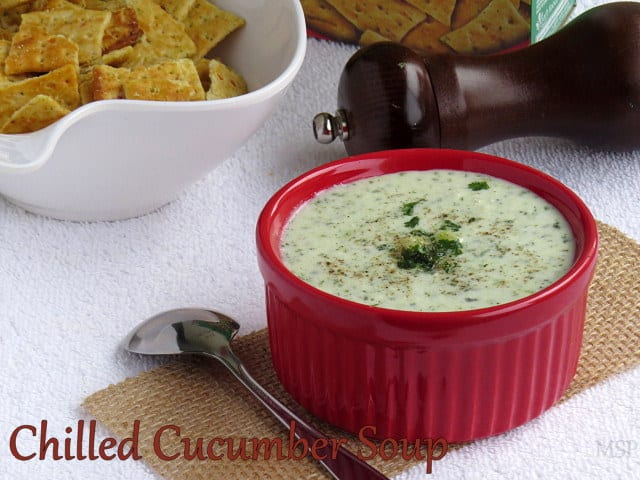 CHILLLED CUCUMBER SOUP
Creamy smooth chilled cucumber soup.
Prep time: 5 mins | Cook time: 10 mins | Total time: ~20 mins + 1 hr standing time | Serves: 3
Ingredients

1 Tbsp EVOO
2 no's Garlic pods
1 small sized Onion, diced
½ Tbsp Lemon juice
4 Cups peeled and diced cucumber
1-2 Cups Water / Stock / Broth
½ tsp Pepper powder
¼ tsp Cayenne
Few sprigs Parsley
Salt for taste
½ Cup Thick Curd / Plain Yoghurt

Instructions

Heat oil in a large saucepan over medium-high heat. Add garlic and onion; cook until tender, 1 to 4 minutes. Add 3 ¾ cups cucumber slices, water, salt, pepper and cayenne; bring to a simmer. Reduce heat and cook at a gentle simmer until the cucumbers are soft. Add lemon juice.
Transfer the soup to a blender and add parsley. Blend until it becomes smooth. Transfer it to a bowl and add the yoghurt; mix well and chill it for an hour.
While serving add the remaining diced cucumber and garnish it with some more parsley.
This for the third day of BM under Seasonal Theme. Check out the other Blog Marathoners
here
.