The word Krishna brings us an image of a naughty boy gulping down the butter or a cute little boy amidst the damsels enchanting them with his flute! He is known for his "Leelais" (pranks). Fondly called as "vennai Thirudan" (Butter Thief) and his liked by everyone in spite of his mischievousness. His Birthday is celebrated by Hindus as "Krishna Jayanthi" or Gokulashtami. Small children in the houses are dressed up as krishna on that day. People decorate their house and draw small feet of Krishna in their house in the belief of welcoming him home. This is a festival to rejoice.
This savoury snack is one of the many items prepared during Gokulashtami. Thattai is a very simple dish that can be made on any day. This can even be had as a tea time snack. Make ahead and store it air tight.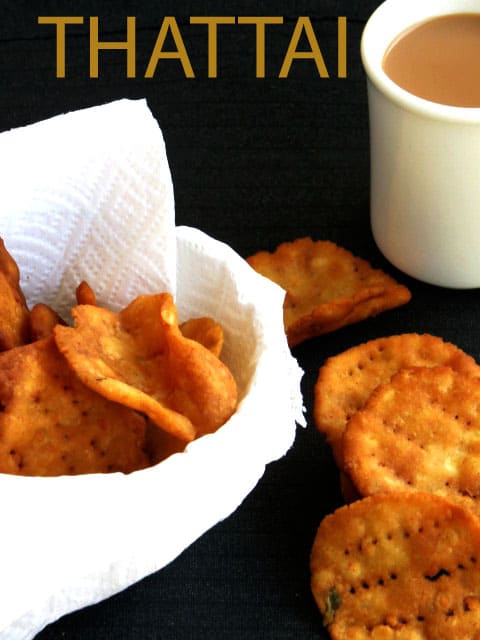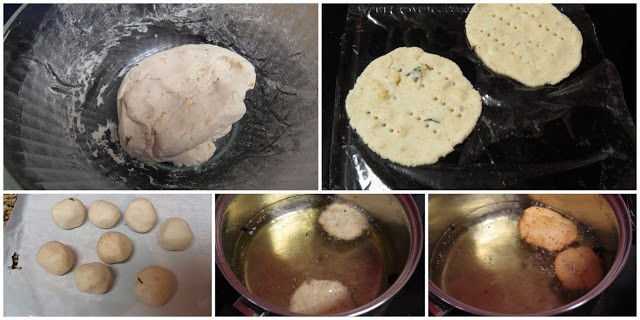 THATTAI | GOKULASHTAMI SPECIAL
Savoury snack made with rice flour, especially during Gokulashtami.
Prep time: 10 mins | Cook time: Under 30 Mins | Total time: ~40 min | Serves: 20 no's
Ingredients

1 Cup Rice Flour, sieved once or twice
2 Tbsp Roasted urad dahl flour
1 Tbsp Butter
1 Tbsp Channa Dahl, soaked for 1 hr
1 Tbsp Urad Dahl, soaked for 1 hr
1 tsp Red chilli powder
Bunch of Curry Leaves
Salt for seasoning

Instructions

Mix all the ingredients in a bowl; sprinkle water little by little and knead it into a dough. It should be smooth and non sticky. Keep it covered and not let it dry.
Divide it into gooseberry sized balls. Apply oil on a plastic sheet and flatten the ball into discs. Do 10-12 at a time. Meanwhile heat oil for deep frying. Once the oil is smoking hot, reduce the flame to medium and fry these in batches 3-4 at a time.
Repeat the same for the remaining dough. Deep fry it, drain it in a tissue and store it in airtight container.
This for the fifth day of BM under Occasions theme. Check out the other Blog Marathoners here.