Vinayaga Chathurthi is a spectacular festival celebrated in the honour of Lord Vinayagar/Ganesha. The moment we hear of Ganesh chathurthi we are reminded of Bombay. Though this festival is celebrated all over India, it is the most happening in Bombay and Goa. The occasion becomes very lively and enthusiastic with the devotional songs, dances and drum beats being a part of the rituals observed by the devotees of Lord Ganesha, as part of the festivities. Giant statue of Lord Ganesha is erected almost in every locality. At homes, people get small clay statues and worship it. 1st or 3rd or 11th day after the Chathurthi, the statue is immersed in a river or any nearby water body. This is called Visarjan.
Even during my college days we had the Visarjan. A big statue of Ganesh would be placed in our Students activity centre. An elderly professor would do the rituals and distribute the prasads. Oh it was so much fun to cut the classes in the name of helping to prep up for the occasion. We used to conduct some cultural activities and on the 11th day we would go in a grand procession accompanied with singing, dancing, fanfare and hymning "Ganapathi bapaa Morya!". From students to professors and their family every one would participate in it. We would go about the entire campus and then at last the statue would be immersed in a nearby river. In my home town, down south we don't have these processions. So seeing this for the first time, I was overwhelmed. I never knew what "Ganapthai Bappa Morya" meant. But it was so much fun to hymn this with friends clapping and dancing and shouting. College is real fun of course apart from grades. This is nostalgic and my heart yearns to go back to those good old days.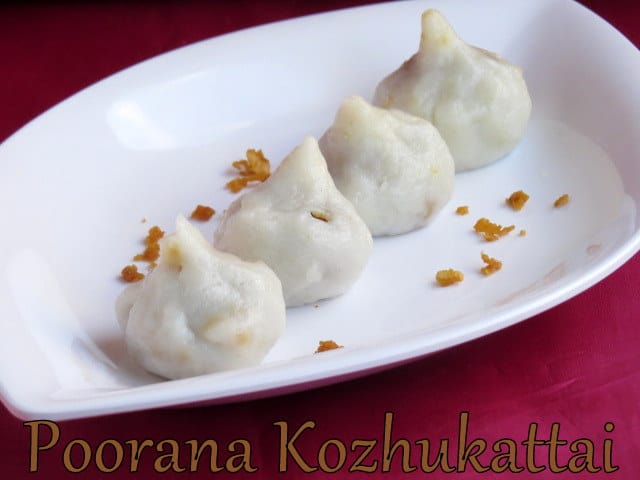 This entire festivity is incomplete without the "Kozhukattai or Modakams". This little sweet dumplings holds high significance. Our pot-bellied elephant-God loves food and this is his favourite. Most of the pictures would be with a plate full of Modhakams in front of him. Legend has it that on his birthday Ganesha was devouring on the modaks making his belly swell. Seeing this, the moon started mocking and laughed at him. On seeing this, Lord Ganesha cursed the moon saying that on Ganesha's birthday (Ganesh Chatturthi) anyone who would look at the moon shall have bad luck for a long time.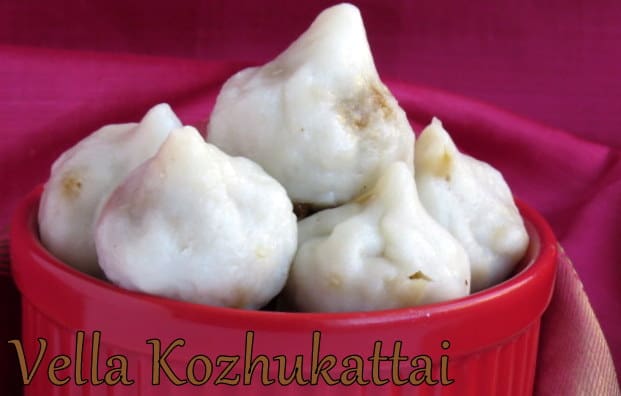 POORANA KOZHUKATTAI | VELLA KOZHUKATTAI
Sweet dumplings with a Coconut and Jaggery filling. Traditional dish made for Ganesh Chathurthi.
Prep time: 15 mins | Cook time: 10-12 Mins / batch | Total time: 30 min | Serves: 15-17 no's
Ingredients For The Dough

1 Cup Rice Flour
1 and ¼ Cups
Water
Pinch of Salt

For The Filling

¾ Cup Freshly grated coconut
½ cup powdered Jaggery
1 tsp Cardamom powder

Instructions For The Dough

Heat pan over medium heat and add the coconut , cardamom powder and jaggery. Keep stirring it until it combines and amalgamates. Take it off the heat; while still warm divide into equal portioned small balls.

For The Dough

Bring water to a boil in a non stick pan and then add the flour little at a time and constantly stirring it to avoid forming lumps. This might take a couple of minutes and once the dough gathers into one mass turn off the stove. When it is warm enough to touch. knead it well and divide into equal portioned balls.

For The Dough

Apply some oil on your hands and take each dough balls and make it like a cup. Take a ball and place it on your left palm and press it in the centre with your right thumb. With the thumb holding still in the centre and with the help of your left thumb start pressing it thin and work around until it forms almost a cup shape. Place the filling in the centre and fold it from all sides and form a shape as seen in the picture.
Repeat for the remaining filling and steam it for around 10-15 minutes. Grease the plate or place a plastic sheet while cooking so that it does not stick The white colour of the dough changes pale and you can see the jaggery filling when its done. Allow it to cool completely and then take it out.
Notes
The dough should be without any lumps. If not, it will be difficult to make the outer cup. Also keep the outer dough covered with a damp cloth at all times. Do not allow it to dry. If the explanation of making the shape is not clear, there so many videos out there which helps.
Do not keep the jaggery and coconut mixture for a long time in the stove. It might get hardened. Once they start combining together tun off the stove. Powder the jaggery before adding it. This helps the jaggery to dissolve faster and combine well.
It is completely normal if the jaggery filling is seen slightly or the outer cover is separated once they are cooked. It should not fall apart completely. Allow it to cool and then take them out. Serve them warm. You can also reheat before serving.
This for the third day of BM under Occasions theme. Check out the other Blog Marathoners here.