"When Life gives you lemons, make lemonades"
- Dale Carnegie
Lemonade is one of the most common and popular drink that spans throughout the world. A refreshing drink that is enjoyed by many not only on a mid summer evening but, also when one needs to be rejuvenated after a long day. The history of lemonade dates back to the Egyptian medieval period. Though lemon was known in parts well beyond the east, written evidence points to Egypt. The Egyptians used to have "Qatarmizat" - a bottled beverage of lemon and lots of sugar. They slowly travelled towards west where they have become the now most popular drink - lemonade. Americans are more attached to this sweet, pucker drink and the lemonade-stands are quite popular throughout the country. Parents have encouraged their kids to run these stands during the summer break. It is a symbol of budding entrepreneurship in American tradition. Is it not exciting and fun to be with a bunch of kids in corner of each street, giggling and enjoying the new experience ? Coming from a different country I find this very amazing. But now, it is considered as against the law and illegal and many stands are shut down.
Well, am a great fan of lemonades. I look forward to this treat every summer. Growing up I usually had the Indian Lemonade "
Nimbu Pani
" a lot. Then, as I started travelling and exploring many new things, I was introduced to all these spiritzing new flavoured ones like raspberry and strawberry. This watermelon lemonade is one such new liking. These are like bright blends of spritz, to be enjoyed on a perfect summer afternoon lying in the sands of a balmy breezy beach.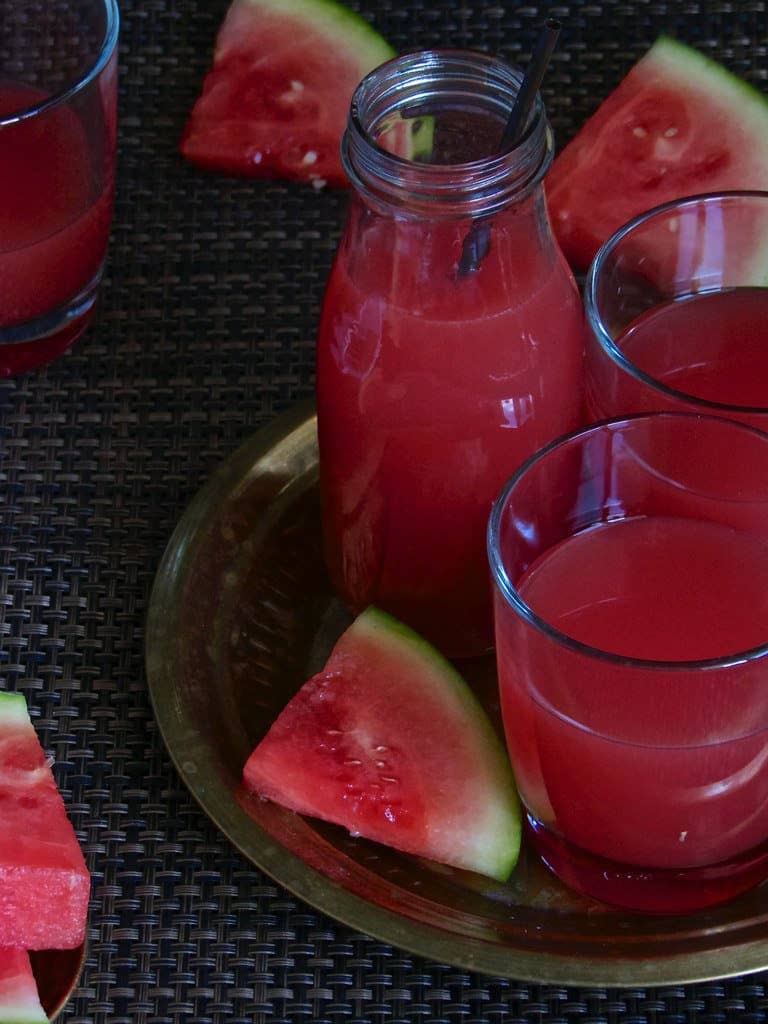 Watermelon Lemonade - Summer in the Glass!
Watermelon and lemonade combined to produce the perfect refreshment for the summer.
Prep Time: 10 Mins | Inactive Time: ~1 Hr | Total Time: 25 Mins | Yields: ~6 Cups
Ingredients

~4 Cups Water melon Juice (from a medium sized Melon)
1 Cup Lemon juice
4 tablespoon Honey
2 tablespoon Sugar (1)
1 tablespoon Rose water | essence (optional)
Water as needed

Instructions

Cube and puree the watermelon, strain them through a sieve to remove the seeds.
Mix in the watermelon juice, lemonade, honey and sugar and essence. Stir them well to dissolve the sugar and honey.
Refrigerate and serve them chill.
Notes
You can adjust the amount of lemon juice as per your taste and the level of citrus.
Do not omit the honey. It gives an edge. Add sugar only if needed. Generally nice ripe melons are sweet per se. So check and add if required.
Feel free to add the ice cubes. I omitted, because I don't like it. I like my juice plain and just chilled.
You can also use soda to rise your spirits.
This post is for Blogging Marathon 40 under the theme "Mocktail". Check out the Blogging Marathon page for the other Blogging Marathoners doing BM# 40 here.