Vasantha Neer - An exotic drink from the kaveri belt of South India. Vasantham means pleasant and neer is a drink. So it is literally translated to a "Pleasant drink". A very interesting name. Sweet as well as slightly tangy and both perfectly balanced. Mango and coconut water being readily available during the summer, this drink is very refreshing and apt for cooling down the summer heat.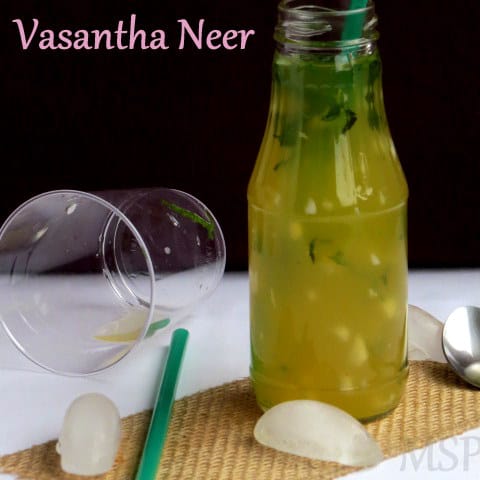 VASANTHA NEER | MANGO COCONUT WATER DRINK
An exotic sweet and tangy drink.

Prep time: 5 mins | Cook time: NIL | Total time: 5 min | Serves: 2
Ingredients

1 ¼ Cup Tender coconut water
Juice of ½ Lime
¼ Cup Mango nectar (1)
1 Tbsp Honey
Bunch of Mint leaves

Instructions

Finely chop the mint leaves and mix honey in a tablespoon of warm water. (2)
Now mix everything in a jug and chill it in the refrigerator for half an hour. Serve it chilled.
Notes
Instead of mango nectar, you can also add mango pulp or mango pieces. I am actually not sure about the addition of mango in this dish. Sometimes it is served with Mango and sometimes not. But adding mango was very delicious.
Mixing honey in warm water helps in dissolving the honey faster and it will be evenly mixed.
This is for the eighth day of BM under Seasonal theme. Check out the other Blog Marathoners here.