In India, no summer passes without having this lively energetic drink. You will be able to find it in every convenient store and with every street vendors. A simple but the best thirst quencher. I always thought that lemonade and nimbu paani were same until recently. The only difference is that Nimbu Paani has salt and sugar directly added to it whereas for a lemonade sugar syrup is made and there is no salt. But both of them taste divine on a scorching day. Perfect way to welcome spring and cool down summer heat.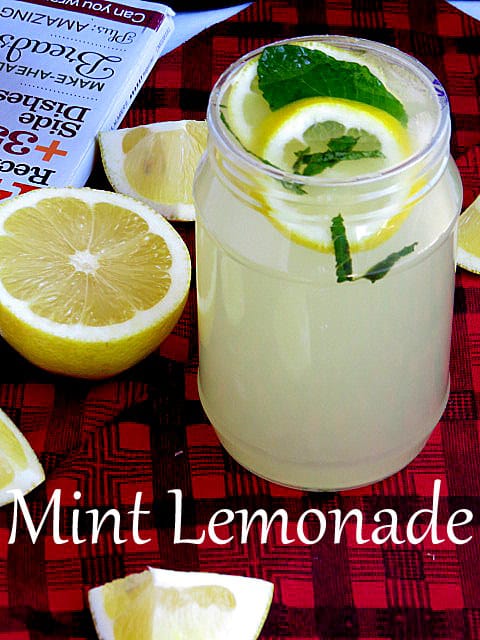 MINT LEMONADE
Balmy and refreshing. A perfect thirst quencher.
Prep time: 5 mins | Cook time: NIL | Inactive time: 1 hour | Total time: ~1 Hr | Serves: 3
Ingredients

1 Cup Lemon juice
3 to 4 Cups Water
½ Cup Sugar
½ Cup Water
4 Tbsp julienne mint leaves, divided
2-3 Sliced lemons

Instructions

Squeeze juice out of the lemons, keeping half a lemon aside. Slice the half in ½" thickness. Strain the juice in case you have seeds in them and if you don't want the pulp.
Bring to boil sugar and water along with 2 tablespoon mint leaves. Allow it to cool completely and strain the mint leaves.
Pour the lemon juice and water in a pitcher. Gradually add the sugar syrup checking for sweetness. Add the remaining mint leaves and sliced lemons.
Serve them chilled with ice cubes.
Notes
Discard the mint leaves if serving it for the next day. They tend to loose their freshness.
You can increase the sugar amount to ¾ if you want it even more sweetness.
If you add a pinch of salt, this becomes nimbu pani.
This for the second day of BM under Seasonal Theme. Check out the other Blog Marathoners here.