Fresh herbs - like beer, bitter-gourd or coffee is an acquired taste. For most of them it is a no no at first, but once you get used to it they may start appreciating it. I still remember how the corners of my plate would be decorated with the hand picked curry leaves and coriander leaves from rasam and veggies. I can still hear my mom lecturing how much it is good for health. But now a days after cooking and tasting my own food I am able to taste the elevated flavour when adding these herbs. Fresh herbs always add exceptional value to the dish in which they are added. They elevate the flavours in harmony that even the simplest of the dishes might become a feast and unique. Two similar dishes can have a new and changed taste when two different fresh herbs are substituted. There is a little secret that I would like to share with you guys. I used to mask my fiasco rasam by tempering it with Curry leaves and coriander leaves. 🙂 Believe me, it's your saviour and no one would find out that it went wrong. Even though many herbs are tolerant even when used excessively, but some herbs like rosemary and thyme are so harsh that it has to be used minimally. Treating herbs with care and using them in the right way can create wonders in recipes.
If you guys are not keen on herbs try them out for sometime and see if you can enjoy it. May be this might work out for you - They are so rich in nutrients and many health benefits. Okay. So back to the post. This aloo chaas is perfect for the scorching summer days. You need not sweat in the kitchen and the fresh herbs and buttermilk in the dish help you cool down the body heat.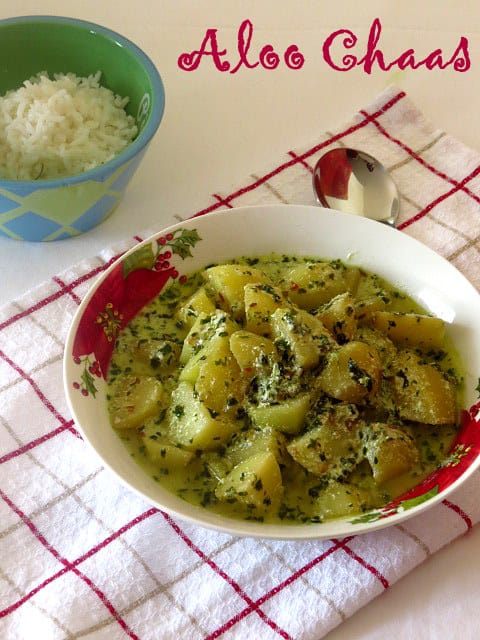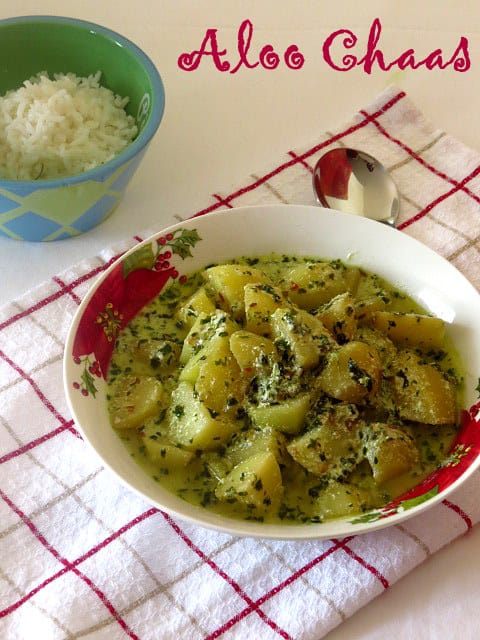 Aloo Chaas | Spicy Potato Stew in Buttermilk
Potatoes dunked in spicy fresh herbs seasoned Buttermilk. Perfect for Indian flat bread
Prep time: 10 mins | Cook time: 15 mins | Total time: Under 30 Mins | Serves: 2
Ingredients

12-15 no's Medium sized Potatoes, cubed
1 Cup loosely packed Fresh Cilantro leaves
1 Cup loosely packed Fresh Basil leaves (1)
5-6 no's Garlic cloves
2-3 no's Red Chillies
1 Cup Thick Buttermilk
2-3 Tbsp Cream (optional)
1 tablespoon Oil
Salt for seasoning

Instructions

Wash, peel and cube the potatoes bite sized. Keep the cut potatoes in water till use.
In a processor or a mortar and pestle, process the cilantro, basil leaves, red chillies and garlic pods coarsely.
Heat oil in a pan over medium heat and add the coarsely grind paste. keep sautéing until the raw smell of garlic goes off; for about 2-3 minutes.
Then add the potatoes and let them brown on the edges for about 5-6 minutes. Keep checking it and stir it gently and frequently so that it does not get burnt.
Once it is seared, sprinkle some water and cook until the potatoes become soft and tender.
Turn off the heat, take it off the stove and add the buttermilk and cream (if using). Keep it on the stove for just a minute and then take off the heat. (2)
Notes
You can substitute this with any herb of your choice. Spinach can also be used.
Take it off the heat and then add the buttermilk. Do not keep it on the stove again, it will get curdled. If it still gets curdled after following all the necessary precautions, you might pour the sauce in the blender and purée it.
This post is for the first day of the blogging marathon 30, week 3 under the theme "Cooking with curd". Check out the recipes of other blog marathon runners over here.