The second day's feature is Sandesh. A very simple sweet made with paneer. Most of the bengali dishes, especially the kinds I like are all made with Paneer. The "Chenna" as it is called, forms the base for most of the dishes. Once you master the art of making it and cooking it to the right consistency, you have the wonderful sweetmeats from the North East India.
According to the "Calcutta Cookbook", the most famous, storyline revolving around the evolution of Sandesh is that, a milkman who is also a very creative culinarian, found a way to make use of his curdled milk. He made them into these delicious sweets and started selling them. It also points out that Sandesh has been mentioned in the Bengali Medieval Literature as well as in Kirtiba's Ramayana. No matter in which period it came into existence, it sure has created a huge fan following base.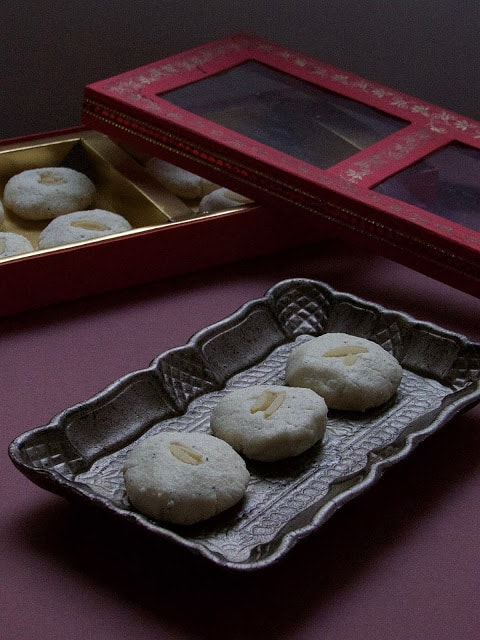 Sandesh | Shondesh
Sugar sweetened Chenna
Ingredients
1

litre

full fat Milk

¼

Cup

Lime juice

3

tablespoon

Sugar

¼

teaspoon

Cardamom powder

A pinch

Nutmeg powder
Instructions
Making the Paneer
Boil the milk in a medium flame. Once it comes to a full boil, reduce the heat and add the lime juice.

Stir it once in a while and keep it on the flame until you see the green whey being separated.

Turn off the flame. Move it off the stove and keep it for 30 seconds. Then drain the milk solids/Paneer on linen lined colander.

Rinse the milk solids under water to get rid off the lemony smell.

Gather the ends of the cloth and squeeze the extra water from the paneer. Let it hang under the sink for about 15 minutes.

After that, place it in a plate and put a heavy weight on top of it. So that the remaining moisture also comes out. keep it for about another 15 minutes.
Cooking the Paneer
Then, take the paneer out and knead it for about 4-5 minutes. Add the sugar and knead again for another couple of minutes.

Heat a pan on low flame. Add the kneaded paneer and keep stirring it for about 10 minutes-12 minutes.

By this time it should come together as one mass and when you take a small amount of it, you should be able to roll it out into a smooth ball.

Take it off the flame. When it is slightly warm, mix it well.

Roll them into balls or flatten them as disc or mould them into any desired shape.

You can also garnish with pistachios or almond nuts.
Recipe Notes
While cooking the paneer, be sure to keep the flame low. This process is very crucial for getting the proper texture.
Start shaping the sandesh when it is warm. If it cools, it will be hardened to shape.
Check out the Blogging Marathon page for the other Blogging Marathoners doing BM# 72 here