This is yet another fabulous Gujju festive dish. A dish, not for the faint of heart with this much amount of ghee. Being a speciality, how can it be? It is a festive occasion. A special treat and lots of nuts and raisins and ghee. 🙂 There are so many variations to this dish. Some substitute jaggery for sugar and even add milk instead of water. You can add grated coconut to it and even khova is perfect for that extra rich texture. Cut down the amount of ghee for a low calorie diet, without a spur of the moment's doubt.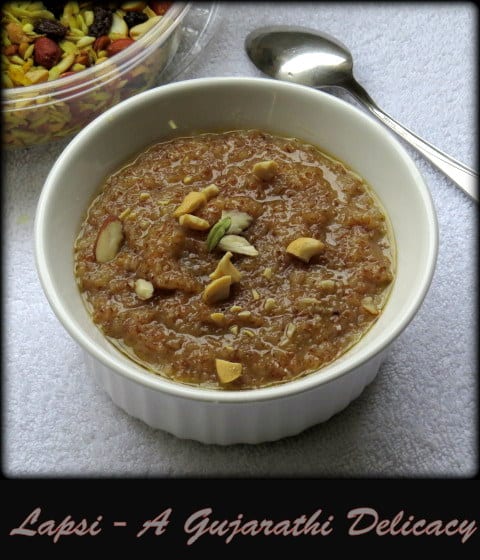 One more from the North western side of India for Blogging Marathon - Traditional Dishes. Check out the other bloggers over
here
. Enjoy this with any kind of namkeen as a complement for your evening snack.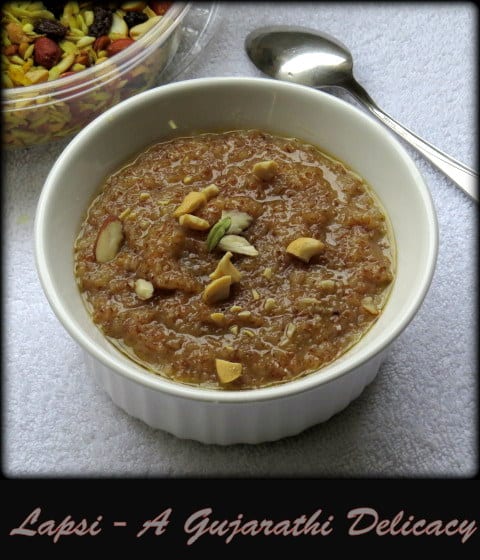 LAPSI
This is yet another fabulous Gujju festive dish. A dish, not for the faint of heart with this much amount of ghee.
Prep time: 5 mins | Cook time: 20-25 mins | Total time: Under 30 Mins | Serves: 2-3
Ingredients

½ cup Ghee (clarified butter), divided
1 cup Broken Wheat
4 Cups Water
1 cup Sugar
2 tablespoon roughly chopped cashew nuts
1 tablespoon Slivered Almonds
2 no's Cardamom pods, crushed and remove the skin

Instructions

Heat ¼ cup ghee in a heavy bottomed pan over medium flame. Add the broken wheat and keep stirring it until it turns light brown and you get the aroma of the broken wheat, approximately 5-6 minutes.
Meanwhile boil the water in a pan and keep it aside. Add 4 cups of warm/hot water to the pan and stir it continuously.
Keep the flame on high and bring it to a rapid boil. Then simmer it and allow it to cook on a low- medium flame for about 20 minutes while stirring it frequently. The cooked wheat will rise in volume as it absorbs the water.
Once the water is completely absorbed, check if it is cooked completely. It should be soft and easily smashed when pressed between your fingers. Now add the sugar and it will liquefy a little.
Keep stirring for another couple of minutes and then add the roasted cashews and almonds and the remaining ghee. Stir it well.
Take it off the flame before it could solidify completely. As it cools down, it will thicken.
Notes
Make sure you do in this in a low flame. The broken wheat has to be completely cooked through.
Add sugar after the wheat is fully cooked. Do not add it before that. It inhibits the wheat to cook further.
If you make it ahead, just add little milk; reheat it and serve.