From doing the ground work on Edible Gum, I came to know about its varied benefits. I also came to know there are so many varieties of Edible Gum and that, it is extensively used in the Mediterranean and Middle eastern cuisine, especially in desserts like pudding and custard and ice cream.
Click here if you want to go to the recipe directly - Jump to Recipe
In India, it is commonly used in ladoos, as an enhancer to beat the cold. I was not so keen on it as the ingredients were so common to that of Panjiri. So, while trying to find how else to use this, I landed on The Healthy Cook Blog. She has a wonderful blog featuring healthy recipes from Greece and around the world. Her Dates and Pistachio bites, reminded me of the dates roll and I substituted the Mastic (Edible Gum variety), mainly used in the Mediterranean Cuisine, with Gondh. This is one of the very simple way to incorporate Gondh and is a simple variation to Khajur Burfi. Dates are our favourite and we love them as desserts.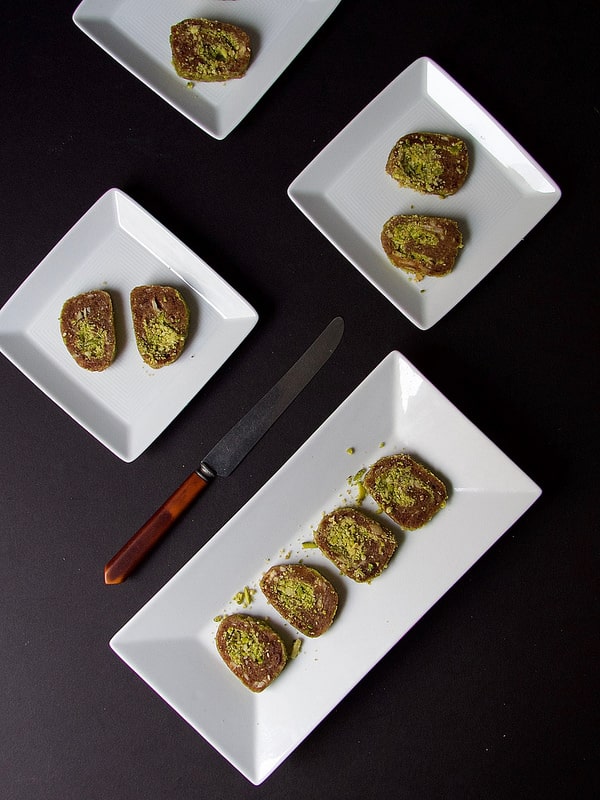 Dates and Pistachios Roll
Dates stuffed with pistachios and rolled in some more pistachios.
Ingredients
200

gms

Dates

preferably seedless

¼

cup

+ ⅛ cup crushed Pistachios and other nuts like mandelin, cashews, walnuts

Refer notes 1

3

tablespoon

crushed Gondh | Edible Gum

Refer notes 2

⅛

cup

Crushed pistachios for rolling

Refer notes 3 optional
Instructions
Soak the dates in water for 10 minutes. Then puree it. If the dates are very soft, skip soaking and blend it directly.

In a pan, add ghee and once it is hot, add the gondh and fry until it puffs up well. Strain it in a blotting paper and once it cools, powder it.

In the same pan, add the pureed dates and cook for a couple of minutes. This is optional but I feel this gives more texture and holds it in shape.

Now mix the dates and powdered gondh. Add more if the mixture is too moist. Roll this on top of a butter paper.

Flatten it and then add the pistachios mix on top.

Now carefully roll the dates mix like a log. If it sticks, grease your hands with ghee.

Once it forms a log, cover it tight with butte

paper and freeze it for 3-4 hours.

Then remove the butter paper and slice.
Recipe Notes
All kinds of nuts can be used here. Whichever is your favourite.
The Gondh makes the roll more pliable and healthy. But you can also add the crushed nuts for the mix to bind properly. Also, cooking the dates for a little more time also brings it together.
You can roll them with any topping. Coconuts or some more nuts or Poppy seeds. The choices are endless.