Karanji is a popular Maharashtrian sweet dish. Actually this is prepared in almost all of the Indian states with each state having its own name and own variation. It is called Ghujia in the North west, Karchikai in Karnataka and Somasi in Tamil Nadu.A crescent shaped pastry filled with all the rich flavourful goodies like coconut, sugar and nuts. In the traditional ones, it is sweetened with a coat of sugar glazing. As our taste buds are still recovering from the cloying "
Lapsi
" we had previously I left out the sugar coat.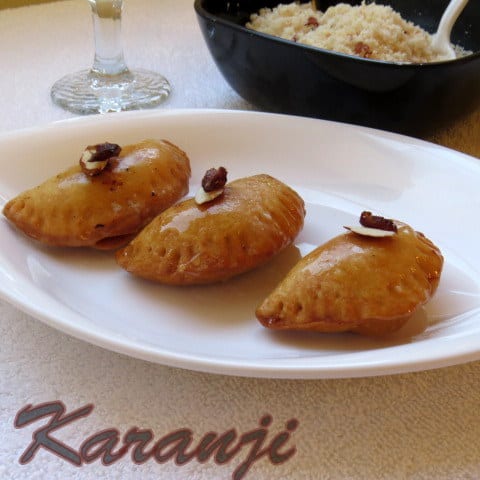 I just dipped very few in the sugar syrup and the rest were plain. The plain ones are best suited for those who prefer mild and subtle sweet. This is another entry for Blogging marathon. Check out other bloggers recipe over here. This is one of the recipes that perfects as we keep doing it now and then over the time. This requires a little patience especially when you add the filling and fold it. But you will know its worth all the effort and time when you have your first bite. 🙂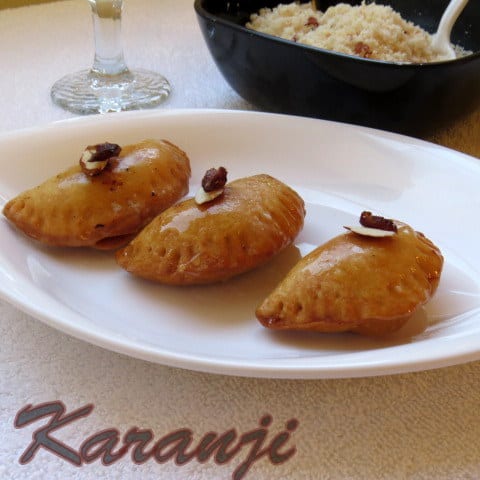 KARANJI | GHUJIA
A crescent shaped sugar coated pastry filled with the rich flavourful coconut and mixed nuts.
Prep time: 10 mins | Cook time: 30 mins | Total time: Under 45 Mins | Serves: 12-15 no's
Ingredients For the Outer Cover

¾ cup Maida (All purpose flour)
¼ cup Semolina
3-4 tablespoon ghee (clarified butter)
pinch of salt
Water or milk (1)

For the Filling

2 tablespoon ghee (clarified butter)
¾ cup shredded or dry coconut(2)
¾ cup sugar , more or less acc to your taste buds
¼ cup mixed nuts (cashews, pistachios, almonds, raisins, dates etc)
Mix a Tbsp of water and a Tbsp of all purpose flour, for glue

Instructions

Combine all the ingredients mentioned in "for the outer cover" in a bowl. Add water or milk little by little and knead the dough until soft and pliable. Let it rest for minimum half an hour.

Heat ghee in a pan and roast the nuts. Once they turn golden brown add the rest of the ingredients and stir them for a minute. Just warm them up until the coconut starts to turn golden brown. Do this on a medium flame. Keep aside.

Divide the dough into equal portions and roll them out approx 4"-5" in diameter. You can either roll them each with a rolling pin or if you want a perfect you can use a cutter or even the lid of a container, just like you do it for cookies.
In each small rolled out portions, put the filling in the middle. smear the glue in the sides of the circle. Take one end of the circle and bring them over the top to the other end and fold them. Form them into semicircles.
Then take a fork and make the patterns in the corner of the semicircle. Cover them with a moist cloth. Do not allow them to dry. Refer to the pictures above for clarification.
Now do this to the remaining dough. Make sure that you do not leave the remaining dough uncovered or else it will become dry.
Heat oil / ghee in a deep heavy bottomed pan and deep fry these in batches.
Additionally you can sugar coat these deep fried Karanjis. Boil sugar and water in a saucepan till the syrup forms a one thread consistency when pressed between your fingers. Coat each one until it is dipped evenly and cool them on a cooling rack allowing it to drip the excess syrup. Once cooled, store them in an airtight container. Since it has coconut filling, the shelf life may be up to a week max.
Notes
You can use either warm water or milk to knead the dough.
Most of the recipes call for a fresh shredded coconut. But I did this with dry coconut and it came out good. So you can use either of them, whichever is there in your pantry. You can also add khova to this filling. Substitute half the quantity of coconut with khova.