Doodh Peda Recipe - Soft and crumbly milk based sweet. An instant version of the classic Indian sweet.
I am addicted to milk based sweets. "Addicted" is actually underrated for the amount of love I have for these sweets. I can have it all day without feeling cloyed and for those of you who want to get any job done by me, bring this as a gift. I will be right at your service! There are two sweets that tops the list, one is the "Paal cake (similar to a milk fudge) which mom makes and next is the Pal Kova. I am marveled at how just the two ingredients milk and sugar when reduced and condensed could give such pleasures. I am yet to perfect the recipe for my top two favourites and for now, the second recipe in the Festive treats series - Doodh Peda, the next best thing in line.
Although the traditional recipe, to bring out the creamy rich texture, requires the milk to be simmered and to stir, until our arms burn out. But this is quite time and energy consuming and frankly I cant wait that long to prepare this sweet. As I keep stirring it I would finish it off before it could be done. I know. Huh! This recipe that I am posting today is an easy way out that can be done in under 15 minutes. It is just milk powder and condensed milk. Yet another simple recipe that you can prepare during the festival time. Am sure this can never go wrong.
A perfect edible gift for our friends and family during the holiday times. Good things in life are made to share and enjoy. These small cheers would make a merry feast!
Below is the stepwise pictorial.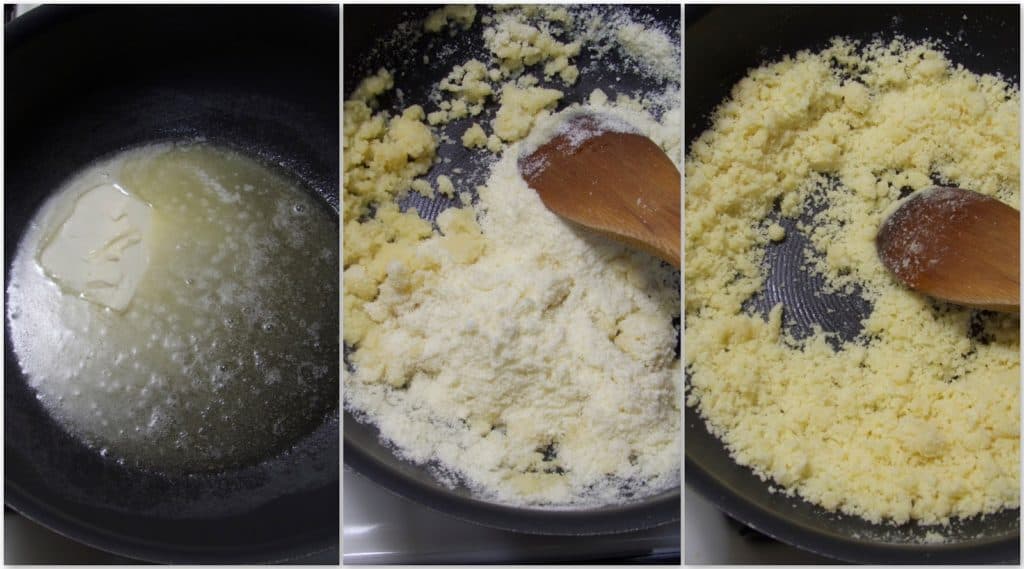 The mixture might look like a semi solid content. But turn off the stove after about 10 minutes and when it comes clean out of the pan when you stir it.
Look at how it is hardened as it cools (the first and the second pic below). When it is warm to touch, you can shape it. While shaping the dough it will be sticky and greasy. But as it cools and rests, you will get the proper consistency. Do not worry about it immediately (I did, you know the first time). Give it some time!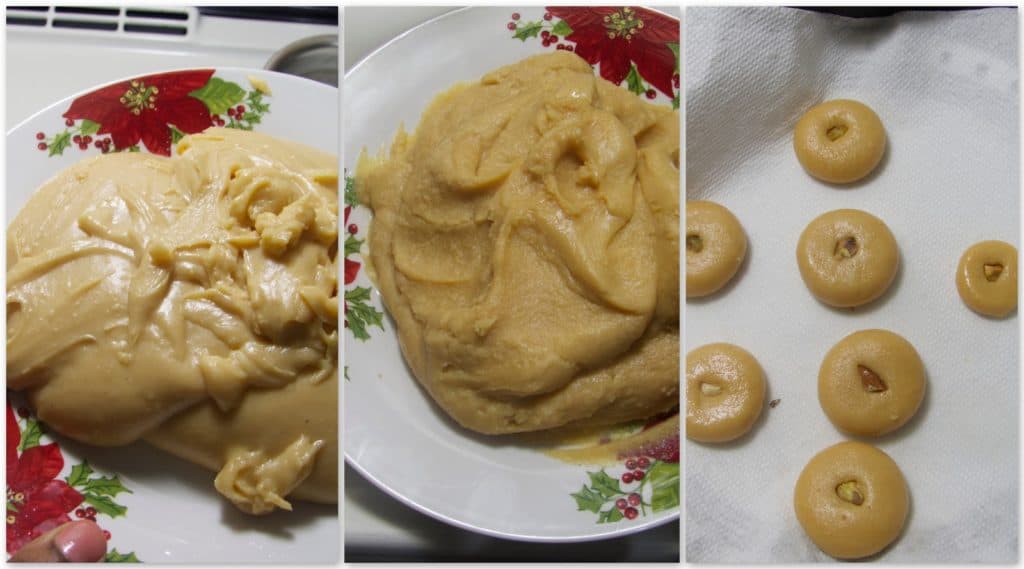 Doodh Peda | Milk Peda
Soft and crumbly milk based sweet. An instant version of the classic Indian sweet.
Ingredients
1.5

Cups

Milk Powder

400

grams

Condensed Milk

1 Can

4

tablespoon

Butter

¼

teaspoon

Cardamom powder

Nuts for garnishing
Instructions
Heat butter in heavy bottomed vessel or non stick on a very low flame.

Once the butter melts, add the milk powder and keep mixing it without forming any lumps. Stir it for a couple of minutes.

Then add the condensed milk, cardamom powder and keep stirring it continuously. Stir it well to avoid any lumps.

The mixture will start to thicken, collect as one mass and start leaving the sides of the pan when stirring. This will take approx about 10-12 minutes.

Immediately turn off the stove and transfer the contents to a bowl. Let it cool.

Once it is warm to touch, start making balls and press it to make it like a cookie. Garnish it with a nut.

Once cooled completely, store it in an airtight container. If storing it for more than a week, keep it refrigerated.
Recipe Notes
Keep it only on a very low flame. Do not raise the heat. Keep stirring it frequently, else it will burn at the bottom.
The consistency of the dough, i.e. the mixture is very important. Do not keep stirring it. It will harden and become chewy if you keep it on the flame for a long time. In just about 10-12 minutes take it off the stove. It will still harden upon cooling.
Also do not serve this sweet immediately. Allow it to set. At first this might be chewy to taste. But after a couple of hours it will set perfectly.
Keep it refrigerated if you want to keep it for a week or so. Bring it to room temperature before serving.