"Fool" is a heavenly indulgence and is the best way to eat a fruit. It is a traditional English dessert made by puréeing the fruit and folding it with a sweet custard. But nowadays it is just combined with whipped cream leaving the custard. This classic English dessert dates back to the early 16th century and the word fool is believed to have originated from the French word "fouler" - meaning to mash or press. But wiki says this inference was rejected by the Oxford stating that this is inconsistent and baseless with the early use of the word. However the etymology is proposed, the name intrigues and thats the reason I wanted to try this out. Why would something delicious be named a "fool" eh?
The most common fruit used are the berries. Strawberry, gooseberry, raspberry and apart from these appples, kiwi, mango are also used. This preparation has three steps. Puréeing the fruit, making the sweet custard and then assembling it with whipped cream . These preps can be made in a day advance and refrigerated. This makes it a to-go party dessert. This rich foamy chilled dessert is a sure crowd pleaser.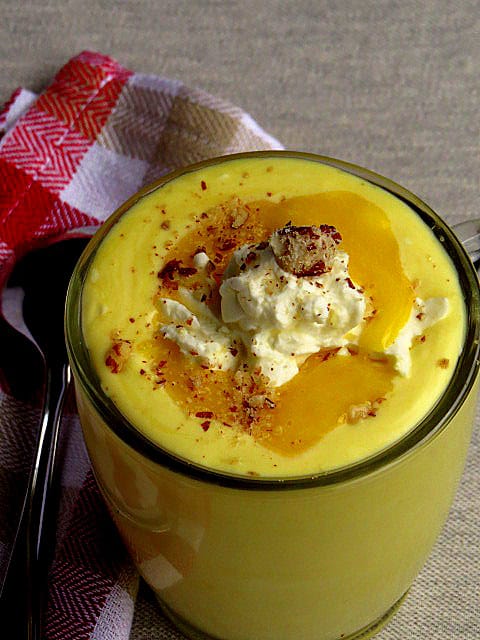 This is for the second day of the Blogging Marathon under the cookbook theme. I chose Mangoes and milk as my two ingredients that turned into a delight. This recipe is adapted from the cookbook "Classic Indian Cooking" by Julie Sahni.
A Rich foamy chilled fruit dessert.
Prep time: 15 mins | Inactive time: 30 mins | Total time: under 1 hr |
Serves: 4-5
Ingredients

2 Cups Canned Mango pulp or pulp from 2 Lb ripe Mango
1 Cup Milk
3 Tbsp Sugar
1 1-2 Tbsp Cornstarch
1 Cup Heavy Cream
½ tsp Almond extract
¼ cup Apricot or Peach brandy (5)
1 Tbsp Lemon Juice
Some Mango pieces, for garnish (optional)

Instructions

If using fresh mangoes, peel the skin and purée them in a blender. Pass the purée through a fine mesh sieve and rub it with your palm or a flat spatula to remove any stringy fibres. (1)
Dissolve the cornstarch in 2 tablespoon of milk and keep it aside. (2)
Meanwhile add 2 tablespoon sugar to milk and bring it to boil. Once it boils, add the cornstarch dissolved milk and keep stirring it until it thickens and forms a custard. Allow it to cool completely.(3)
Once it is completely cooled, mix the mango pulp and the custard together and refrigerate until other preps are done.
Whip the heavy cream until it forms definite peaks. Stir in the almond extract and the remaining 1 tablespoon sugar. Cover and refrigerate until the final assembly.
Just before serving, stir in the brandy (if using and lemon juice into the mango-custard mixture.
You can do the final assembly in many ways. (I) In a traditional Fool, the whipped cream is gently folded in with the mango-custard but not completely incorporated. Spoon this in a serving bowl, top it with mango pieces or pulp. (II) Fold in only half the whipped cream with the mango-custard. Spoon this is in serving bowls/glass and top it off with some whipped cream and mango pieces. Or you can form layers of each and have it. However you like it.
Notes
If the variety you got has no fibres, you can skip this and use the purée by itself.
Instead of adding cornstarch, you can add all purpose flour too.
You can refrigerate the mango pulp and the custard separately for up to 2 days. Combine them just when you are about to serve.
You can chill the fool up to 2 hours before serving. Do not combine it and refrigerate for more than that. Keep them refrigerated separately and then combine them before serving.
Peach or apricot brandy is purely optional. If you are using the brandy the consistency may be little thin.
The almonds topped on the fool is not included in the recipe and it is optional. Since we like nuts in everything, I added it.
This is off to the third day of the blogging marathon 29, week 2 under the theme "Cooking from Cookbook". Check out the recipes of other blog marathon runners over here.