Once upon a time, in a small village, a wedding took place in a grand manner. Since it was the village-head's daughter's marriage, the whole village and its neighbouring ones were invited. The entire crowd was gathered around the community hall and it was like a colourful carnival. A grand feast was served and everyone was happy. There was one villager who was enjoying this to his
heart's
stomach's content. He was wriggling and had to loosen his "
veshti
"to breathe. He was so full that he was moaning "I cannot have a grain more of food". Just as he was about to get up, they started serving mangoes. He immediately sat down and was getting ready to attack them.
His neighbour who was watching all his silly actions from beginning was very shocked. He asked him out of disbelief, "Brother, few minutes back you were struggling due to high indulgence and now how come you can have these mangoes ? I cannot believe you!"
The clever man replied. Friend, However crowded a place is, If the village head or some prominent person happen to come there, people immediately start moving aside to give way to him, Right ? It is the same case here. "Mangoes are like King". Even if you over eat, there is always a place left for mangoes in our tummy.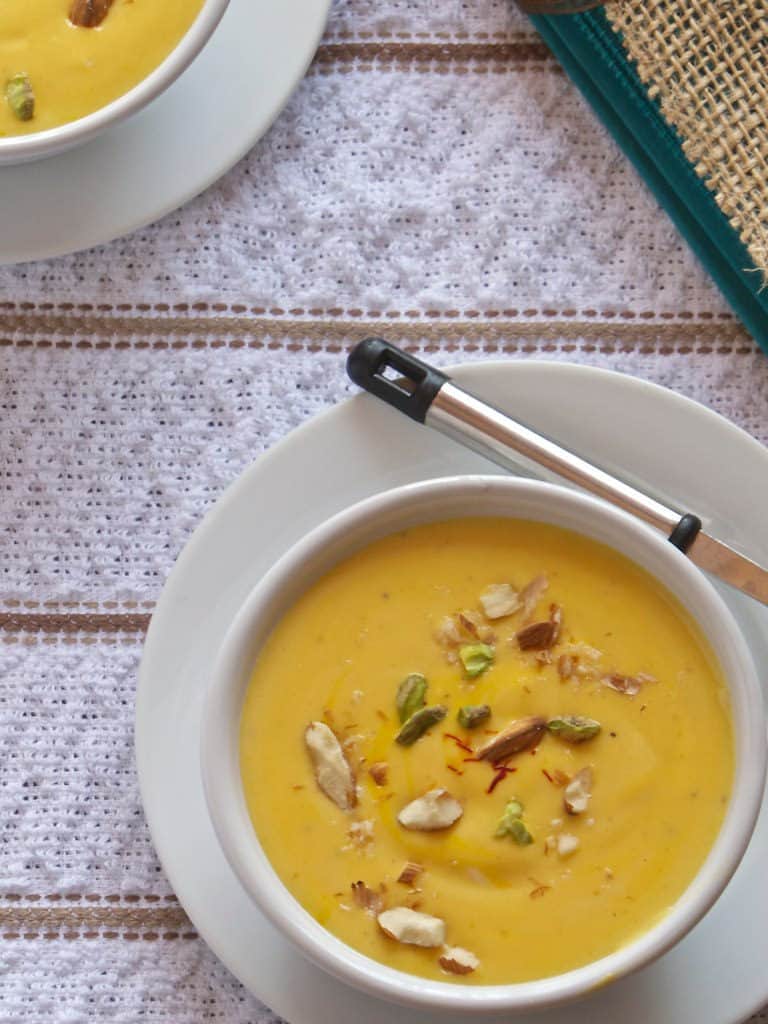 What more can I say ? There is a reason it is called the "King of fruits". Everyone loves mangoes and I have hardly come across anyone who says no to it. During summer season, the markets would be flooded with Mango vendors and the smell of this sweet luscious fruit fills the air completely. So many varieties to choose from and it is a mango dessert-ritual everyday in most homes. My mom takes this one notch higher, she used to have it as a side even with Sambhar and rasam rice. Such is the craziness for this fruit. After all, according to the Hindu mythology, didn't the Lords themselves have a fight for winning this precious fruit ?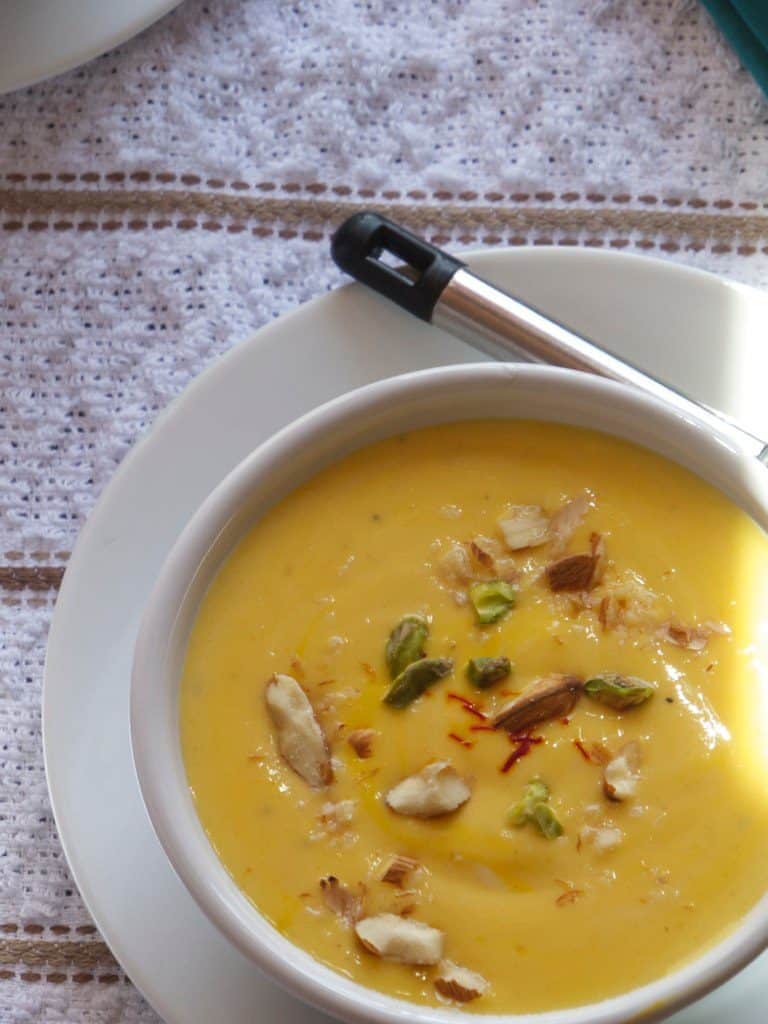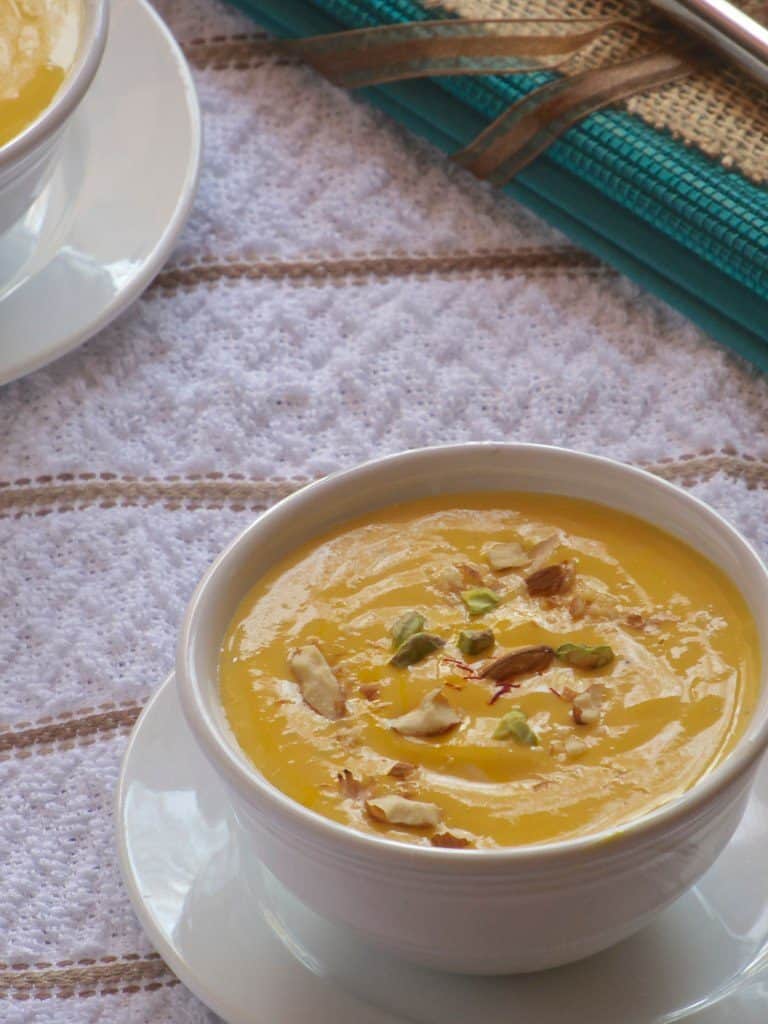 If You are a mango freak, Check out my other mango recipes.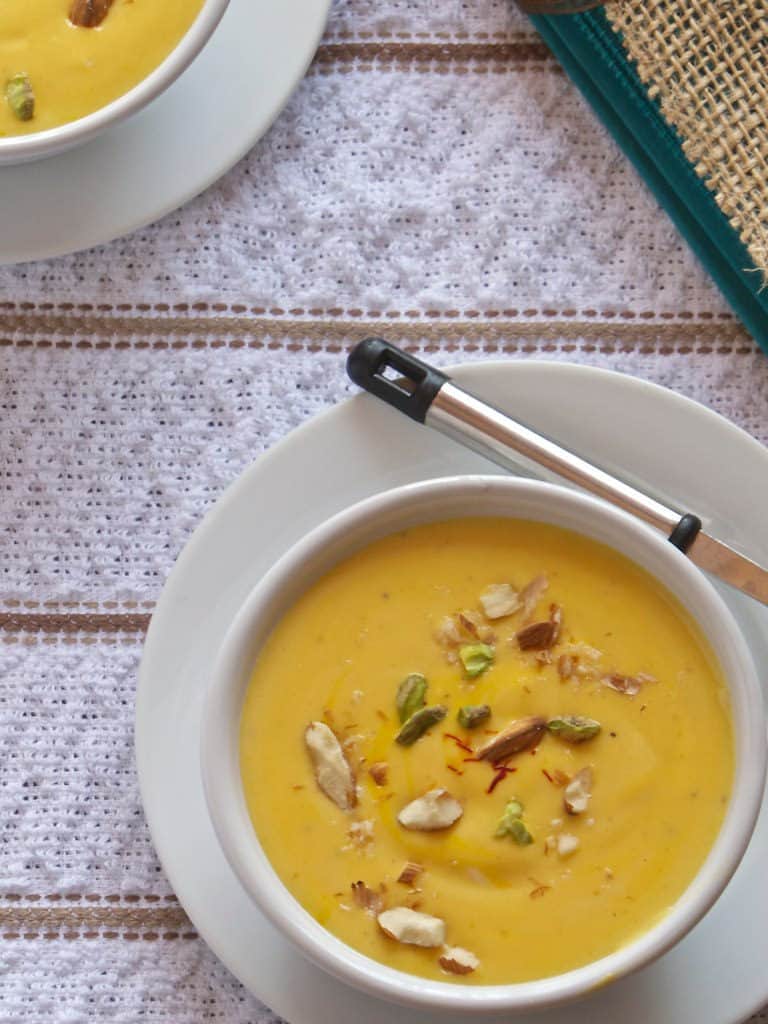 Amarkhand | Mango Shrikhand
Mango flavoured yoghurt spread, seasoned with cardamom powder and crushed nuts.
Rest Time: 2 Hrs | Prep Time: 10 Mins | Cook Time: - | Total Time: 2 Hr 10 Mins | Serves: 4
Ingredients

2 Cups fresh Thick Curd | Yoghurt (1)
1 Cup Mango Pulp (2)
¼ Cup Sugar (3)
¼ teaspoon Cardamom powder | Elaichi powder
Nuts like almonds, pistachios to garnish

Instructions

For homemade curd : Take the curd and hang it in a cheesecloth or muslin for about two hours. Let the whey strain out completely. Take the thick curd and keep it separately. If using greek yoghurt, just make sure to strain if the whey settles on top. Do not mix it back.
Puree the mangoes and strain if it is very fibrous and stringy.
In a bowl, mix the curd, puree, sugar, elaichi. Let them blend well. Taste and adjust sugar as per your need. Refrigerate it for about 1 hour.
Crush the nuts coarsely and keep it. Serve it in a bowl and garnish it with all the nuts.
Notes:
If you are not making the curd at home, try to use greek yoghurt for this recipe. Do not use yoghurt that is diluted or has whey. The texture and thickness of the curd is very important. It has to be thick.
You can either puree from fresh mangoes or use store bought ones. The only note to take care of is, I find the store bought ones are slightly watery than the fresh puree. So adjust both the quantities to get a thick end product. The amarkhand should be slightly sour.
This is a ballpark measure. Adjust the amount based on the sourness of the curd and the sweetness in mangoes.
This post is for Blogging Marathon 40. Check out the Blogging Marathon page for the other Blogging Marathoners doing BM# 40 here.